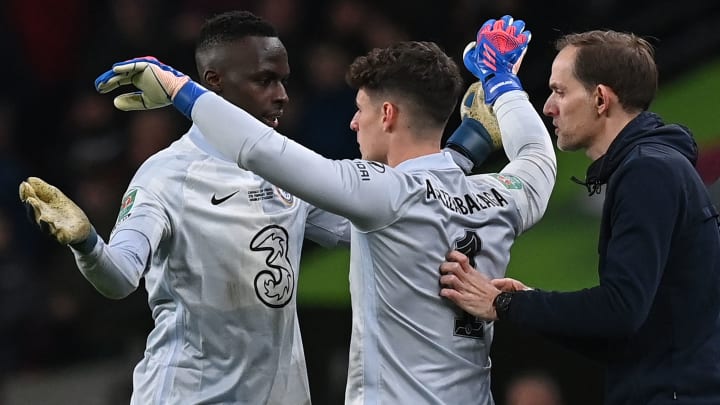 Chelsea head coach Thomas Tuchel has said he does not regret the ill-fated decision to substitute goalkeepers Edouard Mendy for Kepa Arrizabalaga in Sunday's Carabao Cup final defeat to Liverpool.
Mendy was in incredible shot-stopping form throughout the 90 minutes and extra-time, making a string of excellent saves – to deny Liverpool any chance of going in front, but was withdrawn in the dying embers of the 120 minutes as Tuchel gambled on penalty-specialist Kepa coming up with the goods once again.
It's a trick that has worked before, with the Spain international coming on for Mendy in extra-time in the UEFA Super Cup final back in August and saving two Villarreal penalties to win the trophy for Chelsea in Belfast.
However, that was not the case this time around in Wembley. Kepa did not manage to keep out a single spot-kick, and with the scores at 10-11 to Liverpool, he stepped up and sent his own effort soaring into the Wembley night sky to hand victory to the Reds – who won their first domestic cup since 2010.
Speaking to the press after the painful defeat, Tuchel said he did not regret his decision even with the luxury of hindsight.
"We feel bad for him [Kepa], of course. It was a bit harsh that he was the guy to miss the one and only penalty but there is no blame," he said.
"I make the decisions when I make the decisions and I can't re-judge them when I know the outcome. We don't know what would've happened if we left Edou [Mendy] on the pitch.
"No blame on Kepa. Blame on me as I'm the guy who makes the decisions. Sometimes it works out, sometimes it doesn't. This is life as a football coach.
He added: "The players know and we did it before. It's a nice subject now for you to make headlines but mistakes happen. I do mistakes, Edou did a big mistake and almost got punished. It makes it easier if we have a big feeling but blames me as I make the decisions."
Chelsea will now shift their attention from the defeat to another domestic cup which they lost in the finals last season, the FA Cup. The Blues will make a trip to Luton Town on Wednesday, March 2 in a bid to jump back from Sunday's setback.