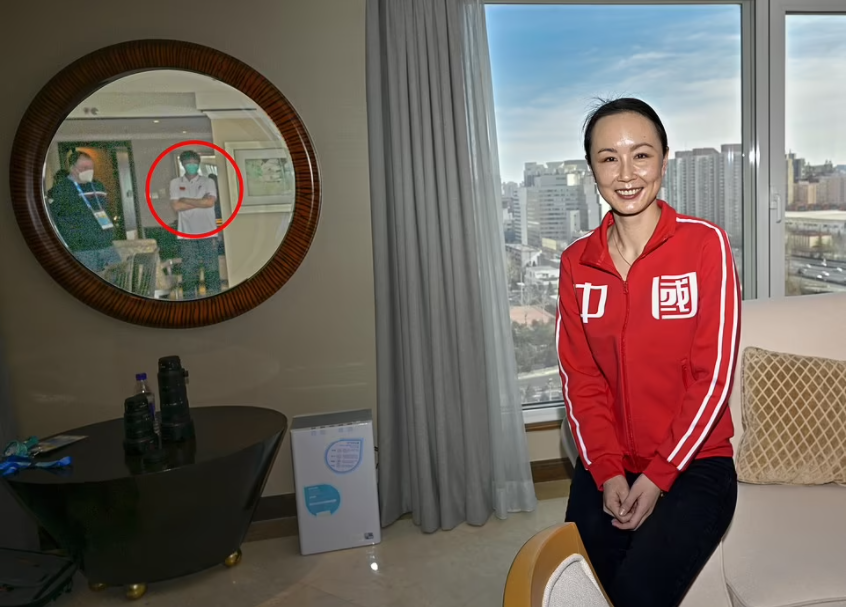 State oppression claims surrounding Chinese tennis player Peng Shuai are no longer a claim but a reality going by a recent interview with L'Equipe.
Peng had an hour and a half meeting with L'Equipe reporters at the Winter Olympics recently but Chinese officials were captured lurking on the sidelines of the interview.
Peng, who last year accused former Deputy Premier Zhang Gaoli, of sexual assault before going missing, met with journalists from L'Equipe in a 16th-floor suite of a premium Beijing hotel.
CHINESE OFFICIALS CAPTURED IN THE BACKGROUND
But masked officials were captured in the mirror.
Chinese Olympic organizers insisted on having 'translators' accompany Peng, despite the fact that Peng is fluent in English, according to L'Equipe.
She spoke in Chinese the whole time which made L'Equipe conclude that the whole interview was stage-managed.
Asked about sexual assault claims she made last year against Gaoli, she denied them all. Further questioned why she hasn't been seen in public ever since Peng said she was around.
Peng went on to say that any allegations to the contrary are the result of a big misunderstanding.
Chinese human rights lawyer Teng Biao, said Peng was under pressure during the interview and it likely she 'confessed' under duress.
As a Human Rights Watch senior China researcher, Yaqiu Wang stated the interview was Communist Party "propaganda" and urged organizations to think hard before dealing with Peng 'knowing she cannot speak freely."
Wang Kan, the chief of staff of the Chinese Olympic Committee, was one of the dignitaries photographed at the hotel. He was flanked by an unidentified woman.
According to L'Equipe's editors, they were aware of the dangers of interviewing Peng. They said that they were aware that the meeting would be subject to "limits and restraints."
Editors, on the other hand, insisted that an interview with Peng be conducted in order to verify that she was in good health.
PENG SHUAI FORCED CONFESSION
It was agreed that all questions would be provided in advance and that Peng would only speak Chinese during the interview, with Wang there to translate.
To ensure the accuracy of Wang's remarks, L'Equipe provided its own translator.
However, the interview lasted about an hour and a half, and the magazine stated that its reporters were allowed to ask several topics that had not previously been agreed upon.
Peng's replies to the most important questions were essentially identical to those published in Chinese state media.
She did not provide an additional explanation for the meaning or motivation behind her statements.
Accordingly, L'Equipe consented to publish her replies in verbatim, in the form of a question-and-answer.
When asked about her November 2, 2021, sexual assault claim against Gaoli via her Weibo social media, she retracted.
"…you accused someone of sexual assault. What did you really write? We don't understand," L Equipe posed.
She replied: "Sexual assault? I never said anyone had sexually assaulted me in any way."
Pressed on why she deleted the post, she simply said that she did because she wanted to.
The follow-up question as to why she posted in the first place and what she had meant to say wasn't asked.
Further asked why she could not be reached after the post, she, said that she was overwhelmed by many messages.
However, she insists that she was in close contact with her friends.
"It was simply impossible to answer so many messages. But I've always been in close contact with my close friends.
"I talked to them, I answered their emails, I also talked with the WTA… But at the end of the year, the communication IT system of their website was changed and many players had difficulties logging in. But my colleagues and I always stayed in touch. That's why I don't know why the news I had disappeared spread."
PENG SHUAI RETIRING FROM TENNIS
Peng said that she does not see herself coming back to tennis. She cited that a recurring knee injury and her age – 36 – are great hindrances.
"Deep down, I was hoping, dreaming of winning a medal, but because my knee was injured, I couldn't take part in the Tokyo Olympics, I wasn't back at the level I needed to be to compete in the Olympics. That's life."
Peng claims she was partially ignorant of the international commotion that followed the quick removal of her social media post.
In the coming weeks, Steve Simon, the president of the WTA, which controls women's tennis, announced a suspension of their tournaments in China.
However, she claims that she was surprised to see the statement by WTA.