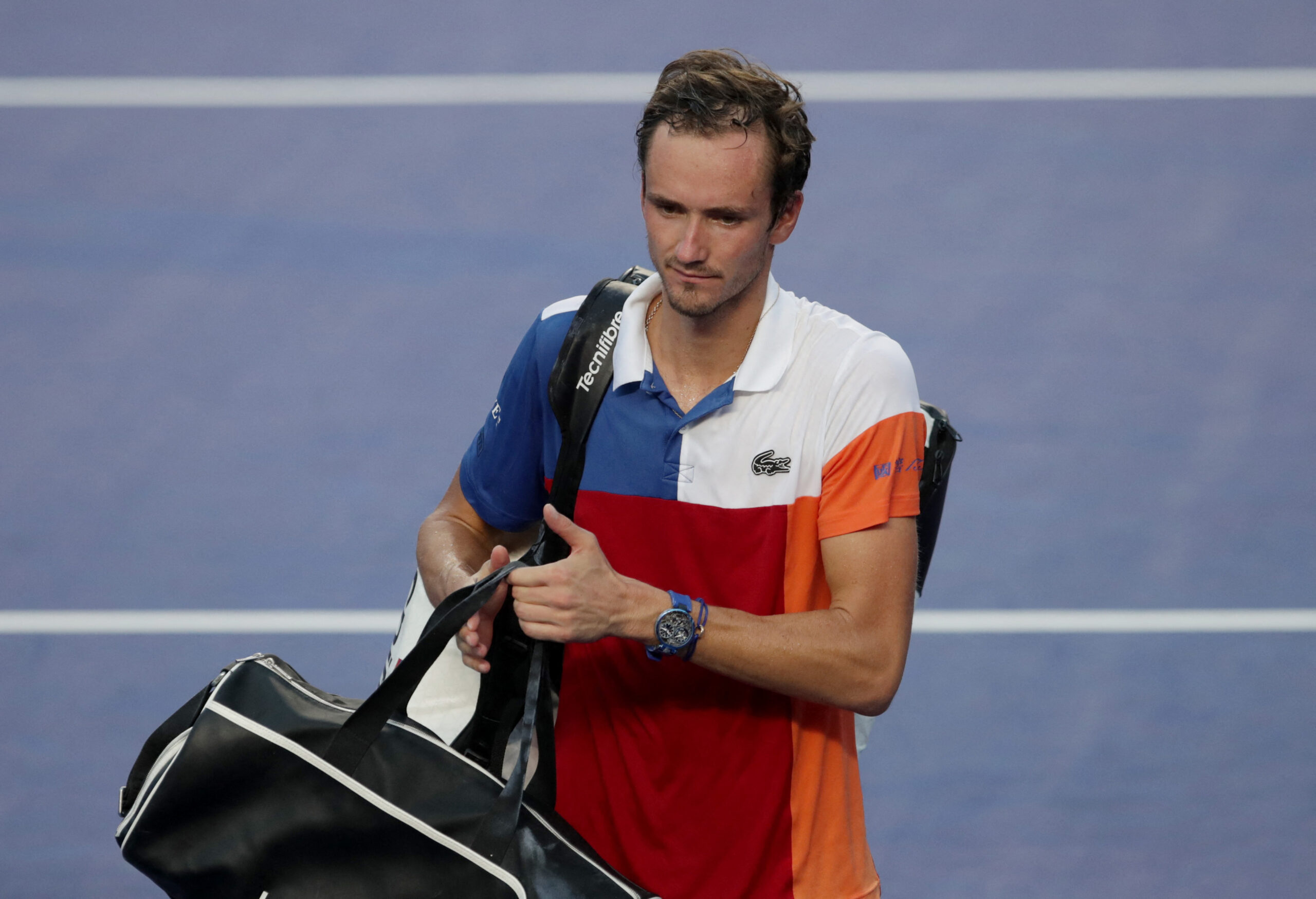 Daniil Medvedev says being a tennis player is not as important as peace prevailing.
He spoke as Russia Ukraine crisis escalates.
Medvedev will also face Rafael Nadal in Mexican Open finals
The soon-to-be world No.1 Daniil Medvedev has weighed in one Russia Ukraine crisis.
Medvedev, a top-seeded Russian player spoke after beating Yoshihito Nishioka 6-2, 6-3 in the quarterfinals of the Mexican Open on Thursday.
He set the stage to face off with Rafael Nadal in the finals. It will be a redemption match after a spirited Australian Open final where he lost to Nadal.
Medvedev says his role as a tennis player is preaching peace across the world
"By being a tennis player I want to promote peace all over the world," he said after sailing through the Mexican Open semi-finals.
It is not easy taking in all the sad news about Russia Ukraine crisis, he says.
Medvedev also addressed the Russian-Ukrainian Men's Doubles champions. Andrey Rublev and Denys Molchanov, who won Marseille's Open 13 last week in their pairing.
He says this is amazing because harmony is priceless, and staying together is all matters.
The Russians hold that being a tennis player is not as important as peace is with the current situation.
On February 24th, Vladimir Putin made a pre-dawn television address in which he said Russia could not feel secure, due to continuous threats from Ukraine.
Putin irrationally stated that his purpose was to defend those who had been bullied and murdered. That is why he sought for the "demilitarization and de-Nazification" of Ukraine led by a Jewish president, Volodymyr Zelenskiy.
Zelensky reports that 137 Ukrainians were killed on Thursday; Putin denies this figure.
As a result of Russia's alleged 'peacekeeping operation,' the capital city of Kyiv continues to be rocked by explosions.
As Russia Ukraine crisis continues, Ukraine forces claim to have killed 3,500 Russians and holding 200 others.
Sources say the situation is '100% under control' as Russian forces move on Kyiv, Ukraine's capital city.
There have been reports that Russian military assets have targeted a number of Ukrainian cities and towns, resulting in the armed uprising of citizens to protect their country.
As all of this happens, a Ukranian TV channel took to Twitter saying the situation is under control.
The tweet further stated that the Ukrainian military was hands-on in defending itself. But there are different accounts as to how many people were killed in the attack.
It is possible that the number is lower, according to Ukraine's military.
According to the Russian Defense Ministry, more than 1,000 Russian soldiers have been killed in combat in Ukraine.
Four Russian tanks were destroyed on a road near Kharkiv. Fifty Russian soldiers were killed in a Luhansk region village, and six Russian planes were shot down in the east, the Ukrainian military reported on Thursday.
In addition, a military plane carrying 14 people fell south of Kyiv, with the death toll from that incident still being determined.
Another Russian transport plane went down in Kyiv killing the crew on board.
The Ukrainian football league has been suspended for at least 30 days, and the Swedish FA claim it is 'absolutely unimaginable' that they will meet the Czech Republic in a World Cup play-off match in Russia in March.
As soon as Putin personally gave the order to attack, Russia launched a full-scale war on Ukraine.
Now branded as the 'bitter ex-lover', Russia brought in missiles and bombs from Belarus. It did not leave behind rolling tanks from the border, parachuting troops into the east, and massive explosions across the country.