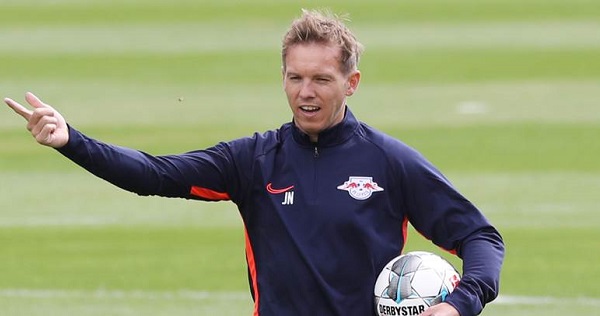 He arrived at the Bavarian club from RB Leipzig after Hansi Flick plied the route to the International managerial career with Germany. This man Julian Nagelsmann is one of among few managers who can rotate their squad and win games.
So far so good for Bayern Munich, the star-studded squad has responded well this season.
If this is what Bayern are like now, just think about how good they will be when their players are fully used to every little aspect of Nagelsmann's coaching manual.
The former Hoffenheim and RB Leipzig supremo moved to Munich in the summer having proven his ability to bring the best out of players, and now he looks to have earned the respect of some of the biggest names in the game.
This was evident in a match-winning game against Bayer Leverkusen where the Bavarian club scored five goals in the first 37 minutes of the game on matchday 8.
"It's always important to give statements when you play against the neighbors in the standings," Nagelsmann said after the stunning 5-1 away success.
Bayern has been making a habit of that lately. They have previously had more points on the board at the same stage of the season, but 29 goals after eight matches – with only eight conceded – is a standout statistic.
If they win a game, Nagelsmann's team scores at least three goals – hitting five against Hertha Berlin as well as Leverkusen and netting seven against Bochum.
That's true of other competitions as well. The Bavarians lifted the DFL Supercup with a 3-1 win at Borussia Dortmund in August, and in the UEFA Champions League, they have hammered Barcelona (3-0 away) and Dynamo Kyiv (5-0 at home).
Even though it was against fifth-tier opposition, the 12-0 DFB Cup victory for a second-string side against Bremer SV also said a lot about Nagelsmann's squad: it's full of highly motivated and relentless players.
"It doesn't matter what the score is," Leroy Sane said after netting a wonderful free-kick in the 7-0 home win over Bochum. "We're always hungry to score goals."
So, how has Julian Nagelsmann done it? Contrary to many expectations, he hasn't changed too much.
The young head coach often favored a three-man backline at both of his previous clubs, but so far he has stuck with the 4-2-3-1 formation that brought his predecessor Hansi Flick so much success over the last two seasons.
He wants his team to be close together on the pitch, playing with high intensity and winning the ball back in the opponent's half.
The bulk of the Bayern squad won among other things a record sextuple of trophies in succession under Flick, and the early signs suggest that they are every bit as determined to achieve something similar under Nagelsmann.
Julian Nagelsmann was once a center-back who looked up to former Chelsea defender John Terry, but his own playing days were cut short by injury in his early 20s.
Younger than his 35-year-old captain Manuel Neuer, the Bayern coach was soon relaxed enough in Munich to arrive at training via the skateboard. An attacking, detailed, emotional, and innovative leader, he seems to have won experienced pros over by planning ahead and providing varied and challenging training sessions.
"If every day you do the same practice then I think you're not watchful or alert," Julian Nagelsmann told The Times in October. "So it's important the players never know what's coming."
What minor tweaks Nagelsmann has made to the tactical setup have been important.
Sane, for example, started the season on the right-wing where he had played much of his football since returning to Germany from Manchester City in July 2020.
Since the cup match against Bremer on 25 August, though, the 25-year-old has been positioned on the left side of the attack – albeit with the freedom to roam infield. He scored that night, and then had two goals and three assists in his next four league games. The former Schalke winger also made a goal against Barcelona and scored once and had an assist in the victory over Kyiv.
It's perhaps no surprise that Sane looks more comfortable in a position where he was at his devastating best in England before a cruciate ligament injury in August 2019 kept him out for almost a year. Nagelsmann is the man who looks to have helped the German international rediscover his top form.
Nagelsmann has a knack for working out what makes players tick, having notably helped set Serge Gnabry on his way to the top during a loan spell at Hoffenheim in the 2017/18 season. And the childhood Bayern fan is clearly enjoying the demands of being at a club where winning is all that matters.
The manner in which the team is continuing to play under Nagelsmann is brilliant, hungry, attractive, and successful.
Flick was a hard act to follow, but speaking after Nagelsmann had hit 100 days in the role in October the current Germany boss said his successor is doing an "outstanding job" in Bavaria.
"It made sense that he would become Bayern Munich's head coach," Flick told the DPA press agency.
The way things are going, it would also be logical for Bayern to keep hold of Julian Nagelsmann for a very long time.