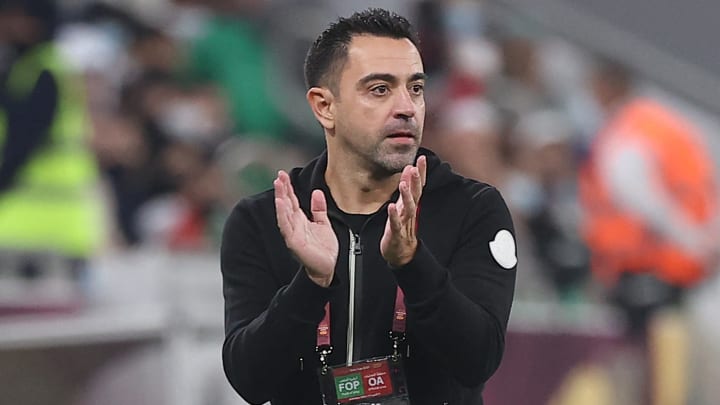 Qatar-based club Al-Sadd has come out in an attempt to put down speculation linking its manager Xavi Hernandes with a return to Barcelona as manager, insisting in a post on their social media handles that he is "fully focused" on his job in Qatar.
The legendary 41-year-old is the most favorite to replace Ronald Koeman as Barcelona manager following the latter's sacking on Wednesday, 27 October.
Various reports from Spain and across Europe stated that Xavi is indeed the choice of president Joan Laporta and the club's board, and they are working hard to convince their former midfield talisman that is now the right time to return to Camp Nou to lead the next generation.
But persuading Xavi to make the move has proven more problematic than some would have thought; so much so that the Catalan club has appointed Sergi Barjuan as interim head coach while they work on concluding a deal.
It had initially been thought that Al-Sadd wouldn't stand in Xavi's way were an approach to be made, but if a post on their official Twitter account is anything to go by, that may not be the case.
Indeed, the Qatari side issued a relatively stern statement on Friday night, stating: "In response to what's circulating recently, the Al-Sadd management reaffirms that Xavi has a two-year contract with the club and is fully focused on the team's upcoming matches, to maintain our lead at the top of the league and to defend the title."
Earlier in the day, Barcelona president Joan Laporta made an admission of his own, saying he should have relieved Koeman of his duties as a manager far sooner than he did. Instead, he opted to fire the Dutchman on the flight home from Barça's defeat to Rayo Vallecano – obviously.
"The decision quite possibly arrived late," Laporta told the press during Sergi's unveiling as interim coach. "We should have removed him earlier but it's easier to analyze things with the benefit of hindsight.
"In September, when we backed him, we felt he deserved to be shown some confidence and be given the chance to get the injured players back.
"I take responsibility for not making the decision before. We beat Valencia and Dynamo Kiev but then came a series of bad results. We were drifting dangerously and we risked losing touch in all competitions."
As for Al-Sadd, they are loving life under Xavi this season – winning all seven of their Qatar Super League games so far, scoring a whopping 29 goals in the process.
Barcelona will be in action today at the Camp Nou when they host Deportivo Alaves later on today in a La Liga clash at the Nou Camp.