Manny Pacquiao Retires From Boxing To Vie For Presidency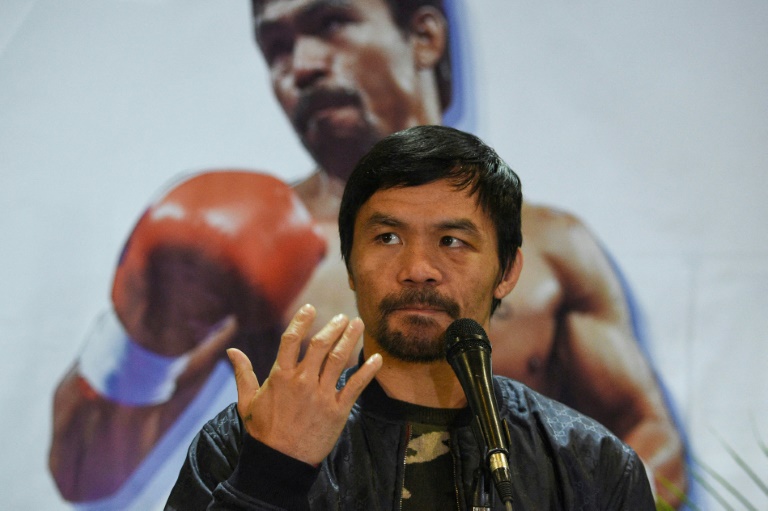 At 42, world boxing icon Filipino Manny Pacquiao is done with the sport.
Pacquiao on Wednesday announced retirement from boxing and his renewed focus on politics.
The 12-time world title holder in eight divisions is eyeing the presidency in the Philippines.
Why Did Manny Pacquiao Quit Boxing?
"I am announcing my retirement. Goodbye, boxing," he said in a 14-minute Facebook video.
He thanked all his fans across the world for always supporting him. Pacquiao said this is the biggest and hardest decision he's ever made in life.
Now, he maintains that he is at peace with it and is ready to chase his dreams in the political world.
"To the greatest fans and the greatest sport in the world, thank you! Thank you for all the wonderful memories. This is the hardest decision I've ever made, but I'm at peace with it. Chase your dreams, work hard, and watch what happens. Goodbye boxing," he added."
How Is Manny Pacquiao Political Career Like?
His retirement is long overdue. Pacquiao has served his people as a Senator since 2016. He hopes to serve as the president following his publicly announced bid last week.
Popularly known as 'PacMan' in boxing quarters, politics is his new love after 26 years of professional boxing.
The Southpaw maintains boxing is something he had a passion for and is glad that he got a chance to bring honour to the Philippines through it.
He recalls feeling a sense of patriotism whenever he entered the ring.
"I am grateful for all my accomplishments and the opportunity to inspire the fans.
"To the boxing fans all over the world, thank you very much. Thank you for always praying for me and watching my fights through the years."
His biggest feat yet is winning 12 major titles in the eight weight divisions he played for. Pacquiao is the only boxing champion holding world titles in forty years and the first one at his age to clinch a welterweight world title.
Last Boxing Moments
The (62-8-2, 39 KOs) former boxer took a two-year hiatus from the ring to concentrate on his political career.
A few weeks back, he lost Cuba's Yordenis Ugas as he tried to defend his WBA Welterweight title.
It was his first match after a two-year hiatus. The two boxing champions faced off at the T-Mobile Arena and the Cuban boxer thrilled with his witty punches.
Ugas was fast, calculating, and cleaner, tactics which he employed to defend his WBA welterweight belt.
The Cuban boxer, 35, left the 42-year-old Pacquiao dealing with a false start as he makes a comeback to boxing.
Ugas won all three rounds and impressing the judge by posting 115-113 and two others 116-112 scores.
A disappointed Pacquiao described this turn of events as normal in boxing. He added that he had a difficult time trying to make adjustments despite giving his best.
"I had a hard time in the ring making adjustments. My legs were tight. I'm sorry I lost tonight, but I did my best," Capital Sports quotes him.
Pacquiao's WBA welterweight belt was taken back this year due to his long period of inactivity in the ring.