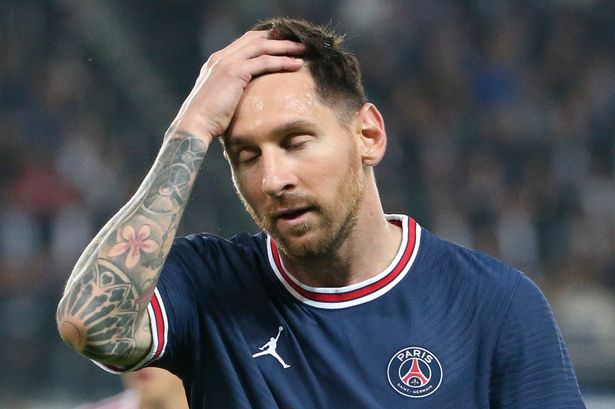 The summer transfer window of 2021 was one of its own. Lionel Messi to Paris Saint Germain was a transfer we did not see happening but for Jadon Sancho was a likely transfer as the English star was on Man United's radar in the previous transfer window.
This summer also saw big names shift from clubs we thought they will never leave, huge finances were used by clubs to purchase immense talents.
However, a risk with new signings is that they do not immediately bear fruitful results. It is normal for players regardless of their talent and achievements in the past, take time to adjust to their new surroundings.
Finding their feet and building chemistry with new teammates takes time and effort. Lionel Messi and Jadon Sancho are among players who have not hit the ground running.
There are many factors, which contribute to an underwhelming performance. It is either fitness, lack of understanding of new competition, a new style of play, or a combination of multiple factors.
Lionel Messi
After an emotional farewell party in Barcelona Lionel Messi left the Catalan club to join French club Paris Saint Germain in the most remarkable transfers of all-time.
Leo Messi transfer caused a huge buzz on the internet, as this time was leaving the club that has his history written in bold letters as the best striker to have ever graced their game.
Messi had joined Barcelona from the academy at his early age of his career and now was leaving the club at 34 years Old a club he credits for most of his success.
Having said that, Messi has yet to find his feet at his new club. He has not scored a goal or provided an assist in his first three appearances for the club.
PSG fans have been critical of the overall performance from the team after failing to win their opening  UCL game against Club Brugge.
Despite a star studded squad and front three threat of Kylian Mbappe, Neymar and Messi himself they did not secure the three points.
Furthermore, Lionel Messi's first start in Ligue 1 saw him substituted at the 76th-minute mark by Mauricio Pochettino.
The 34-year-old looked visibly upset and did not shake the manager's hand while making his way to the bench, a thing that PSG boss addressed in his match press briefing hours later.
Jadon Sancho
Jadon Sancho was a force to reckon in Borrusia dortmund alongside Erling Haaland.
He was Man United's top transfer target this summer and luckily they landed his services after the saga lasted two years of push and pull before the two parties settled on an agreement making Sancho the most expensive transfers in the premier League.
The Englishman's arrival at Old Trafford sent a wave of excitement among the club's fans. Having said that, Sancho's Manchester United career is yet to take off.
Jadon Sancho has made six appearances for the club and is yet to score a goal or make an assist.
Yesterday During Man United's game with West Ham for Carabao qualification Sancho enjoyed his 90 minutes play for the first time. A player of Sancho's quality would not like to stay away from the spotlight for too long.
Other Players who are still struggling to fit in their new clubs are : 
Ben White
Ben White was the fifth most expensive transfer in the summer window. The center-back moved from Brighton & Hove Albion to Arsenal.
Mikel Arteta wanted to overhaul the defense and White was the key signing to that effect. Fans had a lot of expectations from the defender but the initial stage of his career at Arsenal has started on a rocky note.
Ben White's debut for Arsenal was one to forget. The outfit lost their opening Premier League fixture to newly-promoted side Brentford.
Defeat by two goals to nil was tough to digest for the fans and White also came under criticism for being weak in the air.
The 23-year-old missed the next two games, also defeats, due to contracting COVID-19. However, his last two appearances, both of which were wins and clean sheets are a definite improvement.
Although Arsenal are still underwhelming in their performance and their defense needs to find consistency, along with Ben White.
Andre Silva
The Portuguese secured a move to RB Leipzig ahead of the 2021/22 campaign from Eintracht Frankfurt.
He had a very successful season in the league last season at Frankfurt when he scored 28 goals (second-most) and eight assists in 32 league appearances. However, Silva has not hit the ground running for his new employers.
Out of seven overall appearances in all competitions, the 25-year-old has only scored one goal. Perhaps settling in a new side with new teammates will take time for the striker. But, his start with RB Leipzig leaves a lot to be desired.
The outfit itself is going through a troubling phase after losing their manager and key footballers in the summer.
Eric Garcia
The youngster made a move to FC Barcelona from Manchester City in the summer transfer window.
The 20-year-old moved on a free transfer after his contract expired with the Premier League giants.
The center-back's long wish of securing a move to the La Liga outfit finally came to fruition but it has not started on the best note.
In his first four appearances for the Blaugrana, he has won only once and failed to keep any clean-sheets.
Garcia also played the UEFA Champions League fixture against Bayern Munich. The match saw Garcia play 66 minutes in a 0-3 defeat at home.
Clearly, the young defender is part of a team that is struggling on all fronts. His individual performances have been symbolic of the overall mess at FC Barcelona.