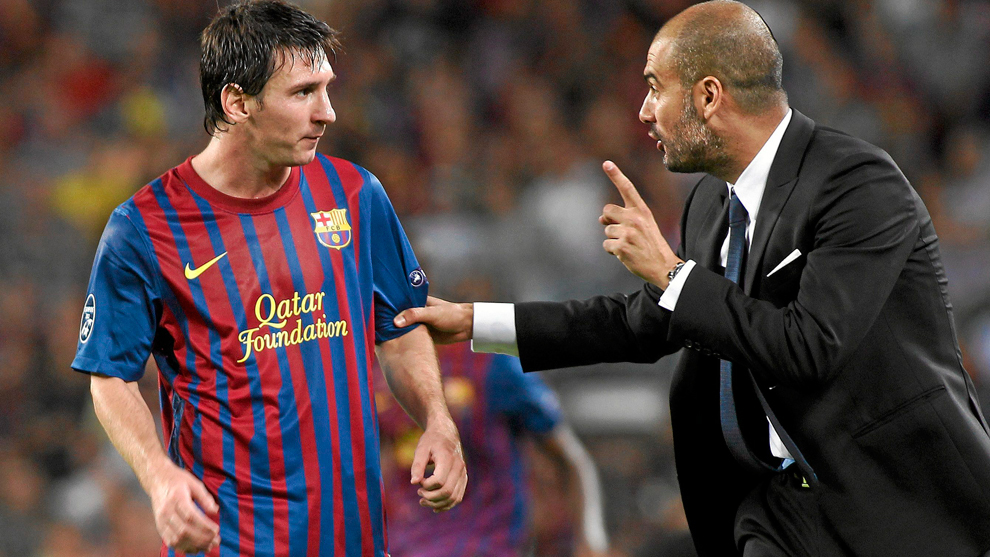 When Pep Guardiola was at the helm in Barcelona, Lionel Messi enjoyed great success under his tutelage.
Pep Guardiola is widely recognized manager worldwide for the way his teams play, as he has succeeded in every club he has managed so far.
Pep and Messi won two UEFA Champions League  together at Barcelona both of whom Manchester United were victims.
The first was in 2009 when the Catalan club defeated Man United 2-0 featuring the mighty squad of Messi, Xavi, Iniesta, Samuel Eto'o and Thierry Henry. While the second one came at Wembley when Pep Guardiola beat Ferguson's boys 3-1 in the 210/2011 campaign.
Lionel Messi enjoyed great success under Pep Guardiola at Barca but how has he performed when they are on opposing sides?
We've taken a look at the five times Messi has previously come up against a team managed by Guardiola.
PSG vs Man City [2-0]
Pep Guardiola played Paris Saint yesterday in the UEFA Champions League, that saw his side lose 2-0 against a well in form PSG at the Parc de princess.
Tuesday night was a special day for Lionel Messi, as he scored his first ever goal for PSG in four match appearances.
Pep Guardiola in  ore match media briefing when asked about PSG's attacking final third said that as a club they had nothing to do.
"What should we do? I don't know," Guardiola said when asked about PSG's front three of Messi, Neymar and Kylian Mbappe. "With this amount of quality I don't know how to stop them, they're so good.
Bayern Munich vs Barcelona [3-0]
After leaving Barcelona in 2012, Guardiola became Bayern Munich manager a year later and first came up against his former club in the 2014-15 Champions League semi-finals.
Unfortunately for Guardiola, Messi was in irresistible form and had scored 51 goals in his last 50 appearances before the semi-final first leg.
"There is not a system or coach to stop talent of Messi's magnitude," Guardiola said before the game. "The way he has been playing over the past four or five months, you cannot stop him. He is too good."
Barcelona seemed set for a frustrating night at the Nou Camp but Messi then fired home from the edge of the area in the 77th minute.
The Argentina international then produced a moment of magic moments later, turning Jerome Boateng inside and out before dinking the ball over Manuel Neuer.
With Guardiola's side pushing forward and chasing an away goal in the closing stages, Messi set up Neymar, who made it 3-0 to the hosts.
Bayern Munich vs Barcelona (3-2)
Having won 3-0 at the Nou Camp, Barcelona had a comfortable lead over Bayern before the semi-final second leg at the Allianz Arena.
The German side felt a comeback was on when Medhi Benatia scored in the seventh minute but that optimism didn't last very long.
Messi picked up the ball in the 15th minute and produced a perfectly weighted pass to pick out Luis Suarez, who then squared for Neymar to score from close range.
Suarez also set up Neymar's second goal before Robert Lewandowski and Thomas Muller found the back of the net in the second half.
Barcelona won 5-3 on aggregate and reached the 2015 Champions League final, where they would go on to beat Juventus and secure a second treble.
Manchester City vs Barcelona [0-4]
Guardiola was appointed as Man City's manager in 2016 and his new side were immediately drawn against Barcelona in the Champions League group stage.
During the game at the Nou Camp in October 2016, Messi took advantage of Fernandinho's slip in the penalty area to give Barcelona the lead in the 17th minute.
The floodgates opened when Claudio Bravo, who had recently joined City from Barcelona, was sent off for handling the ball outside the box.
Messi doubled their lead in the 61st minute, smashing the ball past compatriot Willy Caballero with a crisp finish from the edge of the box.
The diminutive forward completed his 37th club hat-trick eight minutes later, scoring from close range after being picked out by Suarez.
He also showcased his brilliant footwork and won a penalty, only for Neymar to miss the subsequent spot-kick. Messi still got an assist to his name by setting up the Brazil international in the 89th minute.
"Since I've known him he's always done things like that and he keeps doing it," Guardiola said after the game. "This is not the first time he's done this, I've seen him do it many times live before, but you have to congratulate him."
Manchester City vs Barcelona (3-1)
Messi made it six goals in four games against Guardiola by finishing off a wonderful counter-attacking move at the Etihad in November 2016.
But City responded well to the early setback and Raheem Sterling set up Ilkay Gundogan's equalizer six minutes before half-time.
Guardiola got his tactics right and managed to keep the Barcelona front three of Messi, Suarez and Neymar relatively quiet throughout the second half.
Kevin de Bruyne put City in front with a brilliant free-kick before Gundogan got his second goal of the game to secure City's first ever win over Barcelona.