Is Declan Rice the missing piece in Man United's Puzzle?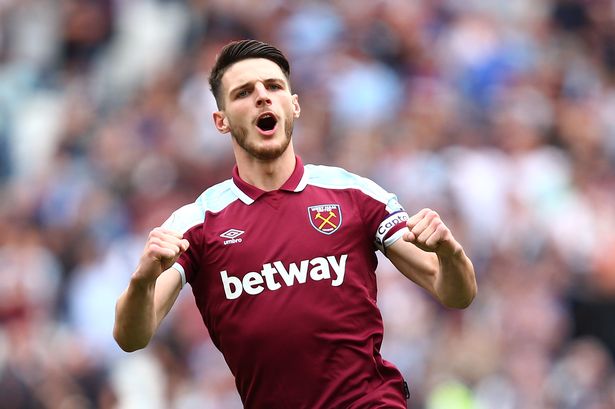 With Manchester United looking set to win a silverware after having one of the best transfer windows in the summer, a defensive midfielder appears to be one of the things a United squad is struggling with at the moment.
Man United signed Ronaldo, Varane and Sancho in the same window but one thing that they might have ignored or shelved the idea for the next window transfer was the defensive midfielder spot.
United have struggled to win games with McTominay and Fred in the position, their partnership have not been convincing and this remains the biggest headache for Ole Gunnar Solskjaer  and United board who are eyeing the services of Declan Rice of West Ham.
The English man was and is the widely talked about in the English Premier League recently. Although the English Media has made the young midfielder sound so expensive, he has been linked with top English clubs with United topping on the list.
If United in January transfer get their hands on the defensive midfielder, it could truly change their fortunes in several ways, One of the major reason why United should work towards this transfer is his flexibility to control and hold the ball that would also give chances for Bruno Fernandes and Paul Pogba to co exist in the midfield.
In this stage individual brilliance will be a third thought, with Declan Rice United midfielder will be indomitable that Rice, Bruno Fernandes and Paul Pogba  will co exist in a midfield three.
Previously, the duo played together alongside Nemanja Matic and flourished as a midfield three. Manchester United went on an incredible winning streak in that phase.
Coming back to the present, Nemanja Matic no longer has the legs in him to consistently play the role that brought the Red Devils so much joy.
Meanwhile, both Fred and McTominay are not mature enough or positionally sound to play that role. We have seen Fred struggle alongside Pogba several times this calendar year.
With Declan Rice, the Red Devils will have a player similar to the Nemanja Matic of 2019.
2. Can progress ball from deep
Along with being defensively solid, an ever-improving and important trait that Declan Rice has developed over the last few seasons is that of progressing the ball forward from deep.
As a lone defensive midfielder, being defensively sound is an important criteria.
However, the ability to have comfort on the ball and progress it forward through passes or carries is also crucial.
Over the last few seasons, Rice has developed the ability to dribble and bomb forward with the ball. Last season amongst the likes of Fred, McTominay, Matic and himself, Rice had the highest progressive carries with 4320m,1000m greater than second-placed Fred.
Amongst the same set of players, Rice is the second highest for progressive distance covered with passes after Fred. Playing in a possession-based system or team will help him improve these numbers.
3. Defensively solid
In Ole Gunnar Solskjaer's ideal 4-3-3 formation, a defensively astute midfielder is a necessity.
Rice's physical prowess allows him to be an imposing figure in the air as well as in ground duels.
Last season, Rice had a cumulative 145 interceptions and tackles.
This is higher than the trio of of Fred, Scott McTominay and Nemanja Matic. Moreover, in a set-piece dominant side such as West Ham United, Declan Rice would bring a lot of aerial prowess with him to Manchester United.
Solksjaer's side have had a poor recent record from set-pieces in the league. Players like Rice will help United deal with all such threats.
The defensive midfielder is also full of energy. Last season, He ran the fourth-most distance in the league amongst all players. With this, not only does Rice have the defensive prowess to play as a holding defensive midfielder but also as a box-to-box midfielder.
4. Leader
Declan Rice has emerged as one of the most sought-after midfielders in the Premier League.
Labelled with a whopping $116m price tag, there are several reasons behind such a valuation with English media also playing their part in hyping their very own.
At the age of 22, Rice has been a pivotal part of successful campaigns for both club and country already. He was the on-field captain for West Ham for the majority of last season, as the club finished at sixth place, thus entering the Europa League.
Rice was also a key figure in England's run to the final of Euro 2020. The defensive midfielder started all seven games and showed his mettle in difficult situations. The Englishman has shown several signs of being an able leader and would bring important qualities to Old Trafford.
5. Young and Premier League proven
In the 2020/21 season, Manchester United's squad had the third youngest squad in the Premier League.
Declan Rice would be a player who would fit that template well. Manchester United are in dire need of a defensive midfielder and Rice could provide his services for over a decade.
The 22-year-old has played in the Premier League at the highest level for over four seasons now. He is one of the most tried and tested defensive midfielders in the league at the moment. Infact, since October 1, 2018, no outfield player in the Premier League has played as many minutes as Declan Rice. a talented work horse that one.
What are your thoughts about Declan rice? is it the right time to sign for a bigger club and so should Man United sign him in the coming transfer window?