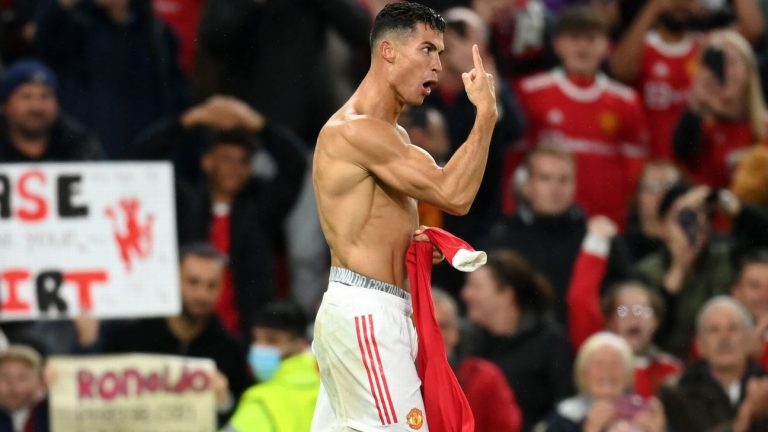 Cristiano Ronaldo was on target in the Wednesday night football against Spanish side Villareal scoring in the 95th minute in a match that ended 2-1 at Old Trafford.
Manchester United previous meetings with Villareal had ended in draws heading into this one, with only May's Europa League final not finishing 0-0.
On the grand stage of the UEFA Champions League, Cristiano Ronaldo made the difference, it was not over until it was over sliding in a fine strike past Sub marine's shot stopper after receiving assist from Lingard.
Ronaldo did not need dribbles in yesterday's game but he made sure with one opportunity the difference was felt, and all glory went to Man United.
Villarreal came racing out of the blocks at Old Trafford, with former Bournemouth winger Arnaut Danjuma ripping apart Diogo Dalot and going close on several occasions – only to be routinely denied by the in-form David De Gea.
But their luck ran out soon after the break. Danjuma had threatened plenty to open the scoring, and provided the assist for Paco Alcacer to give Villarreal a much deserved lead at Old Trafford.
It seemed as though the only way United were going to get back into the tie was through a moment of individual brilliance and that's just what Alex Telles provided when he volleyed home a free-kick from Bruno Fernandes.
United saw more of the ball as the game went on, with substitute Edinson Cavani going close for the home side but couldn't find the net.
Cavani brought some much-needed energy to the game, but there was only ever going to be one man grabbing the headlines.
Fred's 95th-minute cross was bundled into Ronaldo's path by Jesse Lingard, and he made no mistake, firing into the roof of Geronimo Rulli's net.
So United are off the mark in the Champions League this season, but after such an uninspiring performance for most of the night, where does Solskjaer go from here?
The introduction of Fred and Lingard minutes to the end of the game worked for United in the last minute and individual brilliance simply carried the day, Villareal might have lost but never mind they played basic possession and fantastic football.
Ronaldo's fifth goal of his second United coming came on his 178th and record-breaking Champions League appearance.