10 Years On Wheelchair: Ntando Mahlangu's Inspiring Life Story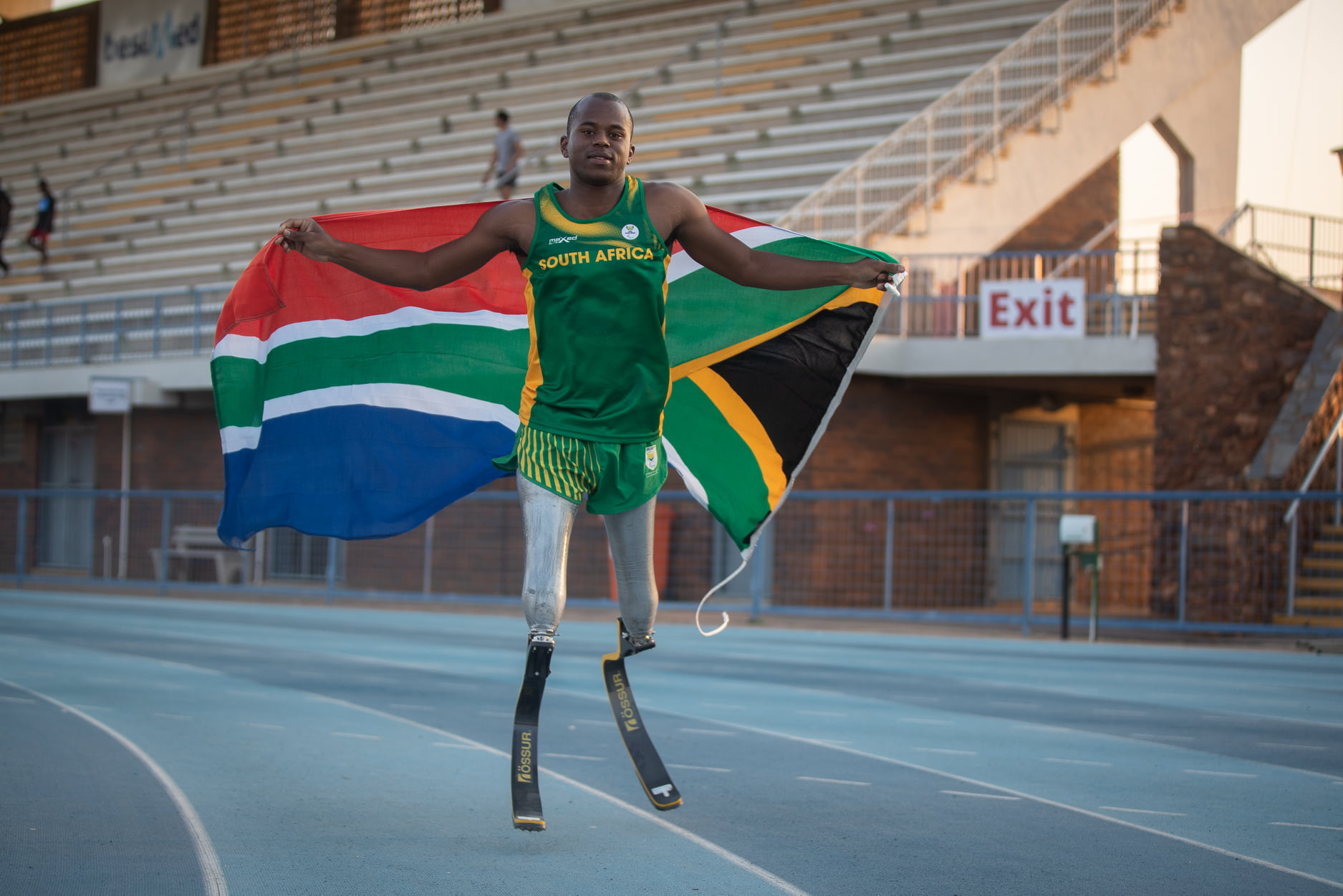 For 10 years, Ntando Mahlangu was stuck in a wheelchair. He was void of hope in life until he gathered his thoughts and dreamed afresh.
He is a strong pillar of hope and what mental strength can do. He undoubtedly flew the South African flag high with his double victory at the Tokyo 2020 Paralympic games.
The 19-year-old double-amputee is the new version of Oscar Pistorius who is serving a 13-year jail sentence.
Mahlangu Tokyo Paralympic Games Success
In the men's 200m T61 sprint, he clocked 23:59 seconds rising to the books of the greats instantly.
As if this wasn't enough for him he bagged another gold medal in the long jump T63 finals.
When he traveled to Tokyo to represent South Africa, he had two things in mind. Prove his mettle as a blade runner and study for his final high school exams which are currently ongoing.
This kind of zeal from such a young soul leaves a lot to be desired.
Mahlangu says he is not about to let anything get between his academic future and sporting career which he is upbeat will open more doors in the coming future.
"From athletics to academics, I want to give my 100 percent," he told Athletics.org.
Mahlangu Passion For Academics
Before his flight to Tokyo, Mahlangu packed his books and took time off the tracks to study. As a matter of fact, he flew into South Africa hours before the start of his final exams to go until September 30.
He describes himself as a smart kid who knows he can achieve it all if he pushes himself just a little bit. And he doesn't mind it either pushing hard enough to realize what he is made of.
With his two medals, he felt that it was a powerful statement by the heavens that he would get everything he hoped for with determination and hard work.
"I'm so excited, it's happening now and as I'm holding the medal I realize what I have done. It is a wonderful experience, something I had dreamt of."
"I'm a happy man. I think the best moment is having two gold medals. I'm going to enjoy the moment when I go to bed and put both the medals next to each other and sleep with it," said Mahlangu.
The Tokyo summer games were a big deal for him. When he was 14, he won a silver medal in sprinting at the 2016 Rio de Janeiro Paralympic Games.
He hoped for more and it passed. He finally won a gold medal in the Paralympics.
Mahlangu's debut in the Tokyo games was in the long jump where he stunned with a major win. It boosted his self-confidence and sharpened his focus in the men's 200m T61 sprint.
When he looks back, 2021 is a great year for him. It is all about success and the joy of hard work with a purpose keeps him grounded.
Phone Buzzing Endlessly
Ever since his big win in Tokyo, his phone was abuzz with text messages coming in fast and furious. He is excited he is now more noticeable in South Africa and he hopes to turn this in his favour.
His success is pegged on the massive support he got from people back home before the Paralympics. Despite the Covid-19 pandemic kicking South Africa hard a year ago, he trained hard and kept the faith.
These were the tickets that booked him a slot in the Tokyo summer games. All he wanted was to make South Africa happy with such a major win.
He fells the victory of the men's 200m T61 race belongs to South Africa. In 2012, the disgraced Pistorius bagged three gold medals in the 100m, 200m, and 400m races respectively.
Mahlangu who was 12 years old by then was watching it all. He was thrilled by Pistorius' performance but was inspired even more.
All Eyes On Mahlangu
Mahlangu's first double gold medals have made him eye candy for South Africans.  Many people see him as the new version of the legendary Pistorius.
Pistorius is serving
a lengthy jail term
imposed in 2017 after two appeals by Reevan Steenkamp's family. He shot Steenkamp four times at his house in Pretoria in 2013.
After a year of hearings, Justice Thokozile Matilda found Pistorious guilty of handling his firearm negligently and a homicide too. She handed the Paralympic champion five years in jail triggering an uproar.
This was later overturned by the Supreme Court of Appeal in 2015 and he was again sentenced to six years in jail despite his crime fetching a minimum 15-year jail term.
In 2017, he was sentenced to 13 years and five months in jail.