The Kenyan 400m duo of Sylvia Chelangat and Kennedy Kimeu have progressed to the semi-finals of the 400m at the World Athletics Under-20 Championships on Wednesday morning after both finished second in their heats.
The qualification came as a relief after the 4x400m mixed relays team, which the two were part of was disqualified in the heats despite finishing second, for lane infringement. The Kenyan quartet, anchored by Elkanah Kiprotich had finished second behind Nigeria in the second heat.
However, they were disqualified after a video review found that the first runner, Kimeu, had stepped outside his designated lane.
But, Kimeu made amends with qualification into the semi-final of the individual 400m race. Kimeu went through second from his heat, with a season's best time of 47:05secs behind South Africa's Lithe Pillay. However, Kiprotich however could not make it into the semis after finishing third in his heat despite running a new Personal Best time.
The Kenyan clocked 46.79 to finish third behind South Africa's Antoine Nortje while Anthony Pesela of Botswana won the race in a new Personal best time of 45.88secs.
Chelangat also went through to the semis with a powered finish in the final 30m of the race to dip in over the finish line ahead of India's Priya Mohan. Chelangat powered home with a spirited run to clock a new Personal Best time of 53.49 to finish second behind Nigeria's Nse Uko who clocked 52.33.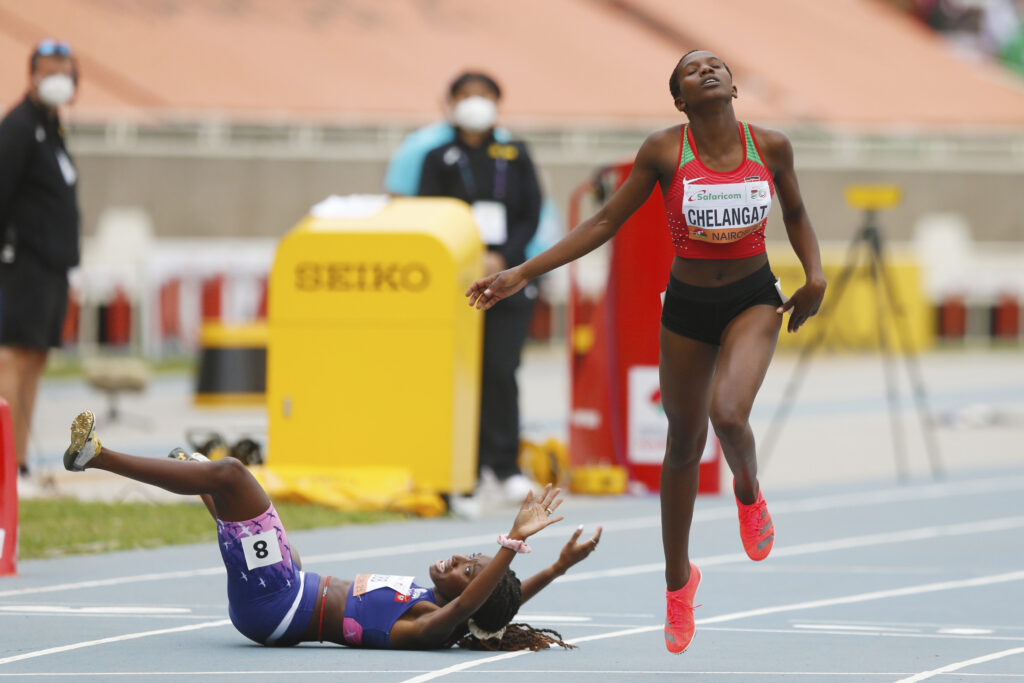 The Kenyan youngster had trailed India's Mohan at the homestretch, but manahed to dig for some more energy before powering home in 53.79.
"I was really disappointed when I learnt that we were disqualified in the mixed relays and I was very discouraged. But I told myself that I will not let that get to me because I only had this one event remaining and I had to work hard to ensure that I remain in the Championships," Chelagat said after the race.
She added; "I am also happy because I ran a fast time and a new Personal Best time. I have always been running 55 but running 53 today was great for me. I am hopeful of a better showing in the semis."
Meanwhile, Kenyan sprinters managed to make it to the semis. Sylvester Simiyu finished fifth in the men's 100m despite clocking a new Personal Best time of 10.66secs.
"I have not qualified but I feel really delighted with my race. I have run a new time of 10.66secs and for me this is a huge milestone. I came here with a time of 10.82 and reducing it by that much is a win already for myself," said the 19-year old Simiyu.
He added; "This performance has given me a lot of encouragement that I can even go lower."
In the women's race, Mercy Chebet also set a new Personal Best time of 12.39secs, but could only finish seventh in her heat.
It was same luck for shot putter Dominic Kiprotich who finished bottom of his qualification group after only managing a best throw of 13.80.