The Tokyo 2020 Committee has decided to refund all the tickets this is after the recent state of covid-19 in Japan.
Through a press conference on Friday the organizing committee explained the new policy on how they are going to tackle it.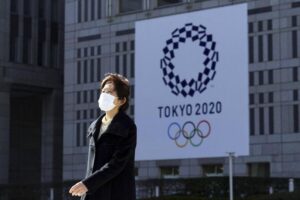 This is happening at a period where the committee is receiving a lot of questions from domestic and international media who are arriving in the capital ahead of The Tokyo 2020 Olympics.
Tokyo recorded 923 cases of Covid-19 on Wednesday this being a high number of Covid cases since mid may and today reported 822 new cases on Friday as opposed to 526 cases last Friday while vaccination figures increased to 21.3 million people now being fully vaccinated (16.8% of the total population.
It has been hard for the committee through Hidenori Suzuki, Deputy Executive Director, Marketing and Senior Director of Ticketing to decide on what to do about the current ticket holder and the new lottery that was launched recently.
"Based on yesterday's decision, for those who have bought tickets, yes we had a five-party meeting and made the decision for no fans in Tokyo and the surrounding prefectures. It's very sad but there was no other option to prevent infections."
Suzuki also used the opportunity to apologize for the inconvenience.
"I'm sorry on behalf of the team to the fans," said the visibly emotional Suzuki.
He insisted on the ban of the spectators and it will still be 50 percent per venue or even less as per their last report.
"At the same time other areas will have fans, 50 percent or less [of capacity] and we will announce results of second ticket lottery on 10 July".
Fans has also been requested to maintain the covid 19 protocols to curb the spread of the virus.
"When fans do come in to venues please help us by following the protocols for preventing the spread of COVID-19. We will make sure that we will demonstrate we can overcome these hardships with people in Japan and worldwide. We want to showcase the performances of the athletes."
"When you come to venue please come directly and go home directly afterwards. Please refrain from conversation. Be cautious if you're travelling from other areas – please wear a mask, respect social distancing, wash your hands, refrain from chanting or whistling. You will be required to wear a mask at all times except when eating. Also, we may ask you to change seats in the venue, please cooperate if we do so". Said Suzuki.
However the ban will not affect some areas including Hokkaido, Shizuoka, Ibaraki, Miyagi and Fukushima since there will be football matches before 9pm although they are still waiting for the feedback from the region before making the final announcement on ticket policy of the area.
"Hokkaido features football matches in the Sapporo Dome, we are awaiting feedback from the region before making an announcement about the ticket policy for Hokkaido. Miyagi has football games in Miyagi stadium and there are sessions after 21.00, fans are allowed there. For Fukushima, baseball and softball will be held with spectators. Ibaraki has football, this is available for school programs only. A limited number of fans will be allowed in Shizuoka, which will feature the mountain bike competition."
July 10th has been set for the results of the new ticket lottery as the application for the previous tickets refund to be done between 10-20 July where fans will be needed to provide their bank account if they paid in cash and if the ticket is invalid refund will be made after Olympics
"The results of the final ticket lottery will be announced on 10 July and fans can download and print their tickets in pdf format. Fans can apply for refunds between 10-20 July.
"For venues not allowing fans, if the status of your ticket says invalid then the refund process is automatic. As I said in the last presentation, there is confusion over this. If your ticket is invalid because its a non-spectator event or due to the results of the new lottery – the refund process will start after Olympics. If you paid by cash in a store you will need to share your bank account details for a refund."
Suzuki's press conference regarding the new ticketing policy followed the last regular and weekly pre-Games conference by Tokyo 2020 President Seiko Hashimoto.