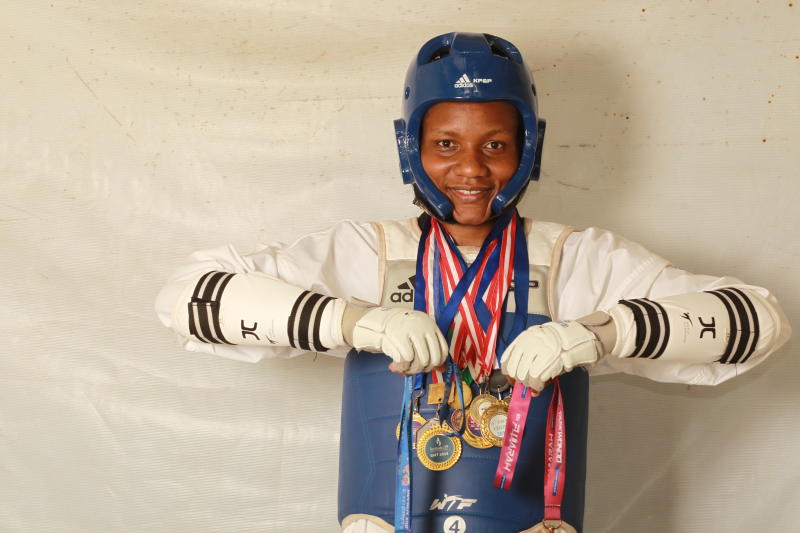 Kenya's lone representative in Taekwondo at the Tokyo Olympic Games will face off with Serbian Milica Mandic in her opening fight in the 67kg category on Tuesday after the draw was conducted in Tokyo on Thursday.
The 29-year old won gold at the London Olympic Games in 2012 and reached the quarter finals of the Rio Olympics in 2016 in the same category and Kenya's Ogalo, making her debut at the summer games will have her work cut out.
Despite this being her first ever Olympics, the 25-year old University student is unbowed ahead of the Tuesday morning duel and says she has had ample time to train both at the Kenyan bubble training camp at Kasarani as well as her time in Tokyo.
"I have trained really well since I arrived in Tokyo. We have worked on techniques as well as trying to analyse different possible opponents and just getting the mind and body ready," Ogalo said from Tokyo.
On her Serbian opponent, Ogalo said she has her homework done and will be out to cause an upset.
"I am facing the world number two but I am not scared. She is a good opponent with good technique using mostly front leg. We have done a thorough research online with my coach and I am also consulting with other coaches in Kenya to plan how I will counter attack her technique and use my strengths to beat her,"Ogallo said.
She added; "I will focus on my strengths and just getting the best of what I have positively. I know this is a higher level and my mind has already been set to know that I should step up my efforts."
Kenya has not had a representative in Taekwondo at the Olympic Games since the late Dickson Wamwiri and Milka Akinyi competed at the 2008 Olympic Games in Beijing, China.
Ogalo, a Bachelor of Arts In Social Work degree student at the University of Kibabii remains all confident that she can do well and actually move into the medal brackets if she has her calculations right.
She qualified to Tokyo after finishing second at the African Championships last year.
"It's only discipline and commitment that guides me to carry out my training and focus on my studies by scheduling my time because when I am not training, I do my studies. I believe I can be a success both in sports and in career and that is why I give my best in all of them," she said.
She believes that the effort she has pit up, under the keen guidance of her coaching team led by Jack Eliakim Otieno will bear fruits in Tokyo and the 27-year old will battle for a podium finish among the world's best.
She also remains grateful for the support she has received from the National Olympic Committee of Kenya (NOCK) as well as the Taekwondo Federation which enabled her to train well in Nairobi before travelling to Tokyo.