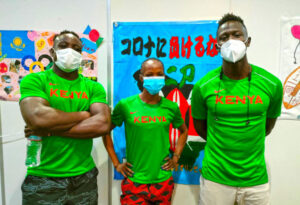 The Kenya Sprint Trio Ferdinand Omanyala, Mark Otieno and Hellen Syombua have started their 10 Days camp in Kurume City upon arrival early Thursday for upcoming Tokyo Olympic Games.
Omanyala and Otieno are both representing Kenya in 100 metres after qualifying at the Kenyan trials and they are making the appearance in olympics for their first time.
They will be starting up their day with Gym work outs on Friday morning after a rest from a two day journey to the camp.
"It has been a really long journey. Two days of travelling is not easy but we are pleased that we are finally here. For now its just to settle in then tomorrow we start off the work with some gym work then we progress slowly," Otieno said.
Despite the hot weather conditions Otieno seems to be happy with it since Nairobi was too cold and this will help them get some warmth while on training
"We have like eight days of confirmed training here so it will be a very good time for us. I love the weather because it is hot. Nairobi was too cold and now finally we have some warmth. I believe they will be good conditions for me."
Omanyala who is also a national record holder is happy after qualifying and getting himself the Olympic ticket. Omanyala earlier on was excluded by Athletics Kenya for a past doping violation is hoping for the best results ever.
"I am really happy to be here finally despite a very long journey. We are a bit tired but we will have to take the day off and rest. I am excited as we prepare to start training. I feel strong, I feel fast and we should be ready for good results," added the 25-year old University student.
Syombua who was in Japan at the 2019 World Relays in Yokohama is also hoping for the best results and she's hoping to make it to the semi finals
"I am really excited to be here. I can't wait to start training and condition my body to acclimatize. I feel really well and hopefully we start the competition well. My target is to at least get to the semi-finals," Syombua said.
Athletics program
The programme commences on Friday 30 July, 2021 with the opening round of the men's 3000m steeplechase and concludes on the final day of the Games, Sunday 8 August, with the men's marathon in Sapporo, capital of the mountainous northern Japanese island of Hokkaido. In between, competition will be spread over 16 sessions at Tokyo's Olympic Stadium.
Athletics figures prominently in both of the Games' 'Super Saturdays', with three finals – the men's discus throw, women's 100m and the inaugural mixed 4x400m relay – scheduled for 31 July. Another seven athletics titles will be decided on Saturday 7 August, among 34 event finals scheduled for that day, the highest single day number during the Games. 'Golden Sunday' on 31 July, will include 25 medal events in all, capped by the men's 100m final.
As announced in October 2020, Sapporo will host the marathons and race walks as part of a wide range of measure taken by Tokyo 2020 organisers in consultation with the IOC and international federations to mitigate the effects of the high temperatures which may occur in Tokyo.