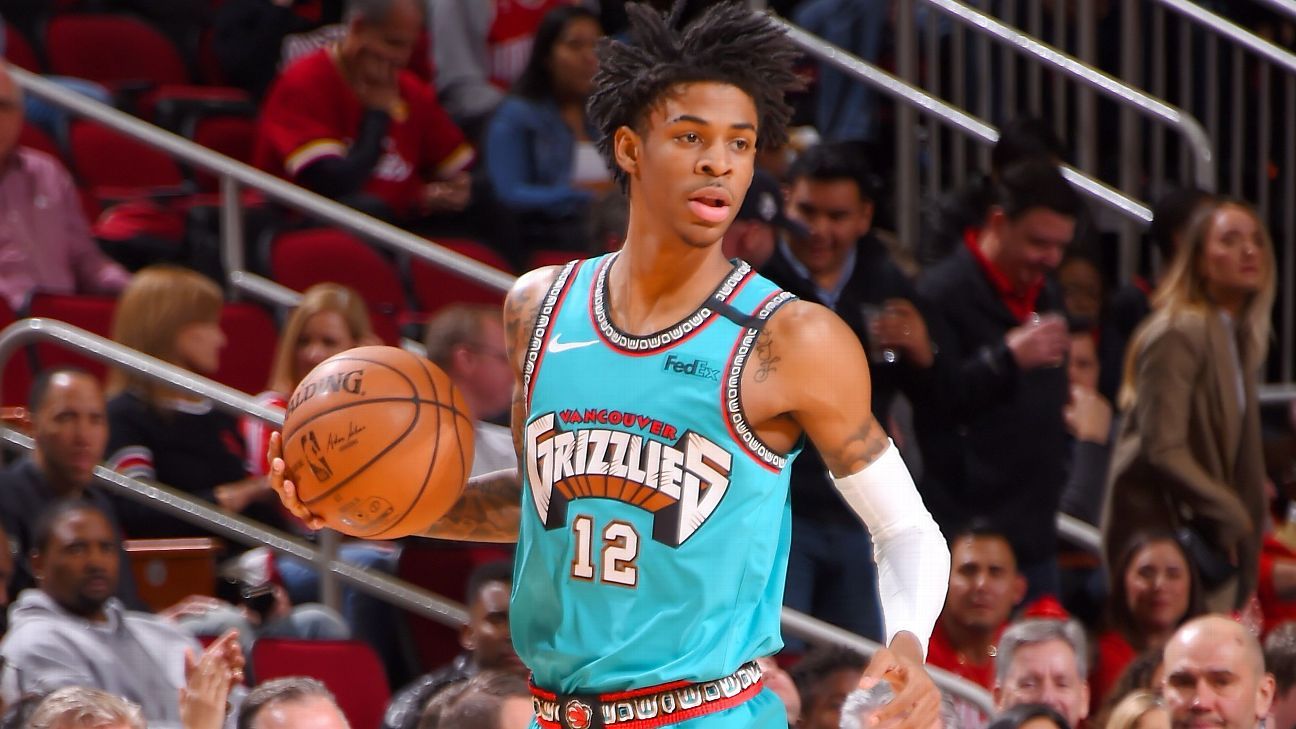 Ja Morant Biography
Ja Morant is a 21 years old American professional basketball player. He goes by the full byline Temetrius Jamel Morant. He was born on 10
th
August 1999, in Dalzell, South Carolina, United States.
Morant's parents are Jamie Morant and Tee Morant. He has a height of 1.91m. He has been recognized and celebrated globally out of his wit in basketball.
Ja Morant has been the epitome of men in basketball. He has made several achievements on the basketball court.
Moreover, Morant has been a motivation to all aspiring basketball players. He has motivated and positively impacted all the basketball players that have interacted with him.
At a young age, Morant has been in a position to bag several awards. He is a player for the Memphis Grizzlies of the National Basketball Association (NBA).
He began playing basketball at a young age. Morant played college basketball for the Murray State Racers. While there, he was a consensus first-team All-American as a sophomore in 2019.
The basketball icon was selected by the Grizzlies with the second overall pick. That was in the 2019 NBA draft. He was also named the NBA Rookie of the Year in 2020.
More achievements
He was lightly recruited by NCAA Division I programs and unranked by recruiting services. That was despite having been named All-Region Most Valuable Player three times. He has also earned All-State honours at Crestwood High School in Sumter, South Carolina.
Furthermore, Morant made an immediate impact at Murray State University. That was by earning first-team all-conference honours in the Ohio Valley Conference (OVC) as a freshman.
He had a breakout sophomore season; it saw him win OVC Player of the Year as well as lead the NCAA in assists. Also as a sophomore, Morant became the first player in NCAA history to average 20-plus points and 10-plus assists per game for a single season.
Sophomore Year
Ja Morant began to register on some scouts in the summer of his sophomore season in 2018. He was chosen among the other 20 players who were invited to Chris Paul's Elite Guard Camp.
At the beginning of his sophomore season, the basketball sensation assumed a leading role for Murray State together with other players.
He was determined to record impressive scores while there. In his season debut, he recorded 26 points and 11 assists in a 74–53 win against Wright State.
Ja Morant professional Career
As mentioned in the biography, Morant was drafted second overall during the 2019 NBA draft by the Memphis Grizzlies.
On 2nd July 2019, he signed a two-year contract with the Grizzlies. The deal was worth $17, 897,040. He made his debut in the NBA on 23rd October 2019. He however started with a loss to the Miami Heat with 14 points, 4 rebounds, 4 assists, a steal and a block.
That was a 101-120 loss. Nevertheless, he scored his first career triple-double on 9th February 2020. That was on a 106-99 win over the Washington Wizards.
In the 2019–20 season, Morant led all rookies in assists with an average of 7.1 assists per game, as well as total points scored, with 1,138 (17.8 points per game).
Morant was named the NBA Rookie of the Year at the end of the season. He earned the NBA All-Rookie First Team honour.
Career Progress
Ja Morant began his 2020-21 season on 23rd December 2020. He recorded a career-high of 44 points alongside nine assists, two rebounds and two steals. That was in a 131-119 loss against the San Antonio Spurs.
Progressively, he recorded 35 points, 6 rebounds and 6 assists with the eighth and final playoff spot on the line. That was on 21st May 2021 in the newly implemented Play-In Tournament. That was to lead Memphis to a 117-112 overtime win over the Golden State Warriors.
Therefore, he secured the Grizzlies' first postseason berth in four seasons. Two days later, the basketball sensation made his NBA playoff debut. He scored 26 points, 4 rebounds and 4 assists, to help the Grizzlies to a 112-109 victory in game 1.
That was over the top-seeded Utah Jazz.  Morant would follow that up with 47 points and 7 assists in Game 2, but Memphis would fall short 141–129.
Unfortunately, the Grizzlies would go on to get eliminated and lose the series in five games.
Ja Morant Net Worth
The basketball star's net worth is currently pending according to reports. However, his rookie contract will be in the ballpark of $17.8 million over two years.
Ja Morant Salary
"Morant has just entered the league, and he's yet to sign a lucrative player contract. He's bound to sign one in the future, and his total earnings after the 2021 season will be $17,351,400, per Spotrac."
Ja Morant Endorsements
Morant has a signed a multi-year deal with Nike. Moreover, he an endorsement deal with BodyArmor sports drink. The aim of BodyArmor is to lead in the sports drink ranks and outshine Gatorade.
Ja Morant Family
The basketball player is married to KK Dixon. The two have sired a daughter named Kaari Jaidyn.
Ja Morant Foundation and Charity Work
The NBA star has given back to society in different ways. During his birthday in 2020, he set up a fundraiser to help The Boys & Girls Club of Greater Memphis and pledged to match every donation up to $10,000.