Faith Ogallo is set to represent Kenya at Taekwondo Grand Prix in Tokyo Olympics 2020 in Japan as the third-ever Kenyan to represent the country in taekwondo after Dickson Wamwiri and Milka Akinyi at the 2008 Beijing Olympics.
She says she's going to use the Tokyo 2020 Olympics as her stronghold and she believes success at the Olympics is not beyond reach.
"I want to be the first Kenyan to compete at the Taekwondo Grand Prix and you only get invited when you improve in your rankings. So for me, Tokyo is really important to achieve this dream," Ogallo says.
Ogallo qualified for the Tokyo Olympics after after qualifying at the 2020 African Taekwondo Olympics Qualification Tournament held in Rabat,Morocco.
Taekwondo at the 2020 Summer Olympics in Tokyo will feature 128 taekwondo fighters competing in eight weight categories; four for men, and four for women.
Team Kenya's Success in the olympics has always been from athletics but there is much hope that other disciplines including beach volleyball, swimming, rugby and the national women's volleyball team can also bring medals to the country.
Speaking at the closing ceremony of the national athletics trial for The Tokyo 2020 olympics at Moi Stadium Kasarani, Former Prime Minister Raila Odinga urged the team kenya to understand that their win will not only bring joy to kenya but Africa at large since Kenya is well known in athletics in Africa.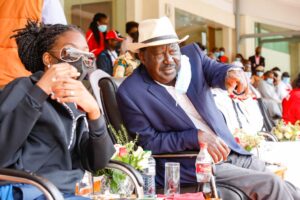 "When it comes to football, nations such as Ghana and Nigeria are the giants of Africa. But when it comes to athletics and the Olympics, everyone of African descent looks to Kenya. Therefore, you are not only flying the Kenyan flag but a continental one as well," Raila said.
Kenya shinned in the Rio Olympics 2016 with with 13 medals (six gold, six silver and one bronze), all from athletics and despite the Covid-19 pandemic, most Kenyans will be hoping these Olympians match their performance in Tokyo, if not better it.
The national men's rugby Sevens team will be making their second appearance at the Olympics but head coach Innocent Simiyu believes his charges can pull off a surprise against seasoned opponents, such as South Africa, Ireland and the United States.
"We have solidified all our facets of play and the team is relishing the challenge of competing against the world's best teams. The target will be to get out of the pool and aim for a top-six position.
"If we can get out of the pool stage, then we will have done better than what we did in Rio," he says
Kenya competed at the 1964 Summer Olympics in Tokyo Japan for the first time as an independent country with 37 competitors, all men, took part in 21 events in 5 sports. Wilson Kiprugut won the nation's first ever Olympic medal.
In The History.
Kenya first participated at the Olympics Games in 1956, and has sent athletes to compete in every Summer Olympic Games since then, except for the boycotted 1976 and 1980 Games. Kenya participated in the Winter Olympic Games  in 1998,2002,2006 and 2018.
Kenyan athletes have won 103 medals in total, all from boxing and track and field events. In terms of total medals won, the most recent Summer Olympics (2008, 2012, and 2016) have been Kenya's most successful, producing 42 medals between them.
The number of Kenyan women winning Olympic medals has risen dramatically, from their first in 1996 to more than half the Kenyan medals in 2016 (seven).
Increasingly, Kenya-born athletes are immigrating to compete in the Olympics for other countries, most notably Bahrain. In the 2016 Olympics, there were ~20 such athletes, including multiple medal winners.
Biggest Reward
The International Olympic Committee doesn't give prize money, but many countries reward their medalists with a bonus.
An Olympic Medal is awarded to successful competitors at the Olympic Games. There are three classes of Medal:Gold awarded to the winner;Silver awarded to the runner-up; and Bronze awarded to the third place. The granting of Award is laid out in detail in the Olympic protocols.
Medal designs have varied considerably since the Games in 1896, particularly in size of the medals for the Summer Games began with the 1928 Games and remained for many years, until its replacement at the 2004 Games in Athens as the result of controversy surrounding the use of the Roman Colosseum  rather than a building representing Greek roots. The medals of the Winter Olympic Games never had a common design, but regularly feature snowflakes and the event where the medal has been won.
In addition to generally supporting their Olympic athletes, some countries provide sums of money and gifts to medal winners, depending on the classes and number of medals won.
Total medals won are used to rank competitor nations in medal tables, these may be compiled for a specific discipline, for a particular Games, or over all time. These totals always total event placements rather tory in a team event (such as relay race) equates to a single gold for such rankings even though each team member would receive a physical medal.