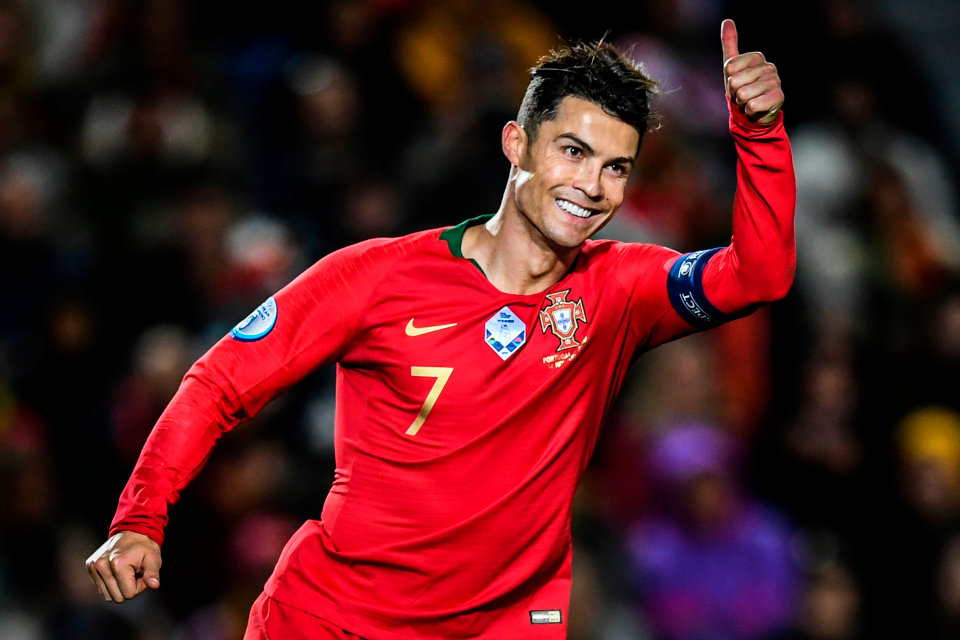 Call him a record Breaker, Cristiano Ronaldo is an absolutely amazing striker who has never met a record, he could not break, Cristiano Ronaldo is an absolute Machine.
Cristiano Ronaldo has changed the game and become the richest ever footballer past or present in the process. His net-worth has accumulated from several Clubs that he traded his services with such as Sporting CP, Manchester United, Real Madrid and presently Juventus.
He and Lionel Messi of Argentina have dominated the Game giving it another taste of breaking records for over a decade and is a five-time winner of the prestigious Ballon d'Or.
The Portuguese star who joined Portugal senior team in 2003 has won seven league titles in his career across three different countries, in addition to claiming an incredible five Champions League winners' medals as well with Manchester United and Real Madrid.
Ronaldo holds the country's all-time records for caps and goals. He helped them to Euro 2016 glory in one of the crowning moments of his career, Ronaldo also helped his country to reach the EURO 2020 Quarter finals unlucky they were, being sent out at the time when Cristiano Ronaldo was in his way to break Ali Daei international goal scoring of all time, after equaling the 109 tally in Portugal's Euro 2020 draw with France, when he slotted in two penalties.
Ronaldo has achieved astonishing feats off the pitch, earning eye-watering amounts of salary and commercial income.
Here, we look through his key financial numbers.
Ronaldo's Net Worth
At the start of 2021 Ronaldo had an estimated net worth of $500 million. In other key currencies that equates to roughly €425m and £362m. His net worth is around $100m higher than that of his great rival and Barcelona forward Lionel Messi.
How Much Does Ronaldo Earn?
According to Forbes. The Portugal's International actually earned slightly less than Messi in 2020. Still, He also earned a salary that is not to be sniffed at, earning a cool $117m before taxes over the course of the calendar year, just $9m below the total earnings of Messi.
His still impressive contract at Juventus is not paying a salary ($70m) that competes with Messi or even that of PSG star Neymar.
But where Ronaldo overpowers his rivals is other income sources like commercial earnings and endorsement fees.
In addition to his fine performances on the pitch, Ronaldo is not afraid to show off his good looks and toned physique.
Marketing experts say that has helped him to cultivate a huge social media following, making him a commercial heavyweight pursued by the world's biggest brands.
His earnings were around $47m in that category last year, which was more than Messi and Neymar.
Behind the big three there is an enormous gap until the next highest-earning footballers last year, Kylian Mbappe ($42m) and Mohamed Salah ($37m).
Ronaldo signed a four-year contract with Juventus when he joined them which runs until 2022. It was a slight reduction on his Real Madrid salary but gave him the security that he will still be paid huge wages until beyond his 37th birthday.
Ronaldo is not the only party who will benefit from the deal though, with Juve seeing a huge positive commercial impact from his arrival. They sold over half a million jerseys with his name on the back within 24 hours of their release ahead of his first season in Italy.
Ronaldo became the first footballer ever to reach the $1 billion earnings mark in 2020, and was subsequently joined by Messi in achieving that status.
Tiger Woods and Floyd Mayweather were the only other sporting figures to reach that mark before Ronaldo while still being active in their respective sports. The Juventus star was therefore the first to do it in a team sport.
When you look at the salary and endorsement income Ronaldo receives and break it down into shorter timeframes, it becomes hard to comprehend for the regular fan.
The $117m he earned last year means Ronaldo has a monthly pay packet of around $9.75m and a weekly wage of $2.25m.
Each day sees Ronaldo earn around $320,000. Going even further, Portugal star Ronaldo has an hourly rate of $13,000. That means he earns $215 every minute and around $3.60 per second.
Ronaldo Sponsors
Nike is the all time and the most prominent sponsor of the Portuguese International, who reportedly pay him more than $20m every year. Ronaldo signed a lifetime deal with Nike in 2016 and was only the third athlete to do so following the footsteps of basketball giants Michael Jordan and LeBron James in signing such a deal.
Ronaldo being tied to Nike is key, with Messi representing rivals Adidas and Neymar having made the switch to Puma.
At present, Ronaldo earns around $45m per year in commercial fees from a host of brands.
As well as Nike, he has represented Altice, Herbalife, DAZN, MTG, Clear shampoo, Abbott and Unilever over recent years.
Ronaldo Businesses
Ronaldo is building a hotel empire through his Pestana CR7 Group. Establishments have already been set up in Funchal and Lisbon, with others planned in glamorous locations around the world.
Just yesterday the Juventus superstar Cristiano Ronaldo launched his fourth hotel in midtown Manhattan, New York City barely one month after opening the Madrid outlet.
The 36-year-old opened his first hospitality business in his hometown in Madeira and then proceeded to launch another one in Lisbon. Operating under the banner Pestana CR7, Ronaldo took to his official Instagram page to announce the grand opening of his latest hotel in the US, which is the first outside of Europe.
He also works on a CR7 clubs business with Crunch Fitness and has posted a host of online workouts to promote the deal. Ronaldo has agreed to have his name attached to a social media influencing degree offered by eCampus, an Italian online university.
CR7 brand his huge income driver is projected to continue growing in future as according to Forbes, around a quarter of his endorsement income each year is estimated to come from his own company.
The trademark a mix of his initials and jersey number started off promoting branded underwear back in 2013 and has since expanded to offer larger product ranges including shoes, perfumes and clothing.
As well as raking it in representing other companies and his own projects, Ronaldo is also extremely generous with his time for charity projects.
Ronaldo won an award in 2015 being named the most charitable sports star in the world that year he also campaigned on issues such as childhood hunger, obesity and biodiversity.
The Portugal attacker has promoted and financially supported charities like UNICEF, World Vision and Save the Children.
Ronaldo Cars and Assets
Ronaldo lived in a huge estate in Alderley Edge when he played for Man Utd, before buying a mansion for almost $8,3m in the La Finca neighborhood when he played for Real Madrid.
After signing for Juventus he snapped up two adjoining villas in Turin that contain a private gym and a swimming pool. The private area is guarded by security with separate entrance gates and huge grounds.
He also owns a holiday property in Costa del Sol, while his main home in Madeira is worth almost $10m and he has also bought up much of the land close to his home.
Ronaldo is also an avid collector of classic cars and The Sun have reported he has a garage worth $26,1m, His Bugatti Centodieci is one of only 10 in the world and valued at almost $12m.
Also in the collection is a Bugatti Chiron, a Bugatti Veyron, a Mercedes G-Class Brabus, a lamborghini Aventador and a Ferrari F12.
Ronaldo has also bought other major items with his huge salary. He purchased a Gulfstream G200 twin-engine private jet in 2015 for over $27m. He regularly uses it for trips around Europe.
In addition, he purchased a superyacht to increase his portfolio of assets. It contains five luxury cabins and six bathrooms, along with modern lounge, kitchen and dining areas.
Ronaldo Followers On Social Media
Ronaldo has huge social media following from almost all social media accounts, with 92.7 million followers on Twitter.
He has an enormous 311m people tracking his movements on Instagram, while on Facebook he is nearing 150m followers.
Forbes have rated Ronaldo as the most followed athlete on social media. He has engagement figures that Hookit report continue to set records among sportspeople, allowing him to cash in to supplement his regular salary and income sources, boosting his net worth.