English Club Manchester United were the Kings of the Premier League, they dominated the English League well into the 2000's, and much of that was down to astute transfer dealings.
Under the able coach and Tactician, the Legendary Sir Alex Ferguson, United gobbled up many of the rising stars in England as well as talent from abroad.
This success in the transfer market coincided with seven Premier Leagues and a Champions League title in the 13 seasons that followed the year 2000.
Therefore, it comes without saying that ever since Manchester United changed their signing strategy post-Ferguson, they have failed to win the Premier League or Champions League again.
The club have stopped bargain hunting altogether in recent years, opting for high-profile names such as Angel Di Maria and Alexis Sanchez.
For the Reason SportLeo takes you through the best signing of Manchester United to have ever happened.
Ruud van Nistelrooy – $34,9m or £25.5m (PSV Eindhoven, 2001)
Ruud Van Nistelrooy was a key figure in Fergusons squad despite rife concerns about his fitness, when he moved to England, Dutch striker Ruud van Nistelrooy proved to be an exceptional forward for Sir Alex Ferguson's Manchester United side.
Over the course of five years at the club, Van Nistelrooy scored 95 goals in 150 games and won a Premier League title, an FA Cup and an English League Cup.
Rio Ferdinand – $56,9m or £41.5m (Leeds, 2002)
Rio Ferdinand was the kind of signing Ferguson made a habit of; identifying the best young English talent available and snapping them up. Michael Carrick and Wayne Rooney were other examples but Ferdinand was perhaps his best.
The ex-West Ham man was exceptional on the ball but was also a leader and, together with Nemanja Vidic, created one of the best central defensive pairings in Premier League history.
He may have cost upwards of £40m, but over a decade of successful service made the fee more than worth it.
Cristiano Ronaldo – $23m or £17m (Sporting Lisbon, 2003)
Man Utd were opening Sporting Lisbon's new stadium in a pre-season friendly when a supposedly jet-lagged John O'Shea was given the run-around by a pacey and tricky teenager.
Sir Alex Ferguson was suitably impressed and acquired Ronaldo's signature the same summer despite the youngster only having 31 first-team appearances to his name.
In Ronaldo's first season on English shores, Arsenal went the entire league campaign unbeaten to achieve their 'Invincibles' crown, but two years later United were once again elevated to the top of the domestic scene thanks, in large part, to the now-legend's stardom.
His pace, power, skill and eye for goal made Ronaldo a nightmare for defenders and an impossible force to stop when in full flow.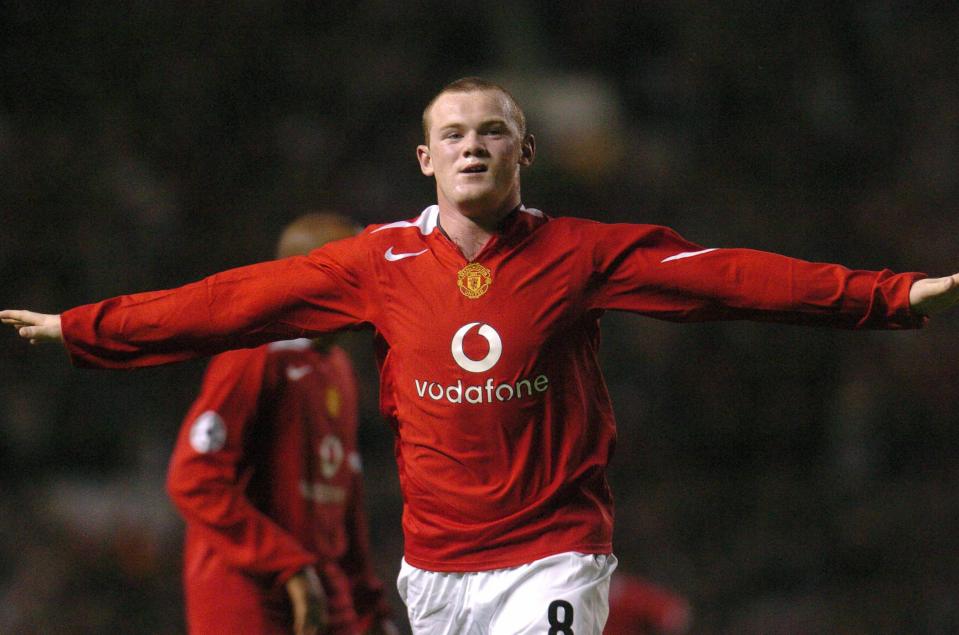 Wayne Rooney – $45,9m or £33.5m (Everton, 2004)
Wayne Rooney had already announced himself as the hottest property in English football by the time he made the move to Manchester United in 2004.
And although his transfer fee raised eyebrows at the time, the Croxteth-born forward never looking in danger of failing to live up to the hype that came with being the most expensive teenager in the history of the game at the time.
In 13 seasons at Old Trafford, Rooney won every honor available, including five Premier League titles and the European Cup, and carved out a key role in one of Sir Alex Ferguson's greatest sides.
He returned to Everton in 2017 having surpassed Sir Bobby Charlton as both United and England's record goal-scorer a measure of his longevity and success in Manchester.
Edwin van der Sar – $4.8m or £3.5m (Fulham, 2005)
As the long-term replacement for United legend Peter Schmeichel, the pressure on van der Sar to succeed at Old Trafford couldn't have been much higher.
Yet, the Dutchman bettered expectations and in his best Premier League season remarkably conceded just 22 goals. But even then, van der Sar's highlight in a Man Utd shirt came in the 2008 Champions League final, when he saved the final penalty of the shoot-out against Chelsea's Nicolas Anelka.
In six seasons with the Red Devils, van der Sar made the Premier League Team of the Year on three occasions.
Patrice Evra – $9.6m or £7m (Monaco, 2006)
It can often go unnoticed that Ferguson was able to pick up a France international who had already played in a Champions League final for $9.6m, and retain him for eight years of hugely consistent performances in a fantastic defense which included Ferdinand, Vidic and Edwin van der Sar.
Patrice Evra's longevity at the top of the game is a testament to his professionalism, fitness, and ability both defensively and offensively, a pre-cursor for the modern full-back.
Nemanja Vidic – $13m or £9.5m (Spartak Moscow, 2006)
Plucked from relative obscurity in 2005, Nemanja Vidic very quickly proved his worth as one of the very best no-nonsense central defenders in the European game.
His direct, physical approach complimented the more technically gifted Ferdinand perfectly and both players built a defensive partnership that was rarely rivalled across the continent. As was shown from his five Premier League titles and a Champions League trophy in 2008.
Michael Carrick – $33m or £24.5m (Tottenham, 2006)
A truly underrated player, Michael Carrick was crucial to Man Utd's success in the late 2000's. Indeed, in his first season at Old Trafford, the Englishman helped the club to their first Premier League title in four years.
The former Tottenham player conducted the midfield with his exceptional vision and passing, and was the definition of a player you appreciated more when they were absent from the team. After all, dictating the play of an elite level football match is a skill that few can display, but Carrick was certainly one of them.
David de Gea – $30.8m or £22.5m (Atletico Madrid, 2011)
With van der Sar retiring at the end of the 2010-11 season, Man Utd boss Sir Alex Ferguson knew he needed a long-term goalkeeper. He highlighted De Gea as his target, and signed the player following Gary Neville's testimonial in May 2011.
The Spaniard had been viewed as one of the best goalkeepers in the league for much of his time at Old Trafford, but his confidence and form has fallen in the last few seasons.
De Gea has now spent close to a decade in Manchester, but without much of the success of his famous predecessors, van der Sar and Peter Schmeichel.
Robin van Persie – $37.7m or £27.5m (Arsenal, 2012)
After losing the Premier League title on the last day of the season to their 'noisy neighbors' (Manchester City), Sir Alex Ferguson needed to respond.
And what better response than to sign the league's top scorer  Robin Van Persie his main target, and his move across the country was undoubtedly a successful one.
The Dutch talisman secured just one major trophy during his nine year stint at Arsenal; one year at Old Trafford and he'd already equaled that. Manchester United were the 2012/13 Premier League champions, and the man who powered them to victory was Van Persie.