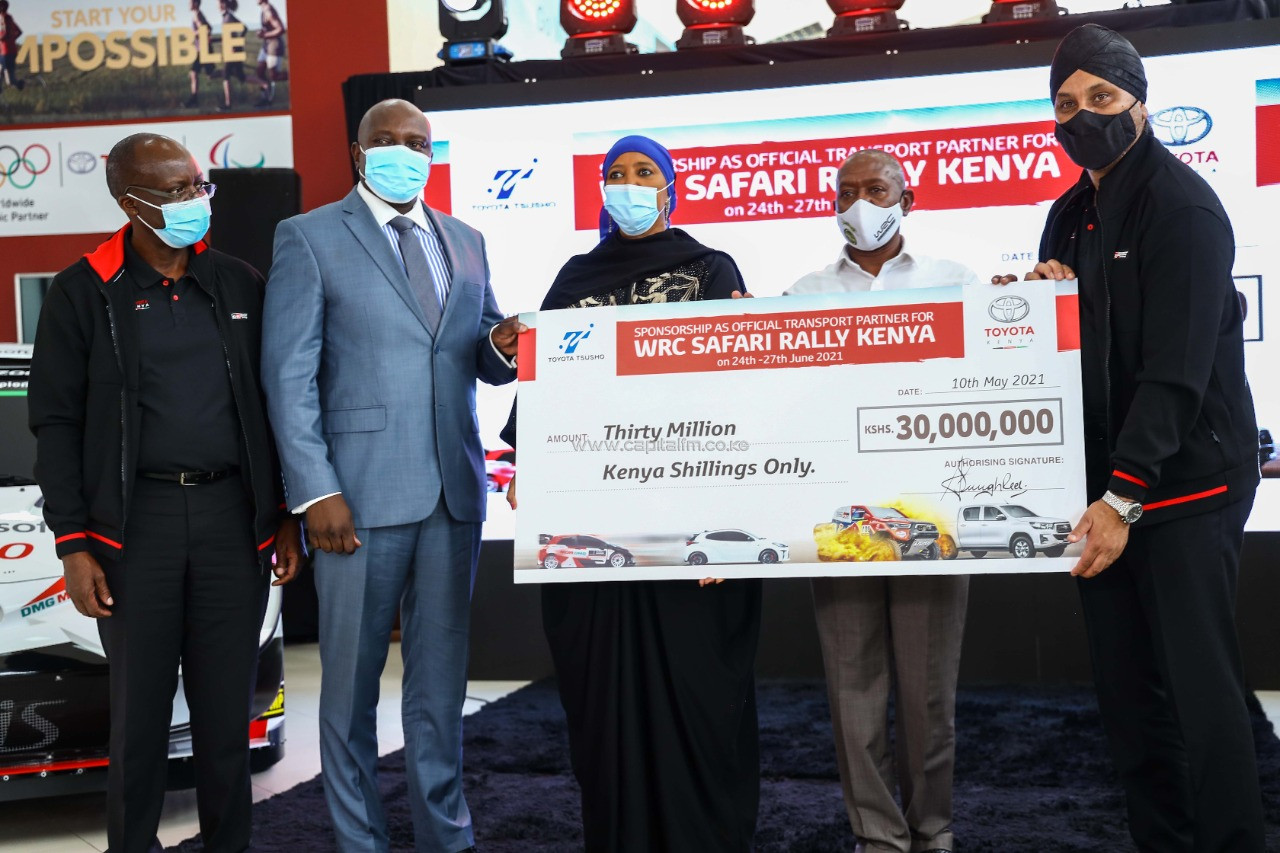 Toyota Kenya has injected well over $281,188 towards the World Rally Championship (WRC) Safari Rally event on Monday.
Toyota Kenya Managing Director Arvinder Reel handed the sponsorship cheque to Cabinet Secretary for Sports Amina Mohammed during the unveiling of the 2019 WRC title-winning Toyota Yaris.
Toyota Kenya also sponsored a Toyota Hilux double zero car that will be deployed as the stage-opener car in the upcoming event scheduled to take place from June 24 to 27 this year.
During the ceremony, Reel said, "Rallying is a sport that is deep at the heart of Kenya's national heritage. The return of Safari Rally to the WRC fold couldn't be more welcomed."
He also extended his gratitude towards the Government of Kenya and the stakeholders who joined hands to see the return of Safari Rally in the WRC calendar after 19 years of absence.
Reel highlighted Toyota's success at the eventful Safari Rally with a historic eight wins.
"I believe that it is befitting that the last Toyota win at the WRC Safari Rally before quitting WRC in 1999 was by a Kenyan, Ian Duncan in 1994, driving a Toyota Celica Turbo 4WD," Reel noted.
CS Amina said she was looking forward to the return of the Toyota Team to the event in Kenya and Africa.
"Today's event brings us closer to re-living this Toyota experience when the Safari Rally returns to our country and continent in 44 days. It will be exciting to see the Toyota Team back in action after the long break," Amina added.
Amina noted the massive role of the Toyota brand not only in the Event but also for motorists in general.
"Toyota is one of the most popular and respected motor brands in Kenya and Africa and its inclusion in the Safari Rally will encourage safer driving and inspire the next generation of safe motorists on the continent who identify with your unique global brand."