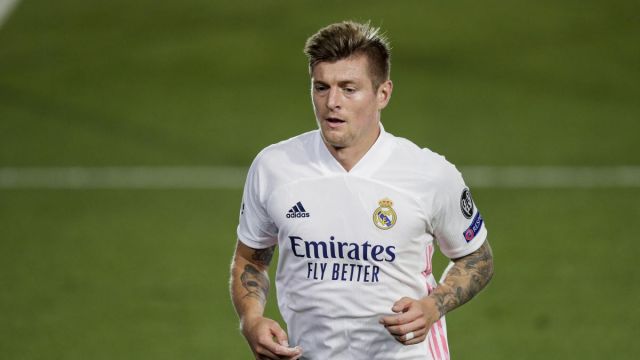 Real Madrid midfield man Toni Kroos has revealed Chelsea's strength ahead of their UEFA Champions League semi-final second leg clash at the Stamford Bridge on Wednesday night.
Speaking to reporters ahead of the European competition tie, the German midfielder said, "They defend well and have pace up front, those are their strengths."
The Blues who sit fourth in the Premier League table have only conceded 31 goals this season in the domestic league campaign. They are the second-best defensive team, behind Manchester City who have only leaked 24 goals.
They made it out of the group stages having only conceded two goals, unlike City who had only conceded one in their entire group campaign period.
Real Madrid on the other side topped Group B with 10 points but having conceded nine in their route to the Round of 16.
Up front, Chelsea coach Thomas Tuchel boasts of pacey players including 'Captain America' Christian Pulisic, Hakim Ziyech, 'King' Kai Havertz and Timo Werner 'The Burner.'
The Blues' attackers are not only fast but also young and energetic hence have the stamina to play an entire game with little fatigue, unlike the ageing defensive and midfield line of Los Blancos.
Ahead of their must-win game in London, the Galacticos will have to hope their youngsters can produce stellar performances against Chelsea. The likes of Vinicius Junior and Marco Asensio could cause trouble on the wings for the Blues.
Chelsea have a crucial away goal as they play coach Zinedine Zidane's men and their advantages as highlighted by German World Cup winner Kroos could play out to be the decider.
Since his arrival, Thomas Tuchel has transformed Chelsea into a European competition contending team. The German tactician took over from Chelsea legend Frank Lampard who despite managing a host of talent at his disposal could not get the best out of the young squad.
The Englishman gave chances and plenty of game time to the new recruits with bags of potential but failed to snatch important results.
Chelsea under Tuchel look revamped and revived and they will be hoping to edge Champions League favourites in their second meeting this season.