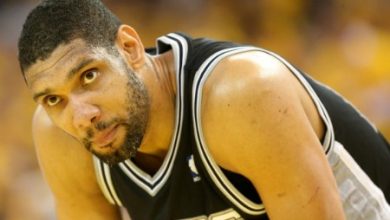 Tim Duncan: Biography
Tim Duncan whose full byline is Timothy Theodore Duncan is an American former professional basketball player and coach born on 25
th
April 1976 in Saint Croix, U.S Virgin Islands.
His parents are Ione Duncan and William Duncan. He has three siblings named Tricia Duncan, Scott Duncan and Cheryl Duncan. He goes by the nickname "the Big Fundamental". He is celebrated as one of the greatest forces and players in NBA history.
Tim spent the entire 19 years playing career with the San Antonio Spurs. After graduating from college, he has crowned the NBA Rookie of the year. He was selected by San Antonio with the first overall pick in the 1997 NBA draft.
He is a five-time NBA champion, a two-time NBA MVP, a three-time NBA Finals MVP, a 15-time NBA All-Star, and the only player to be selected to both the All-NBA and All-Defensive Teams for 13 consecutive seasons.
The Spurs were coming off an injury-riddled 1996–97 season; their best player, David Robinson a number one draft pick in 1987 was sidelined for most of the year, and they had finished with a 20–62 win-loss record.
"In the 1997–98 season, Duncan and Robinson became known as the "Twin Towers". The duo earned a reputation for their exceptional defence close to the basket. From the beginning, Duncan established himself as a quality player: In his second road game, he grabbed 22 rebounds against opposing Chicago Bulls Hall of Fame power forward Dennis Rodman, a multiple rebounding champion and NBA Defensive Player of the Year."
As his career progressed, Tim became the leader of the Spurs from the year 2003 to 2007.
In the fifth championship which was between 2013 and 2014, Duncan went on to make impressive achievements. On 2nd December 2013, he became the oldest player to record a 20-20 game in NBA history. This is after he finished with 23 points, 21 rebounds and the game-winning jump shot against the Atlanta Hawks.
Along the way, the Duncan-Ginóbili-Parker trio broke the record for most wins in NBA playoffs history. After winning the Finals in five games, Duncan joined John Salley as the only players to win a championship in three different decades.
His late career was between 2014 and 2016. The NBA legend was honoured at his jersey retirement ceremony on December 18, 2016, at the AT&T Center in San Antonio, Texas. His retirement was announced by the Spurs after 19 seasons on 11th July.
Tim Duncan: Net Worth
Being one of the greatest forces behind basketball, Tim is one of those who bagged huge salaries and other gifts.
In 2020, his estimated net worth was $130 million. The two-time NBA MVP is currently an assistant coach for the Spurs under Gregg Popovich.
Tim Duncan: Salary
Big talents are accompanied by huge earnings and that was the same with Tim.
As from the year 2015 up to date, Tim Duncan's salary is estimated to be $5 million. In 2012, he was ranked at the 73rd position by Forbes Magazine's List of the World's 100 Richest Athletes.
Also read: Kevin Durant Networth, Family and Lifestyle
Tim Duncan: Endorsements
Huge endorsement deals are common with athletics stars. The 15-time All-Star was endorsed by Adidas, AT&T and Bridgestone.
According to Forbes, he made $2 million per annum from these deals.
Tim Duncan: Business Ventures
Apart from being a basketball big wig, Tim has also ventured into business.
He has founded a car customization business in San Antonio dubbed BlackJack Speed shop.
His business partner is Jason Pena.
Tim Duncan: Foundation and Charity Work
Tim Duncan has a big heart and thus has participated in giving back to society.
He is the Tim Duncan Foundation founder whose main aim is to raise health awareness and fund education and youth sports programs.
The foundation was founded in the year 2001.
Tim has also supported the American Cancer Society as part of his charity.
Tim Duncan: Family
From 2001 to 2013, Tim was married to Amy Duncan. The two sired three kids namely; Quill Duncan, Draven Duncan and Sydney Duncan.
Tim Duncan: Assets and Lifestyle
Tim has to lead a lavish lifestyle thanks to his net worth. He owns a massive house in San Antonio, Texas.
In 2014, Duncan listed his Lake Travis home worth $1.2 million on sale at the asking price of $945,000. The 3,995 sq. ft house features 5 bedrooms, 4 bathrooms, a chef's kitchen, a game room, and other features.
He had purchased that house for $1.25 million in 2005.
He also has expensive cars like Audi R8, Lamborghini Aventador, Ferrari 458 Italia, and Dodge's challenger custom.