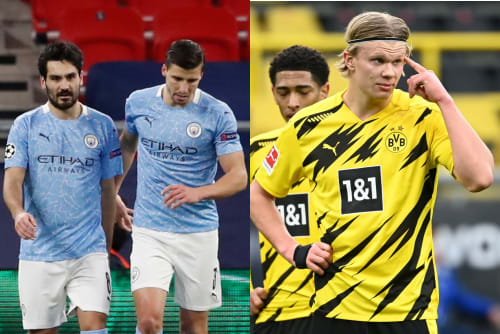 English Premier League side Manchester City will face off with Paris Saint-Germain in the UEFA Champions League after successfully winning 4-2 on aggregate against Borussia Dortmund.
Manchester City won on a come-back in the second half through Riyad Mahrez's penalty and a thunderbolt kick from promising Midfielder Phil Foden after they were shuttered earlier in the first half by Confident Jude Bellingham.
Speaking after the game Manchester City Coach Pep Guardiola said; "We were brilliant, except for the first 10 minutes where they were good, I'm incredibly happy to be in the semi-finals, to be one of the best four teams in Europe, to be against big, strong teams and we will try to be good."
On his part Borussia Dortmund Manager Edin Terzic said; "The equaliser threw us off course. We wanted to keep the game as tight as possible, and we did that for a long time."
Borussia Dortmund Possession
Borussia Dortmund played great football with the Interim Manager Edin Terzic setting his Team into a 4-3-3 formation, a formation that Manchester City adopted choosing to press and hence allowing Dortmund to play the ball in their defense.
If possession travelled further forwards, City deployed a mid-block and prioritized both screening play and forcing the ball wide. Kyle Walker and Oleksandr Zinchenko applied pressure to the ball when it travelled wide, and when it did, whichever of the two was on the far side of the pitch would then tuck infield to preserve their defensive compactness.
Their midfield three, similarly, operated with a flatter line, and their front three also became more compact, but because Dortmund struggled to retain the ball in the attacking third and because of City's desire to counter, City rarely defended with increased numbers behind the ball.
Dortmund's full-backs Raphaël Guerreiro and Mateu Morey provided their width; Emre Can remained their deepest-positioned midfielder, and Erling Haaland withdrew into the deeper territory of a traditional 10. To overcome City's block they occasionally attempted to play long and rely on the pace of their wide forwards and the space that potentially created around the edge of the penalty area in the second phase of their attacks.
17 year-old Jude Bellingham provided a fine touch to Dortmund after receiving a long ball after City defenders created a huge space forced by the Dortmund's players turning their backs on the attacks that was following.
Attempts to link directly from defense to attack were consistent; Dortmund's midfield then sought to influence the second phase. Haaland adjusted his body shape and positioning to swiftly move into midfield and receive possession from a central defender, and him doing so acted as a trigger for Bellingham to advance and receive the ball when it was set towards him by Haaland, and in turn to attempt to progress through City's midfield.
Emre Can also attempted to start attacks, he regularly received long balls in-front of City defence but ended wasting the prime chances by only demonstrating passing combinations as with their goal, or played wide into either an advancing full-back or a wide forward moving deeper.
Manchester City defense frustrated Dortmund's forward strikers blocking any available chance of shooting in the second half, but Emre Can was so influential in the second half again operating as a pivot and changing their point of attack, but at the same time consistently existed the risk of City countering.
Manchester City Possession
The 4-3-3 formation of Manchester City by Pep Guardiola put them more organized from the word go, led by Kevin De Bruyne, Dortmund who defended with a 4-5-1 kept numbers behind and prioritizing defending at the same time trying to press into city's defensive third.
City's superior grasp of possession and the lengthier periods for which they retained it meant them regularly dictating the tempo of play. Dortmund were reluctant to play the ball in the central areas allowing the City to play it across the field.
Their full-backs were highly clever in alternating demonstrating clearer adjustment of their positions to ensure they operated at different heights. Towards the right, if Kyle Walker had possession in the inside channel, Riyad Mahrez drifted towards the touchline, inviting De Bruyne to move across to support and lkay Gündogan to advance, and it was that positional flexibility that created passing lanes and options.
When regains were made as Dortmund attacked and therefore had numbers forwards, City countered with speed to capitalize on the spaces they had vacated. There were also occasions when their front three would rotate, as dictated by the whereabouts of the ball. The influential De Bruyne regularly withdrew into midfield to contribute when attacks were being built, and his movements created space for Gündogan and Bernardo Silva to advance into.
Rodri and Gundogan played to build a firm play involving John Stones and Ruben Dias ultimately supporting them and giving them freedom. They were consistently comfortable in possession, ensuring that in the second half they focused less on achieving penetrations and instead successfully managed the game winning on aggregate 4-2.
Manchester City now will meet in the semi-finals with France giants Paris Saint-Germain who won on aggregate against FC Bayern Munich on Tuesday night football.
Chelsea also advanced on the semis and will battle it out with Spanish side Real Madrid.