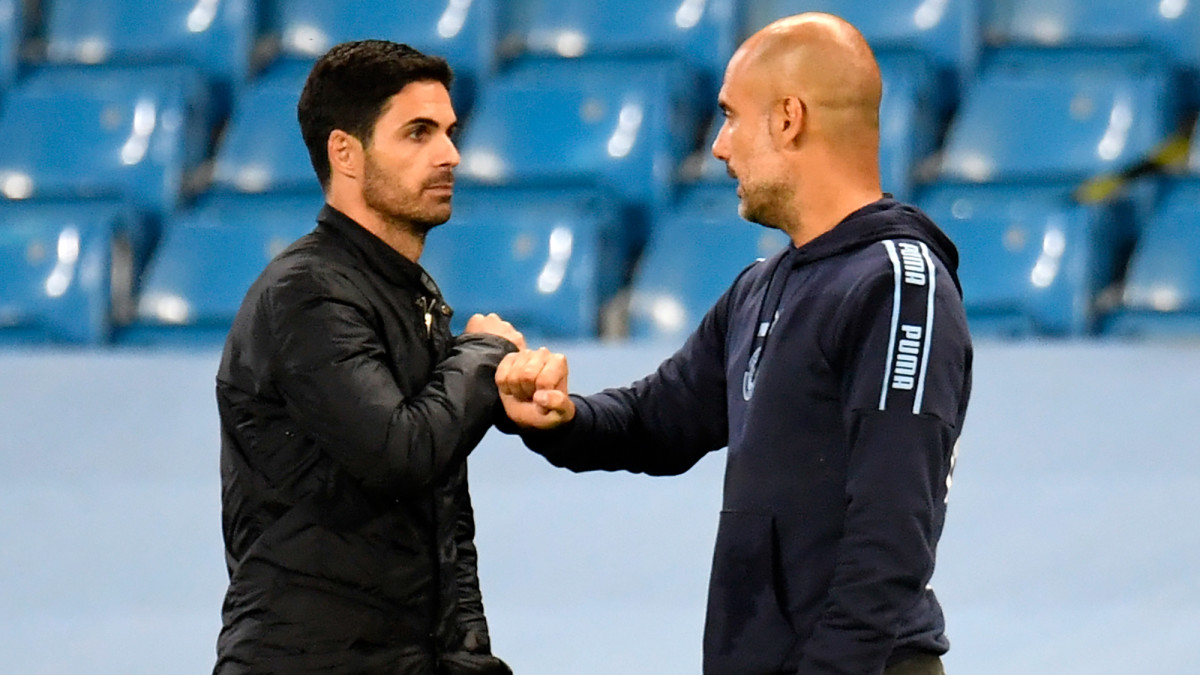 Mikel Arteta Men Arsenal will host first placed Manchester city in the premier league on Sunday February 21 during their second leg English premier league clash.
Arsenal who have won two games in their last five premier league matches are Tenth placed in the premier league table and are looking forward to face a more elegant team that has been consistent in wins in their last five premier league games.
In their last three encounters against each Manchester city has won two with Arsenal winning one in their last FA competition which was played on July last year.
Despite Manchester city's flourishing season without key Players such as Sergio Aguero and Midfield Kevin De Bruyne it is not yet clear if their Germany star Ikay Gundogan will feature on Sundays game after missing Wednesday win against Everton although Pep Guardiola has hinted on his return on sunday.
Ikay Gundogan sustained a groin injury during Tottenhams game missing Wednesday's 3:1 victory over Everton as city made 17 straight wins in all competition.
The Germany International has become a red hot and putting himself in contention for the year-end awards with his play, having scored 11 goals in his last 12 premier league games.
That tally has surpassed his previous career high for league goals set in 2018-2019 season when he netted six times for city.
On the other hand Arsenal yesterday suffered another draw in their away match against Benfica during their Europa League clash round of 32 first leg tie.
Despite dominating and creating more chances Arsenal's Forward Striker the 31 year-old Aubameyang missed a lot of clear chances to put the gunners ahead.
The Gabon international looked destined to put Arsenal ahead in the first half when Hector Bellerin played a square ball into his path, with the goalkeeper struggling to move across his goal
But a 1-1 draw does not represent a disaster for Arsenal, who scored a crucial away goal when in-form Bukayo Saka cancelled out Afonso Fernandes' second-half penalty. Shortly after the fixture, Aubameyang said on social media:
'We deserved better and I should score couple goals today but still one game to go we keep going. Well done Bukayo Saka.'
Saka has been playing in his accustomed right-wing position this term and has been one of the club's most consistent performers in recent months.
Saka has registered six goals and five assists in the 29 game appearances and is expected to have a key role to play for the club in the second-leg of the round of 32 tie.
Arsenal has not bagged a single point against City since April 2017 where they registered a 2-2 draw at the Emirates.
The task will be a lot tougher with Pep Guardiola's side on a stunning 17-match winning streak in all competitions.
After Sunday's match against the Gunners, City will face Borussia Monchengladbach in the Champions League last-16 first leg on Wednesday as Arsenal goes ahead to host Benfica in return leg on Thursday February 25.