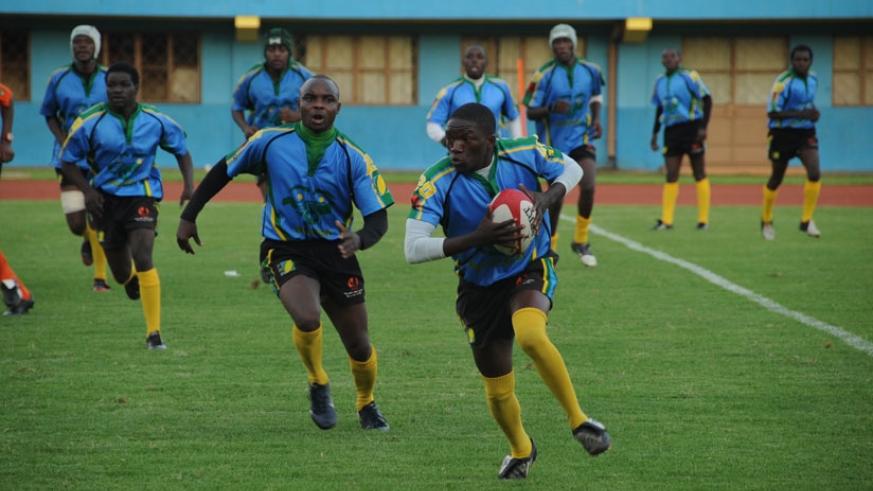 Rwanda Rugby Federation (RRF) has heeded the call to support local clubs struggling during the novel coronavirus pandemic, with the supplying of medical equipment over the weekend.
The equipment provided to Puma RFC based in Rukoma Sector, include thermometers, disinfectants, masks and hand sanitisers. In addition to these hygiene products.
Harerimana Prosper, vice president of the Puma RFC thanked the RRF management for the support. He pointed out that one of their major concerns was to get the basic equipment to fight against the spread of Covid-19, as sports activities resume in August.
Nkurunziza Jean de Dieu, Executive Secretary of the Rukoma Sector, where the Puma RFC team is located, thanked the Rwanda Rugby Federation and Rugby Africa for the support provided to the club.
He stressed that due to the fight against the Covid-19, the day the team resumes training they will be helped to clean up and clean their equipment and every player will be tested before going to the field using the equipment donated, he encouraged players and club officials to continue following measures to fight against the spread of the virus.
RRF President Kamanda Tharcisse said they are now preparing a plan for return to play if sports activities resume.
"What we will do is monitor the teams if they practice in accordance with the guidelines to prevent the spread of the virus, and we are still working with the Rugby Africa and the World Rugby to see if we can get more support."
Sponsors of the local game have also dried up during the pandemic, as the economic effects become more far-reaching said Tharcisse.
"We are talking to the Ministry of Sports and the Olympic Committee for help so that if we get back we will not face a lot of problems and we hope it will go well."
In partnership with ANA and Sports Leo