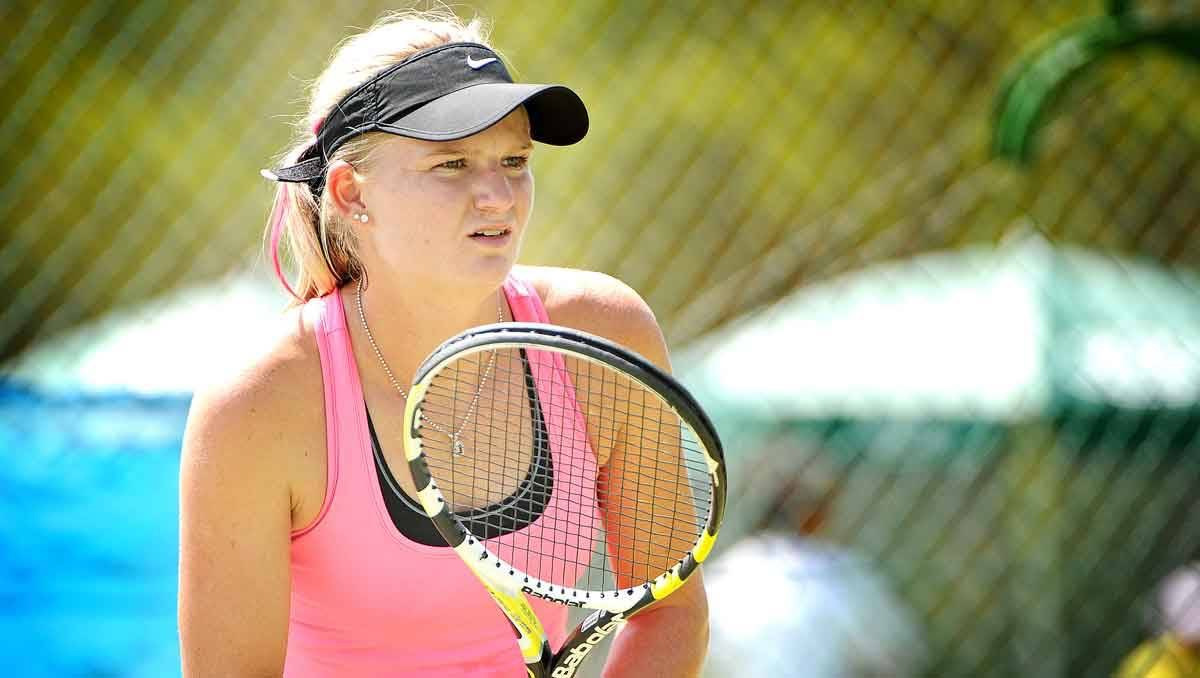 The country's leading women's player Chanel Simmonds headed the list of South African players to safely make it through to the second round on day three of the combined World Tour tournaments at the North-West University in Potchefstroom on Wednesday.
The eighth-seeded Simmonds booked her passage to the next stage of the Ilana Kloss International with a 6-0 6-1 win over compatriot and qualifier Warona Mdlulwa.
Simmonds will next face unseeded Berfu Cengiz of Turkey in the second round.
On the men's side, South African youngsters Pierre Malan, Dylan Salton, Robbie Arends and Vaughn Hunter booked their places in the next round of the North-West University Open (Men's World Tour).
Malan, 19, advanced to the second round with a hard-fought 7-6(7) 6-1 victory over countryman Connor Kruger.
Dylan Salton got the better of Yash Chaurasia from India 6-0 7-5 and will next face eighth-seeded Matteo Martineau from France on Thursday.
Robbie Arends eased past Zimbabwean Muzi Sibanda to set-up a second-round clash with French third seed Benjamin Bonzi.
Vaughn Hunter also made a winning start to his campaign with a 6-4 6-0 victory over fellow South African ChrisjanVan Wyk. Hunter will next face Italian sixth-seed Martina Caregaro.
Round of 32 results:
Singles
Ilana Kloss International (Women's $25,000 ITF World Tour)
Samantha Murray Sharan (GBR) [1] Bt Emily Seibold (GER) 6-3 6-4
Amandine Hesse (FRA) [3] Bt Weronika Falkowska (POL) 6-1 6-4
Simona Waltert (SUI) [4] Bt Paula Kania (POL) 6-2 7-5
Susan Bandecchi (SUI) [5] Bt Nika Kukharchuk (RUS) 6-3 6-3
Martina Caregaro (ITA) [6] Bt Fanni Stollar (HUN) 7-6(4) 5-7 6-3
Chanel Simmonds (RSA) [8] Bt Warona Mdlulwa (RSA) 6-0 6-1
Gabriella Taylor (GBR) Bt Shelly Bereznyak (ISR) 7-5 6-2
Anna Zaja (GER) Bt Kelia Le Bihan (FRA) 6-2 6-2
Katy Dunne (GBR) Bt Paige Hourigan (NZL) 6-1 6-1
Shavit Kimchi (ISR) Bt Martyna Kubka (POL) 1-6 6-4 7-6(6)
North-West University Open (Men's $25,000 Itf World Tour)
Pedja Krstin (SRB) [1] Bt Gerhardt Marius Becker (RSA) 6-0 6-3
Daniel Masur (GER) [2] Bt Sebastian Prechtel (GER) 3-6 6-4 6-2
Benjamin Bonzi (FRA) [3] Bt Milan Radojkovic (SRB) 6-0 6-1
Roberto Ortega-Olmedo (ESP) [4] Bt Carl Roothman (RSA) 6-2 6-0
Lorenzo Musetti (ITA) [5] Bt Luc Koenig (RSA) 6-1 6-2
Corentin Denolly (FRA) [6] Bt Vasilios Caripi (RSA) 6-2 6-2
Sadio Doumbia (FRA) [7] Bt Jean Thirouin (FRA) 6-1 6-0
Robbie Arends (RSA) Bt Muzi Sibanda (ZIM) 6-0 4-1 Ret.
Danylo Kalenichenko (UKR) Bt Devin Badenhorst (RSA) 6-3 6-2
Pierre Malan (RSA) Bt Connor Kruger (RSA) 7-6(7) 6-1
Mick Veldheer (NED) Bt Mikaeel Woodman (RSA) 6-0 6-2
Dylan Salton (RSA) Bt Yash Chaurasia (IND) 6-0 7-5
Vaughn Hunter (RSA) Bt Chrisjan Van Wyk (RSA) 6-4 6-0
In partnership with ANA and Sports Leo