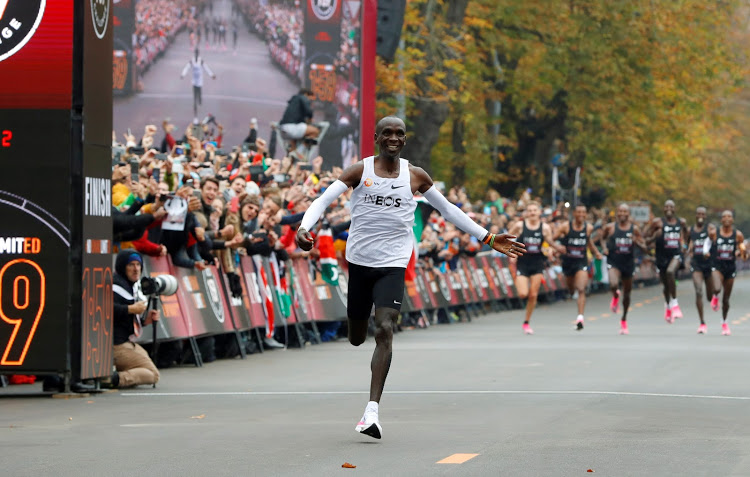 Last May President Edgar Chagwa Lungu of Zambia and his wife Esther joined several hundred people gathering at Sadzu Road in the capital Lusaka.
The event was the annual Lafarge Lusaka Marathon.
For the past few years, hundreds of runners from throughout Zambia and other countries have come to the event for a variety of reasons: some are competitive athletes, but most are just interested in the experience.
"We came up with the idea of a road race in 2012 and partnered with Lafarge, a French cement company," says Elias Mpondela, president of the country's athletics federation.
The event incorporates a marathon, half-marathon, a 10km race and 5km health walk, all helping to raise money for several charities in Zambia, including the Chilanga Mother of Mercy Hospice.
The marathon has become a popular affair in Zambia since its inception seven years ago.
"When we started in 2012, there were barely 300 runners," Mpondela says. "In May 2019, we had over 3000. Having President Lungu and the first lady participate in the event this year was a big boost."
The rise in popularity of the marathon mirrors an upsurge in road races in the world in general and across Africa in particular.
"The number of races growing in Africa is quite phenomenal," says Norrie Williamson, a road-running coach whose vast experience in the sport spans more than three decades. In addition to his coaching duties, Williamson is also a technical consultant for many races all over the world and in Africa.
"Races like Lafarge in Zambia have grown at a considerable rate to the point where other races are beginning to be organised. They are looking at putting on a couple of marathons. From the considerable size of Lusaka and the Zambian population, that's large."
Many of the events across the continent have IAAF certification, with a few of them big enough to earn a label, like the Okpekpe International Road Race in Nigeria. The silver label race takes place in the small town about five hours from the capital Abuja with a population of just over 3000. Yet the race has an attractive prize money pot of US $20,000, drawing top competitors and opening a window into the world of athletics for the locals.
"You have a situation where the locals can participate in the race against some of the best in the world," according to Williamson.
In North Africa, Moroccans organise more than a dozen road races in a number of cities, among them, the "Course Féminine" started by 1984 Olympic 400m hurdles gold medallist Nawal El Moutawakel.
"I started the event in order to showcase the spirit, power and solidarity of women participating in sport," says Moutawakel, an IAAF Council Member. "I wanted to give them a day to be able to freely participate in a sport together and this run was a perfect way to do that.
The event began as a 5km race with less than 2000 participants in 1993. By 2008, more than 30,000 women and girls between the ages of 15 to 75 took part in a 10km.
Run annually in Casablanca, it's been nicknamed the "Run for Fun" where women can run or just jog. Participants come from Morocco but it also attracts top talent from Kenya, Ethiopia, Tanzania, South Africa, Egypt and Tunisia in Africa along with runners from European countries and the USA. The race has evolved into one of the biggest for girls and women in Africa and the Arab and Muslim world.
"The race is an example that women can make their own decisions regarding healthy lifestyles and that there is a community of women out there who aren't afraid to make that decision. I think it gives girls and women everywhere courage to stand up and speak up," says Moutawakel.
Races have sprung up all over the continent – even in countries with no history of long-distance such as Gabon, Nigeria and Ghana.
In Ivory Coast, the 2018 Abidjan marathon was able to draw 15,000 runners in only its fourth edition with a prize money purse of just 2 million West African francs, or about $US 3300. Runners came from 15 countries.
For the fifth edition, organisers expect to have about 20,000 runners for the marathon that is run along the banks of the Ebrie Lagoon. They have also set aside 10 million francs ($US 17,000) in prize money.
Of the thousands of races taking place all over the continent each year, South Africa is among the countries with the most races and the best organisation, according to Williamson.
"It is most structured in South Africa. We had something like 1400 races in the country in 2017 and 2018. A large percentage of those are marathon races."
The two biggest road events in South Africa are ultras; the Comrades, run between Durban and Pietermaritzburg, which was capped at 25,000 runners in 2019, and the Two Oceans Marathon that takes place in Cape Town.
Competitive athletes seek out these road races, especially those with significant prize money, but the biggest growth has been with recreational runners like 51-year-old Kafula Mwiche and his wife in Zambia.
"I have been running the (Lafarge) marathon for the past four years, ever since I became a long-distance runner," says Mwiche. "I enjoy the solitude and the health benefits. I run with my wife so it gives us quality time as we are both busy professionals."
Mwiche belongs to a running club whose members enter road races in Africa and beyond. In addition to the Lafarge Lusaka Half Marathon, other races he has run in include the Cape Town Marathon, the Two Oceans and Comrades ultras in South Africa.
The 51-year-old is part of a growing group that has helped power the rise of road races in Africa.
"It's a bubble growth towards the back of the field," explains coach Williamson. "People will go and do an event maybe once or twice and then go and look for another event to do, another challenge. So we are seeing this growth within the recreational, health and social side of the sport as opposed to the competitive side of the sport, and it is going to carry on.
"What they ultimately get out of it is the sense of achieving something and that tends to be something that they can then use in other aspects of their lives."
Mwiche, who has completed all the races he's ever been in, confirms the coach's take on the recreational runner's benefits.
"It is a priceless experience second to none. The preparation and execution teach you discipline, which is applicable in all areas of life. It teaches one to focus and attain set goals."
Factor in elite runners
Africans have long dominated marathons, since Abebe Bikila's barefooted run to gold in the 1960 Olympic games in Rome. Many others followed in his footsteps, conquering not only the Olympics but other major road races all over the world.
These days it is runners like Kenyans Eliud Kipchoge and Bridget Kosgei making headlines. Africa's growing interest in mass races may have something to do with these elite athletes achieving wonderful things on a global scale.
The thousands of Kenyans in Eliud Kipchoge's hometown of Eldoret who thronged the streets on October 12to watch him run 42km in under two hours is a pointer in that direction. Africans all over the world identified with his achievement on social media.
They did the same when Kosgei broke the women's world record at the Chicago Marathon run the next day. She clocked 2:14:04, shaving 3 minutes and 14 seconds off the previous record that had stood for 16 years.
The success of these athletes is major news all over the world and often inspires other athletes from similar backgrounds to try to do the same. They will seek out these races on the continent and do their best to win them.
"In Kenya and Ethiopia and other major athletics and running countries…people are using the sport to get out of circumstances to use their talent to improve their lives and their lifestyles," says Williamson.
Road races are now acting as ambassadors for athletics in Africa, especially in places where the sport is struggling. This has been the case in Zambia with the organisers of the Lafarge Lusaka Marathon crediting the race with more visibility for the Zambian federation and its other competitions.
"It has helped us to become more creative, to raise money and not to rely entirely on the government and other donors for support," says Mpondela, who has great ambitions for the race.
"We want to make it big, like the London Marathon and have top-notch runners come to compete in it."
A similar situation is unfolding in Nigeria, where the Okpekpe 10km race is giving the locals a front-row seat to the Diamond League. "They can actually watch the Shanghai Diamond League after the race. So you are getting a small village of maybe 3000 people being exposed to athletics. It is a mind-blowing concept of development," says Williamson.
Meanwhile, races are continuing to sprout all over the continent and it is a trend Williamson thinks is not about to stop anytime soon.
"The sport will continue to grow. It is very exciting and a long way from where we were 10 to 20 years ago."
In partnership with ANA and Sports Leo