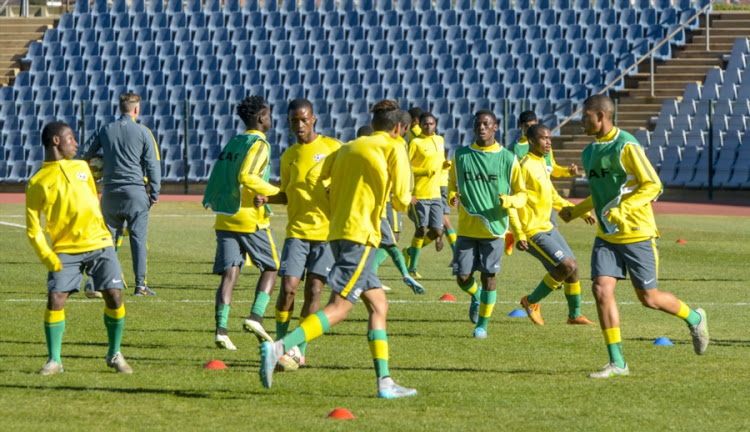 Interim coach of the South African Under-17 men's team Vela Khumalo, has named his final 20-man squad that will compete in the 2019 Cosafa Under-17 Championship.
The tournament takes place in Blantyre, Malawi, from Friday until October 20.
Khumalo said it was not an easy process to go through, given the fact that he had a very talented group of 30 players from which to select the travelling squad.
He is, however, pleased with the young men that will represent South Africa in Malawi.
"I must admit that we had a very difficult time coming up with the final team, and that is mainly because those we had called up in our provisional squad were just too good in their respective positions," said Khumalo.
"After a thorough assessment we had to go with the 20 players as per the regulations of the tournament, but I know that even the ones being left behind are very talented. Unfortunately, we can't take them with.
"I am also confident that they will represent the country well in the Cosafa Cup. I am very positive they will fight to reach the final."
Khumalo added that he has gone for much younger players to compete in the tournament because the focus is on the future.
"We could have brought in much older players as compared to the Under-14s and Under-15s we had selected to compete in this year's edition.
"However, that approach was going to hurt our plans in the long run as we are preparing for next year's Cosafa tournament, which will also double up as the 2021 Under-17 Africa Cup of Nations for which we want to qualify," added Khumalo.
"Getting a spot there will give us an advantage as our ultimate goal is to qualify for the 2021 Fifa Under-17 Men's World Cup.
"We can only achieve that by giving these young players the needed experience to grow from this year's tournament so that they can get used to this level of competition come next year's Under-17 Afcon qualifiers."
In the 2019 edition of the Cosafa Cup, South Africa are in Group A alongside hosts Malawi, Zambia and Eswatini.
The top two nations will proceed to the semifinals of the competition.
In partnership with ANA and Sports Leo