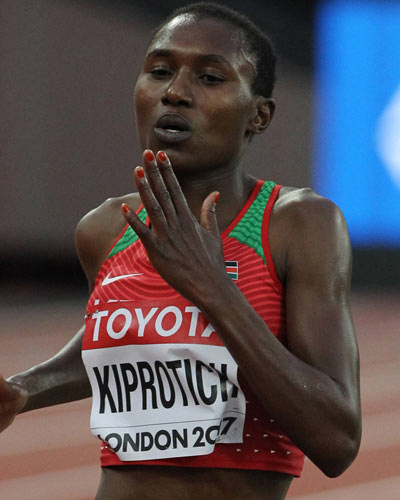 Kenyan Sheila Chepkirui, who has recorded the fastest 10km in the world this year, will be the star turn at the FNB Durban 10K CitySurfRun on Sunday, October 13.
Chepkirui cruised to a 29:57 at the 2019 Birell Grand Prix 10km Road Race in Prague on September 7. With that time Chepkirui is the fastest woman over 10km.
Only Kenya's Joyciline Jepkosgei has ever gone faster (29:43) run on the very same course in 2018.
"It shows just how serious the international field is taking the event. The CitySurfRun has been awarded the Bronze Label status by the International Association of Athletics Federations (IAAF), said Michael Meyer Managing Director, Stillwater Sports.
Chepkirui blitzed halfway in 14:46 before edging Dorcas Kimeli on the line in Prague, when she set the 2019 world's fastest time.
Both were awarded the same finishing time of 29:57, but Chepkirui was given the nod for the win. Prague was a big breakthrough for Chepkirui.
Coming into the race she had recorded best times of 30:28 (Prague, 2017) for 10km, 14:54.05 (London, 2017 – 7th at the World Championships) in the 5 000m and 32:35.0 for the 10 000m, the latter run in Nairobi.
Chepkirui has raced sparingly on the roads. Despite Prague being only her third effort on the roads, she took her best down from 30:28 by 31 seconds. This good form bodes well for the Durban race.
Defending champion Stella Chesang was, until the signing of Chepkirui, the race favourite.
With both Chesang and Chepkirui in the line-up, the chances of a sub-31 in Durban have just increased.
The race starts at Blue Lagoon (Athlone Drive) and finishes on the Durban beachfront.
In partnership with ANA and Sports Leo