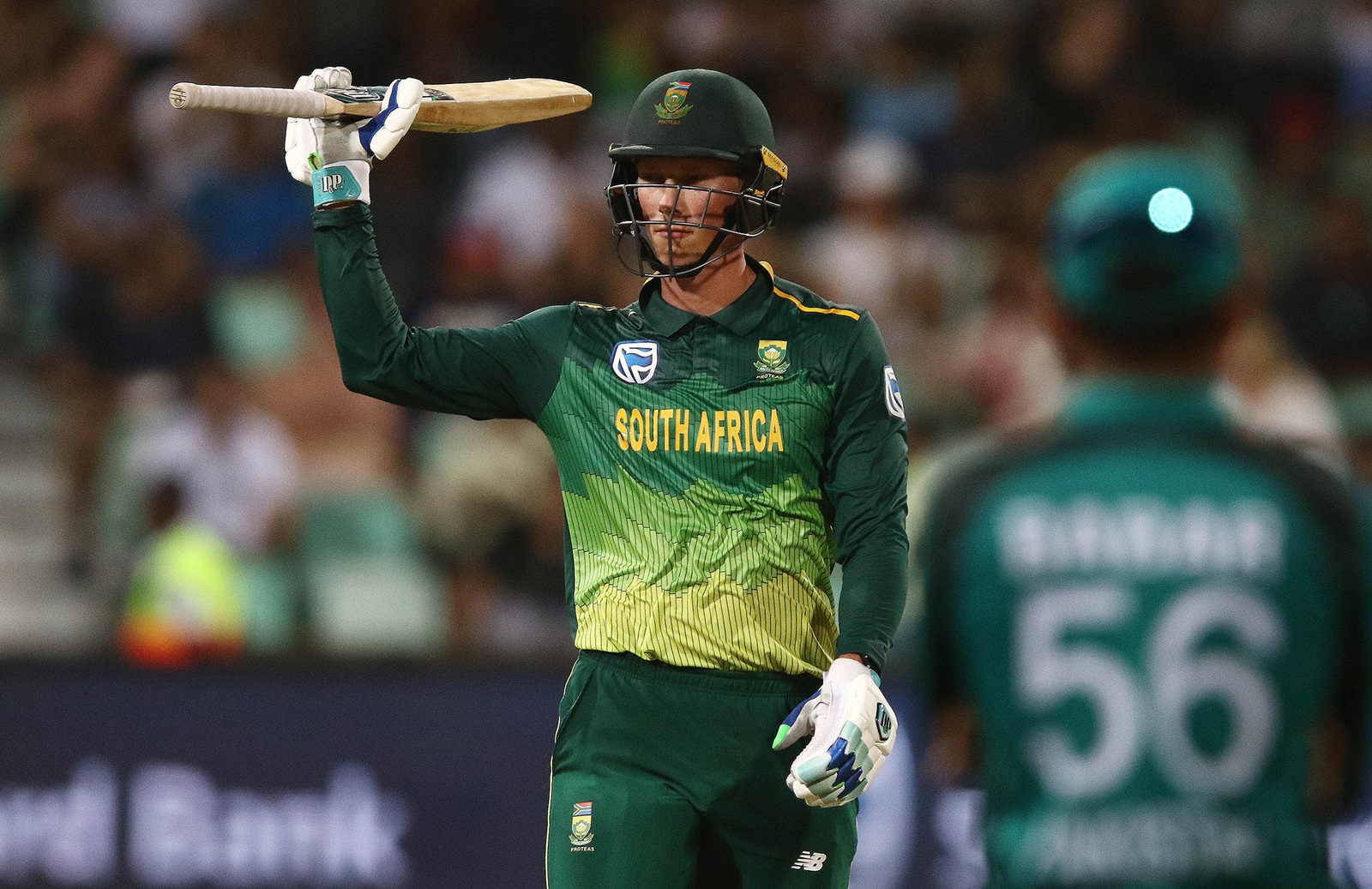 Rassie van der Dussen relished batting against Australia's full-strength attack at Old Trafford in South Africa's best performance of the Cricket World Cup on Saturday.
In his first meeting against Aaron Finch's team, the 30-year-old scored a career-best 95 runs off 136 balls and shared in a 151-run third-wicket stand with captain Faf du Plessis.
It was South Africa's highest-partnership of the tournament and Van der Dussen hopes his innings establishes him as a player who can perform in tough situations.
"I would like to be a guy that performs under pressure and performs when the team is down and when the team really needs it," Van der Dussen said.
"Any World Cup game is a high-pressure environment and I felt I did fairly okay. Luckily today's innings contributed to a match-winning cause."
Van der Dussen was forced to take his time to settle after being hit on the helmet by Pat Cummins off the 13th ball he faced, before offering Alex Carey a stumping chance when he was on five.
His first boundary came off the 33rd ball he faced, but he was in no rush after Quinton de Kock and Aiden Markram put on 73 runs in the first 10 overs to give South Africa their best first Powerplay of the tournament.
The speedy start meant Van der Dussen could be more circumspect, especially with Du Plessis providing support at the other end.
"It was tough upfront. I didn't really get going like I normally do and like I wanted to. I found it a bit difficult to rotate and they didn't give me any free runs," Van der Dussen said.
"Faf was really good. He got me through that tough period. He is so experienced and he has seen it all. He kept our momentum going. I knew if I could stay in, I could catch up."
As his innings developed, Van der Dussen grew in confidence and found the boundary more easily.
He was in sight of a century as in the final few overs, but wickets at the other end meant he fell five runs short, something which he was happy to accept because South Africa won.
"The key was to keep staying in, keep that positive intent and luckily late in my innings I could get a few boundaries away," he continued.
"It was disappointing not to get a hundred but it wasn't my day for a hundred. I'll take the victory with a 95 rather than a hundred and a loss. It was still a good day."
South Africa have not had too many good days at this tournament, with only three wins from their nine matches and one no result against the West Indies.
They fell out of contention for the semifinals more than two weeks ago, on June 23, when they lost to Pakistan and have spent the time since hoping to show their potential.
Victories over Sri Lanka and Australia have done that, as has the form of van der Dussen, who has emerged as their find of the tournament.
After making his debut against Pakistan in January this year, Van der Dussen has quickly made his mark on the international stage.
He has six half-centuries to his name, including three at this World Cup and finished the competition as South Africa's second-highest run-scorer, behind Du Plessis, and is ready to embrace his role as a key player in South Africa's future.
"I know I can play a role going forward in our team environment. I will take a lot from this World Cup, a lot of experience, a lot of learnings," van der Dussen said.
"I will try and apply that going forward. If I get my chance again, I will try to be at my best and try to grow as a player."
In partnership with ANA and Mediapix