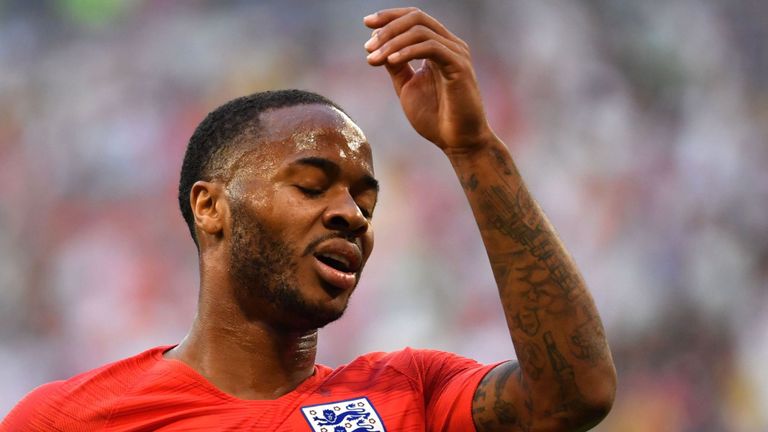 Fresh from a successful campaign in the Premier League with Manchester City, Raheem Sterling desires to finish a stellar season by clinching England's first trophy for 53 years on the Nations League.
Already Portugal have sealed a spot for themselves through Cristiano Ronaldo's hat-trick against Switzerland, marking his 53rd international hat-trick.
Sterling will win his 50th England cap in Thursday's semi-final against the Netherlands and could even captain his nation for the first time should Gareth Southgate leave out their first-choice skipper Harry Kane.
The 24-year-old endured loads of criticism for his performances on the international stage early in his career. However, he has silenced the critics by showcasing a tremendous performance, netting eight goals in his last four games.
And after reaching the semi-finals of last year's World Cup, Sterling believes it's time for England to lastly flip that momentum into silverware.
"It's a large achievement," mentioned Sterling on reaching a half-century of international appearances. "However with the Three Lions now it's time to try to challenge for some trophies.
"It's outstanding how far we've come and we've nonetheless bought a protracted technique to go."
Southgate has a difficult job in deciding which of the seven players in his 23-man squad involved in Saturday's Champions League final between Liverpool and Tottenham will begin in Guimaraes against the Dutch.
Kane appeared quite unfit as he made his return from a two-month injury layoff, with the Spurs striker simply seen off by Virgil van Dijk.
The Dutch captain will present stiff opposition once again on Thursday, but Southgate defended Kane's efficiency in Madrid.
"The service into Harry wasn't favoring him or in his space," stated Southgate.
"I've got to assess all the players involved in Madrid because it's a unique game, a unique set of circumstances whether you have won or lost and the physical complications."
And Southgate hinted that Kane's position in carrying his side by clinching the World Cup golden boot in the previous summer season and scoring the goal that booked their place into the Nations League semi-final against Croatia in November means he is a special case.
"I think all managers have really difficult decisions to make on selections.
"When you've got top quality players who have won you so many matches, there is an even bigger temptation to do that. You make decisions on the evidence in front of you."
A year on from a surprising run deep into the World Cup, expectations at the moment are high for Southgate's squad.
However, he echoed Sterling's call for his team to embrace the additional pressure and expectations and ensure they're not comfortable just to make into the semi-finals, notably with the final of next year's European Championship scheduled at Wembley.
"We know the journey we are on and where we are heading ahead of next summer, but of course we want to start winning things. We are all hungry for that," added Southgate.
"We want to leave here on Sunday with a trophy and a nice summer to look forward to for everybody."