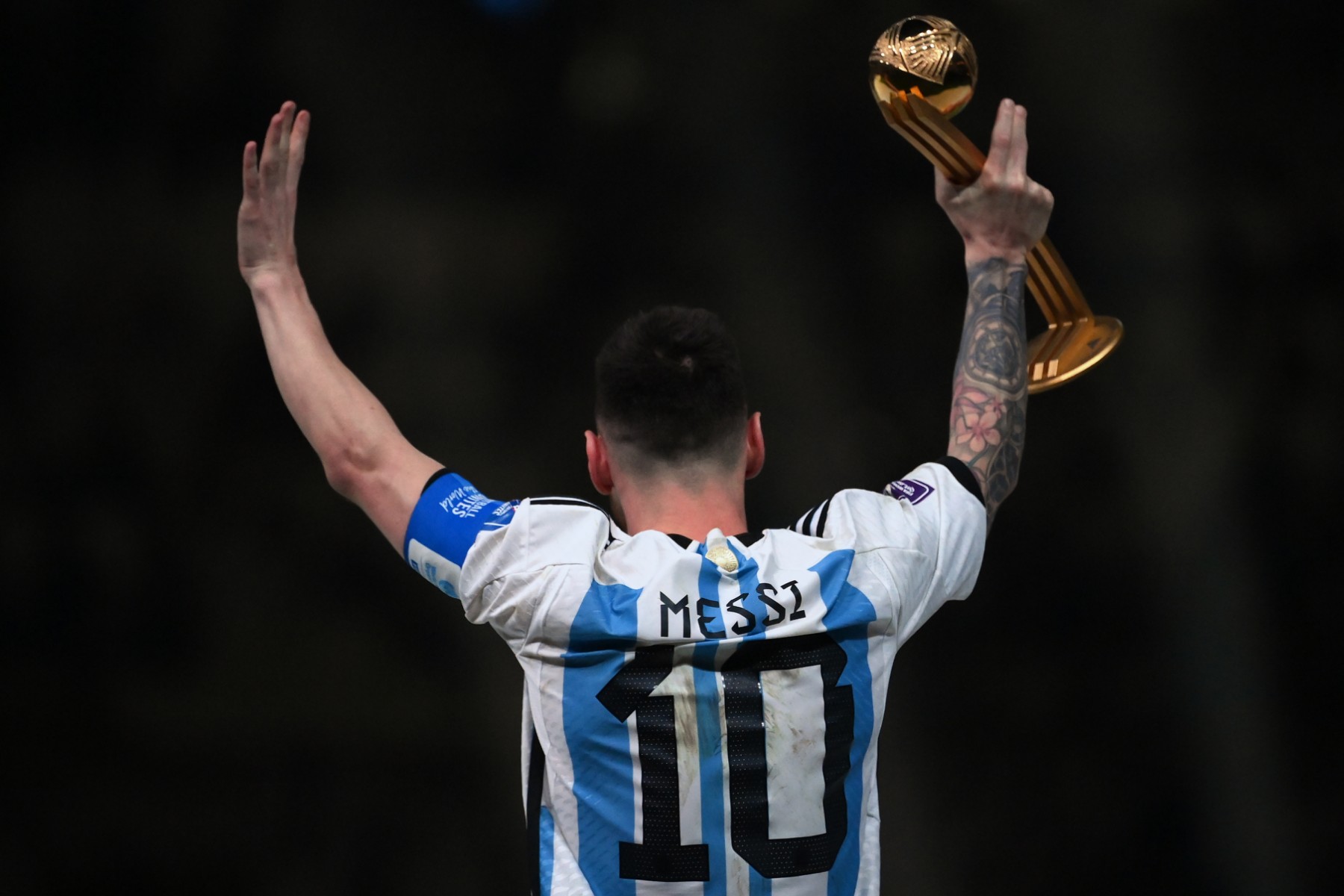 Lionel Messi jerseys which he wore at the 2022 FIFA World Cup in Qatar are up for a historic auction
Sotheby's is set to auction a collection of six jerseys
He wore it during different stages of the month-long tournament
Lionel Messi jerseys which he wore at the 2022 FIFA World Cup in Qatar are up for a historic auction of over $10 million.
Sotheby's is set to auction a collection of six jerseys worn by the Argentine captain. These jerseys, each worn during different stages of the month-long tournament, including the pivotal final against France, will be open for bidding next week.
Anticipating a fervent response from sports memorabilia enthusiasts, Sotheby's estimates that the bids will exceed $10 million.
Lionel Messi Jerseys Auction
If successful, the sale is poised to establish itself as one of the "most valuable collections of sports memorabilia at auction," according to the auction house.
If accomplished, the set's price will exceed that of a jersey worn by Michael Jordan in Game 1 of the 1998 NBA Finals during his iconic "Last Dance" season.
It fetched $10.1 million at Sotheby's last year. This particular shirt presently holds the title of being the "most valuable item of sports memorabilia ever sold at auction," as declared by the auction house.
Diego Maradona's "Hand of God" shirt holds the existing record for the highest price achieved for a match-worn soccer memorabilia item.
Maradona's jersey sold for $9.3 million at Sotheby's as well. Initial expectations for bids ranged from $5 million to $7 million, suggesting the possibility that Messi's jersey prices could surpass these projections.
Sotheby's head of modern collectibles, Brahm Wachter, expressed that the auction of Messi's six jerseys is a historic event.
Wachter said that it provides fans and collectors with a unique connection to Messi's significant accomplishment.
He highlighted the honour of presenting these invaluable collectibles that showcase the brilliance of a player who has reshaped the standards of football excellence.
"The sale of these six shirts stands as a monumental occasion in auction history, offering fans and collectors a connection to Messi's crowning achievement. It is an honor for Sotheby's to present and exhibit these invaluable collectables to the public, which encapsulate the sheer brilliance of a player who has redefined the boundaries of football excellence," he stated.
The highest-priced auctioned match-worn Messi jersey to date fetched $450,000 years back. He wore it during the 2017 El Clásico, a significant match between FC Barcelona and Real Madrid, where Messi scored the game-winning goal, marking his 500th career goal.
When is The Auction?
The upcoming online auction for Messi's jerseys will take place from November 30 to December 14. This includes a free exhibition at Sotheby's Gallery in New York during that period.
Sotheby's notes a robust market for sports memorabilia and collectibles, attracting younger bidders. Auctions are now featuring items from NFL player Tom Brady and NBA legend Kobe Bryant.
Messi, aged 36, recently joined MLS team Inter Miami after an illustrious career in European football, contributing to a surge in MLS ticket prices and high demand for replica jerseys following his move earlier this year.
In a thrilling and dramatic climax to the 2022 FIFA World Cup, Argentina emerged victorious over defending champions France in a captivating final held at the iconic Lusail Stadium in Qatar. The match, played on December 18, 2022, was a hard-fought contest that kept spectators on the edge of their seats until the very end.
Argentina Winning 2022 FIFA World Cup
Argentina took an early lead through Messi's penalty in the 13th minute, but France responded with a Kylian Mbappé brace to put themselves ahead 2-1 just before halftime.
The second half was a tense affair, with both teams exchanging chances and the score remaining tied. The match went into extra time, where Messi once again stepped up, scoring a crucial goal in the 108th minute to put Argentina back in front.
Mbappé completed his hat-trick in the dying minutes of extra time to level the score at 3-3, forcing the match into a penalty shootout.
In the nerve-wracking shootout, Argentina held their nerve, with Emiliano Martínez saving two penalties to help his team secure a 4-2 victory and claim their third World Cup title.
The victory was a long-awaited triumph for Argentina, who had last won the World Cup in 1986.
It was also a fitting end to an extraordinary tournament, showcasing the passion, drama, and talent that make the World Cup the pinnacle of international football.