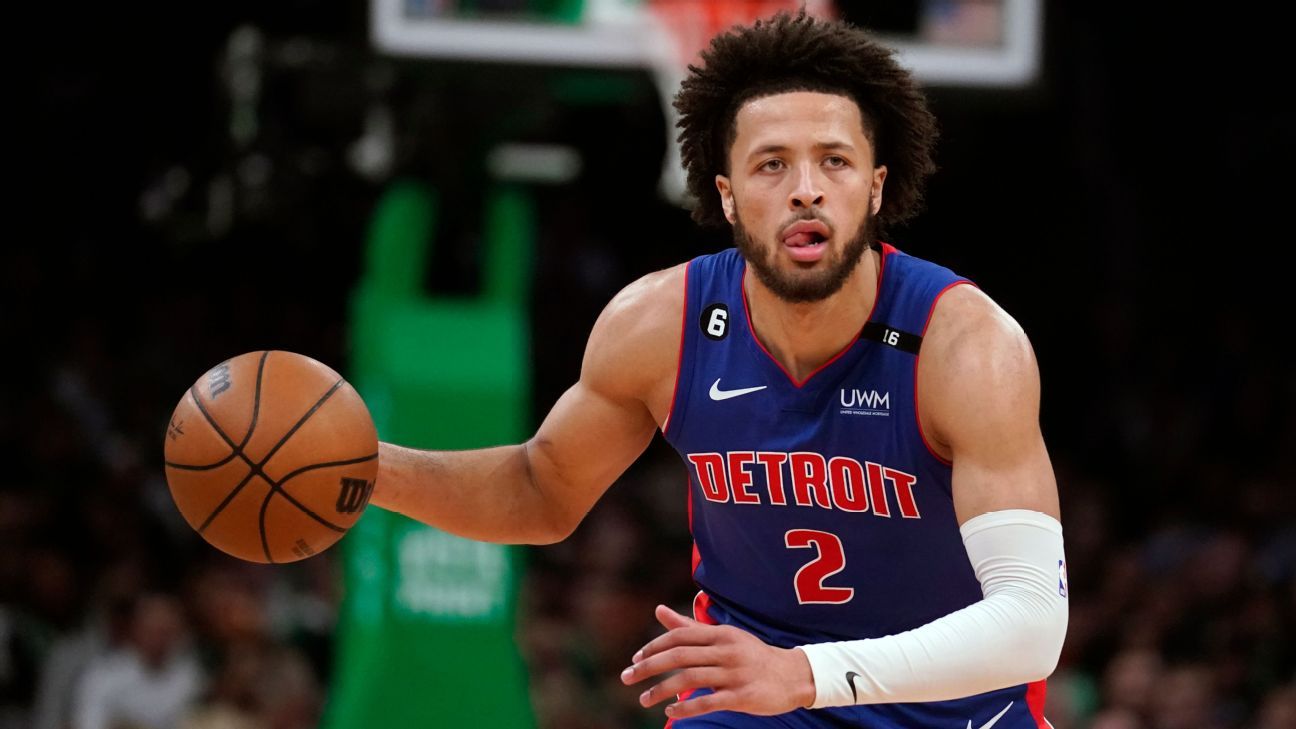 Cade Cunningham, the rising star in the NBA, has had a remarkable journey from his high school days to his current status as a standout rookie for the Detroit Pistons. His achievements have not only solidified his position as a top-tier athlete but have also contributed significantly to his growing net worth.
Cade Cunningham Biography
| | |
| --- | --- |
| Full Name | Cade Cunningham |
| Age | 22 years old |
| Height | 6 feet 8 inches |
| Place of Birth | Arlington, Texas |
| Date of Birth | September 25, 2001 |
| Nationality | American |
| Occupation | Basketball player |
| Source of Wealth | Basketball earnings, endorsements |
| Marital Status | Single |
High School Accolades
In his junior year at Monteverde, Cunningham exhibited his skills, averaging 11.4 points, 5.7 rebounds, and 5.5 assists per game. His standout performance against Oak Hill Academy earned him a spot on the prestigious MaxPreps Boys Basketball Junior All-American Second Team.
The pinnacle of Cunningham's high school career came in his senior year when he led Monteverde to a national title with an unbeaten record. Averaging 13.9 points, 6.4 assists, and 4.2 rebounds per game, he played a pivotal role in securing a 25-0 record with an astounding average winning margin of 39 points. Cunningham's outstanding contributions earned him the MaxPreps 2019-2020 High School Boys Basketball Player of the Year award.
His dominance extended beyond the high school circuit, as he displayed his skills in the Nike Elite Youth Basketball League, where he was named the league's MVP with impressive averages of 25.1 points, 6.6 rebounds, and 5.2 assists.
College Career
Cunningham's transition to college basketball was highly anticipated, with top-tier programs vying for his commitment. Despite offers from prestigious institutions like Duke, North Carolina, and Kentucky, Cunningham chose to play for the Oklahoma State Cowboys.
In his freshman year, Cunningham wasted no time making his mark, averaging an impressive 20.1 points, 6.2 rebounds, and 3.5 assists per game. Despite a postseason ban for Oklahoma State due to a bribery scandal, Cunningham's outstanding performance earned him several prestigious awards, including Big 12 Freshman of the Year, Big 12 Player of the Year, and Consensus First-team All-American.
Professional Career
After a stellar freshman year, Cunningham decided to forego college and enter the 2021 NBA Draft.
His decision seemed like a gamble and it was one that had Legal sportsbooks in Michigan, Pennsylvania, New Jersey, and other states offering betting markets on whether or not he would make it to the draft pick. But Cunningham had already shown his worth, so his selection was already destined.
As expected, he was selected as the top overall pick by the Detroit Pistons, signing a lucrative four-year rookie contract worth $45.6 million. His groundbreaking contract included a unique twist – his salary would be paid in Bitcoin, thanks to a partnership with BlockFi, making him the highest-paid player in his draft class.
In his debut NBA season, Cunningham has lived up to the expectations, currently averaging 15.7 points, 5.4 rebounds, and 5.2 assists per game. His standout performances have already etched his name in the record books, becoming the youngest Piston and the eighth youngest NBA player to record a triple-double. Additionally, he joined basketball legend Michael Jordan in NBA history as the second rookie to produce at least 30 points, 8 assists, 8 rebounds, and 4 blocks in a game.
Endorsements and Net Worth
Cunningham's success extends beyond the basketball court, with lucrative endorsement deals contributing significantly to his net worth. Following in the footsteps of legends like LeBron James, Cunningham signed the highest-value shoe deal of his draft class with Nike. His multi-year partnership with BlockFi not only solidified his financial standing but also added a unique element to his earnings with the inclusion of Bitcoin payments.
In addition to Nike and BlockFi, Cunningham has diversified his endorsement portfolio. Partnering with Uptime, an energy drink, and entering into a collaboration with Panini America, specializing in sports and entertainment collectables, have further boosted his income streams.
While Cunningham's exact net worth may vary due to the fluctuating value of cryptocurrencies, his on-court success and strategic off-court partnerships have undoubtedly positioned him as one of the most promising and financially successful young athletes in the NBA.
Several sources have placed his net worth between $5 to $6 million.
Overall, Cade Cunningham's journey from high school stardom to becoming a top NBA rookie is a testament to his exceptional talent and dedication to the sport.
FAQs
How old is he?
Cade Cunningham is 22 years old.
What is his nationality?
He is American.
What is his net worth in 2023?
Cunningham's net worth is estimated at $5 million, driven by his NBA salary and endorsement deals.
Which team is he playing for in 2023?
Cade Cunningham plays for the Detroit Pistons.
Was he drafted in the NBA?
Yes, he was the first overall pick in the 2021 NBA draft.