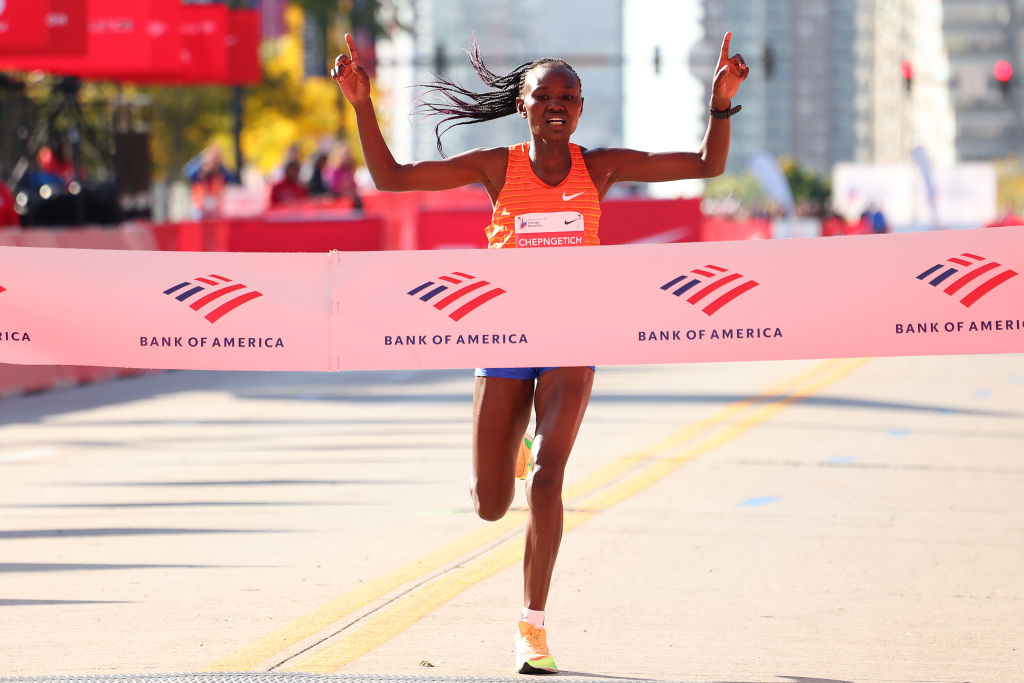 Chepng'etich won the title last year in the second fastest time ever
Kenya's Joyciline Jepkosgei will also compete in the race
Sifan Hassan will make her Chicago debut
 Defending champion Ruth Chepng'etich will come up against a tough field as she slooks to defend her Chicago Marathon title. She will contest with fellow Kenyan Joyciline Jepkosgei, as well as Netherlands' Sifan Hassan, who will compete in only her second marathon in history.
Chepngetich won last year's race in 2:14:18, which, at the time, was the second-fastest performance in history and just 14 seconds shy of the then world record. She will come back to Chicago looking to clinch a third title in the American city.
She has had successful races this year, winning the Nagoya Marathon earlier this year in 2:18:08, and more recently she clocked 1:06:18 at the Buenos Aires Half Marathon.
Victory this weekend would make Chepngetich the first woman to win the Chicago Marathon three times.
Hassan, who blew everyone away to win the London Marathon earlier this year in her debut over the distance, will look to stop the Kenyan's dream.
Hassan made debut in London 
Hassan made her marathon debut in London in April when, despite stopping to stretch twice, closed a 25-second gap on the leaders to win and set a national record of 2:18:33.
She took a break from her marathon training to race on the track at the World Championships in Budapest, where she contested three distances and came away with two medals, taking silver in the 5000m and bronze in the 1500m.
"As most people know, I like to be challenged. I have the experience from London so I'm looking forward to see what the marathon can teach me this time."
Meanwhile, Jepkosgei, winner of the 2021 London Marathon and 2019 New York City Marathon, will make her Chicago debut.
She started the year off well with a 1:04:46 half marathon PB in Barcelona, but she had a disappointing run at the Boston Marathon, where she finished 12th.
Dibaba leading Ethiopian charge 
The the line of competition will definitely come from Ethiopians, with former track queen Genzebe Dibaba leading the charge.
She made her marathon debut in Amsterdam last year, clocking 2:18:05. She started this year's London Marathon but did not finish, so she'll be out for redemption in Chicago.
Tadu Teshome is the second-fastest woman in the field. The Ethiopian set her PB of 2:17:36 at last year's Valencia Marathon, having won in Barcelona and Riyadh in her previous races over the distance.
Compatriot Sutume Kebede was another non-finisher in London, but she is a 2:18:12 performer at her best, and has made it on to several marathon podiums in the past, so cannot be discounted.
Other notable Ethiopian competitors include this year's London Marathon runner-up Megertu Alemu and 2019 Chicago runner-up Ababel Yesheneh.
Women Elite field
Ruth Chepngetich (KEN) 2:14:18
Tadu Teshome (ETH) 2:17:36
Joyciline Jepkosgei (KEN) 2:17:43
Genzebe Dibaba (ETH) 2:18:05
Sutume Kebede (ETH) 2:18:12
Emily Sisson (USA) 2:18:29
Megertu Alemu (ETH) 2:18:32
Sifan Hassan (NED) 2:18:33
Ababel Yeshaneh (ETH) 2:20:51
Des Linden (USA) 2:22:38
Emma Bates (USA) 2:23:18
Molly Seidel (USA) 2:24:42
Dakotah Lindwurm (USA) 2:25:01
Sara Vaughn (USA) 2:26:23
Andrea Ramirez (MEX) 2:26:34
Tristin van Ord (USA) 2:27:07
Rose Harvey (GBR) 2:27:20
Gabriella Rooker (USA) 2:27:38
Diane Nukuri (USA) 2:27:50
Maggie Montoya (USA) 2:28:07
Dominique Scott (RSA) 2:19:19