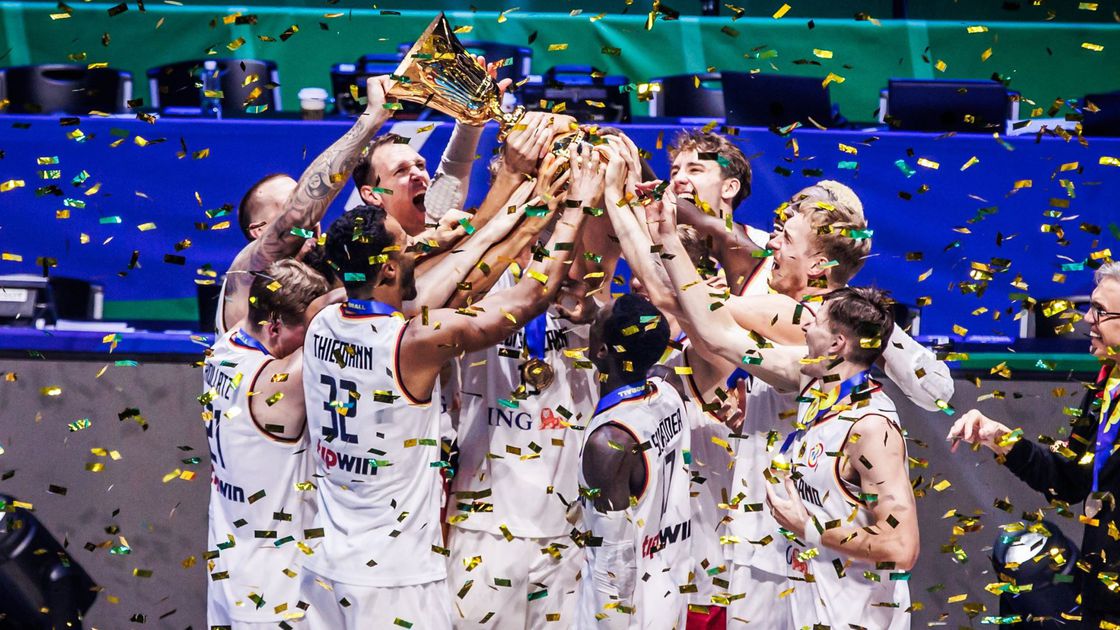 Germany basketball team secured their first-ever World Cup gold with an 83-77 victory over Serbia
The team's transformation was led by coach Gordie Herbert, point guard Dennis Schroder, and emerging NBA talent Franz Wagner
Despite Serbia's persistence and some notable absences, including Nikola Jokic, Germany's skillful play, and Dennis Schroder's leadership ultimately secured their historic victory
Just four years ago, the state of German basketball was far from impressive. Following Dirk Nowitzki's retirement, Germany had missed out on the Olympics in 2016, and their performance at the previous FIBA World Cup had been disappointing, finishing 18th. However, their remarkable journey from that point culminated in a historic achievement – winning their first World Cup gold with an 83-77 victory over Serbia in the 2023 FIBA World Cup.
Under the guidance of Canadian head coach Gordie Herbert, propelled by the fiery point guard Dennis Schroder and buoyed by emerging NBA star Franz Wagner, the German team completed a flawless tournament in Manila, securing an 8-0 record. This success was part of a carefully planned three-year strategy that began with a bronze medal at EuroBasket, positioning them as genuine contenders for the upcoming Olympics in Paris.
Dennis Schroder, who recently joined the Toronto Raptors, played a pivotal role, scoring 28 points in the final game. His high-speed, aggressive style of play set the Germans apart, adding a dynamic twist to the traditional European power game. Supported by talented big men like Moritz Wagner and Daniel Theis, Schroder's ability to drive to the basket and disrupt defenses proved invaluable throughout the tournament.
In a crucial moment with just 21 seconds left in the game, Schroder, facing immense pressure, sprinted to the hoop, making a decisive layup that secured Germany's victory. He also made three crucial free throws to extinguish Serbia's hopes.
"It's an unbelievable group," Schroder commented on the team's stellar performance. "It's unbelievable going 8-0."
Despite some earlier disagreements and challenges, Schroder emerged as the driving force behind the team's success. His leadership, combined with the squad's exceptional chemistry and balance, demonstrated a sense of unity carried over from the previous year.
Franz Wagner, who had missed a significant portion of the World Cup due to an ankle injury, made a triumphant return in the medal rounds, contributing 19 points and seven rebounds in the final. At just 22 years old, this marked a significant early achievement for the Orlando Magic forward.
While Serbia displayed admirable resilience throughout the tournament, they faced several setbacks, missing key players like Nikola Jokic and Vasilije Micić. In addition to these absences, the team lost forward Borisa Simanic to a kidney injury early in the event. Another injury to starting forward Ognjen Dobric during the final further depleted Serbia's roster.
Despite trailing by 12 points in the fourth quarter, Serbia mounted a comeback, showcasing their trademark persistence. In the closing moments, a missed 3-pointer by Marko Guduric dashed their hopes of tying the game, allowing Dennis Schroder to seal the victory.
Atlanta Hawks' Bogdan Bogdanovic played a solid game for Serbia, scoring 17 points, while teammate Aleksa Avramovic contributed 21 points off the bench in his standout performance of the tournament. Johannes Voigtmann, the German center, added 12 points and eight rebounds to the winning effort.