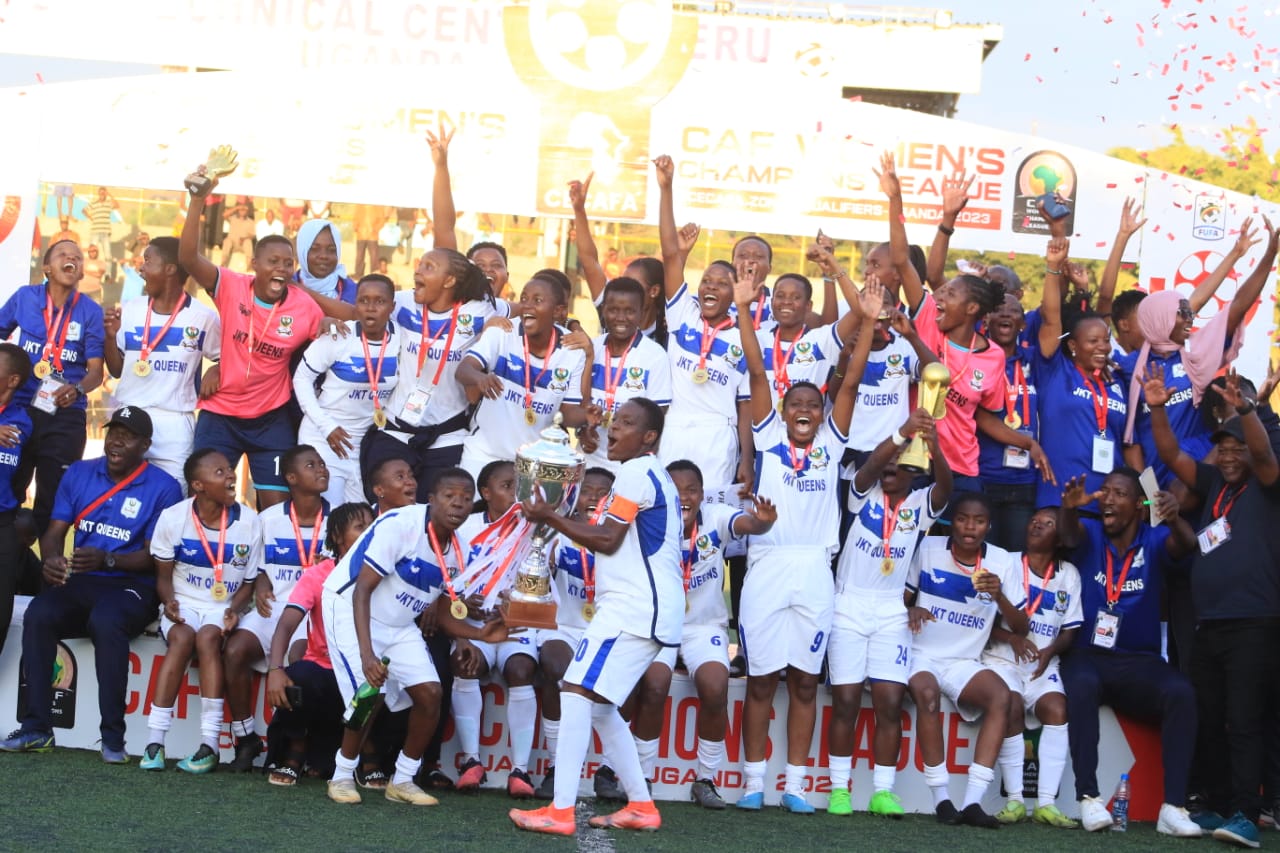 JKT beat Ethiopia's CBE on penalties
They are the second Tanzanian team to win the ticket
Kenya's Vihiga Queens finished fourth
Debutants JKT Queens from Tanzania have qualified for the third edition of the CAF Women's Champions League after seeing off highly-fancied Commercial Bank of Ethiopia (CBE) on penalties in the final in Njeru, Uganda.
They become the second Tanzanian team to win the tournament and qualify for the Champions League after Simba Queens did so last season.
JKT won 5-4 after the game was forced to penalties following a 0-0 draw in both regular and extra time.
JKT Queens converted their penalties through Ester Mbanza Gindulya, Donisia Daniel Minja, Winifrida Gerald, Anastazia Antony Katunzi and Happyness Hezron Mwaipaja. CBE FC converted through Loza Abera, Emebet Asfaw, Arehasg Kalsa Tadesse, Tinbit Samuel Bassa, while Mesay Temesgen Bizuneh's penalty was saved by the JKT Queens goalkeeper.
"I am very happy that we are champions and will play in the CAF Women's Champions League. The players have worked hard because we won all our matches in the competition," said JKT Queens coach Esther Fredy Chaburuma.
Guilty of wasted chances 
CBE FC coach Birhanu Gizaw Heye said although his players gave a good account, they wasted some good chances. "We had some good chances but failed to score. We shall come back next time, " added the CBE FC coach.
JKT Queens Situmai Abdallah Athumani was voted Best Player, while teammate Najit Abass Idrisa was Best Goalkeeper. Kampala Queens FC's Fazila Ikwaput took the golden boot after netting eight goals.
Meanwhile, Kenya's Vihiga Queens finished fourth after losing the play-off 1-0 to Burundi's Buja Queens, predominantly made up of Kenyan players.
Kenyan international Lydia Akoth scored the lone goal for the Burundian side, which had up to seven Kenyans in their team list for the duel. Akoth hit a belter from outside the area in the 43rd minute, a goal they defended till the end of the game for bronze on their debut.
Vihiga blunt in attack 
Vihiga's attempts to try fight back for at least a draw were futile, as they were blunt infront of goal.
Buja Queens' tactician Feruzi Haruna was contented with the team's performance in their maiden appearance in the competition.
"It was our first time to take part in the competition and we are happy to have finished third. We had hopes of lifting the title but we are thankful for what God has given us," the coach said after the game.
Meanwhile, Vihiga's Charles Okere says they picked plenty of lessons from their campaign.
"That was not the result we wanted but congratulations to Buja Queens. it seems the loss to CBE in our last match affected our girls and I have been trying to lift them psychologically. All teams came prepared for this edition and that is something that we have to get right the next time," the coach said.
They had hoped to clinch a second ticket, having qualified for the inaugural edition in 2021, but the team will now need to head back to the drawing board.