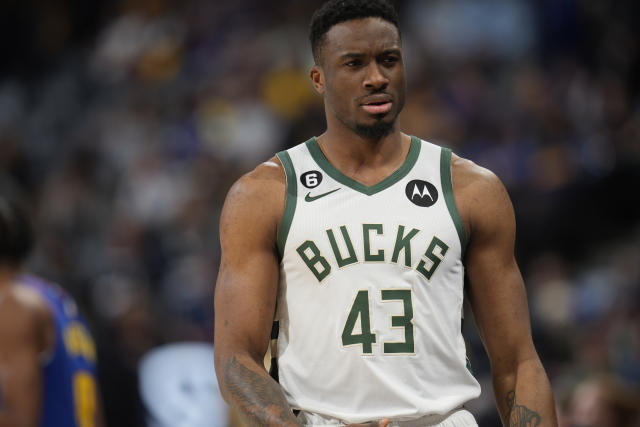 Thanasis Antetokounmpo has re-joined the Milwaukee Bucks in a new deal
The forward has secured his fifth season in the Bucks which also marks his ninth season in the NBA
Antetokounmpo has made appearances in 162 games for the Bucks, earning 11 starts in the process
The Milwaukee Bucks have re-signed forward Thanasis Antetokounmpo, securing his return for his fifth season with the NBA team. In the previous season, Antetokounmpo participated in 37 games, but his performance suffered, as he recorded a career-low field goal percentage of 43.5%. Nevertheless, the Bucks have shown confidence in his abilities and have welcomed him back to bolster their lineup.
Throughout his four seasons with the Bucks, Antetokounmpo has made appearances in 162 games, earning 11 starts in the process. His playing time has averaged around 8.4 minutes per game, during which he contributed an average of 2.7 points and 1.8 rebounds per game. While not a high scorer, his presence on the court brings energy and defensive tenacity to the team.
In addition to his commitments in the NBA, Antetokounmpo is scheduled to represent the Greek national team in the upcoming World Cup. This international opportunity will allow him to showcase his skills on a global stage and further develop his game.
Antetokounmpo's journey in the NBA has been eventful, starting with his selection in the 2014 NBA draft by the New York Knicks. After being drafted, he joined the Knicks' developmental league affiliate in Westchester to gain experience and refine his skills. During the 2015-16 season, he finally made his NBA debut. However, his true potential was realized during three seasons in Europe, where he demonstrated significant improvement as a player.
The turning point of his career came when he decided to join forces with his younger brother, Giannis Antetokounmpo, who is a two-time MVP, in Milwaukee. Since then, the Antetokounmpo brothers have become a dynamic duo, bringing immense excitement and success to the Bucks.
With Thanasis Antetokounmpo back on the team, the Bucks' roster is now complete with the maximum allowed 15 guaranteed contracts. This means that they have assembled a well-rounded and competitive lineup for the upcoming season. The Bucks are looking to build on their past successes and compete for the championship title in the fiercely competitive NBA landscape.
As the sixth season in the NBA approaches for Thanasis Antetokounmpo, fans are eager to see how he will continue to contribute to the team's success. His defensive prowess, hustle, and ability to bring energy off the bench make him a valuable asset for the Bucks. With the support of his teammates and the coaching staff, Antetokounmpo's growth and impact on the team are expected to continue in the new season. Bucks fans and basketball enthusiasts alike are eagerly anticipating the thrilling moments that Thanasis and the entire team will provide on the court.