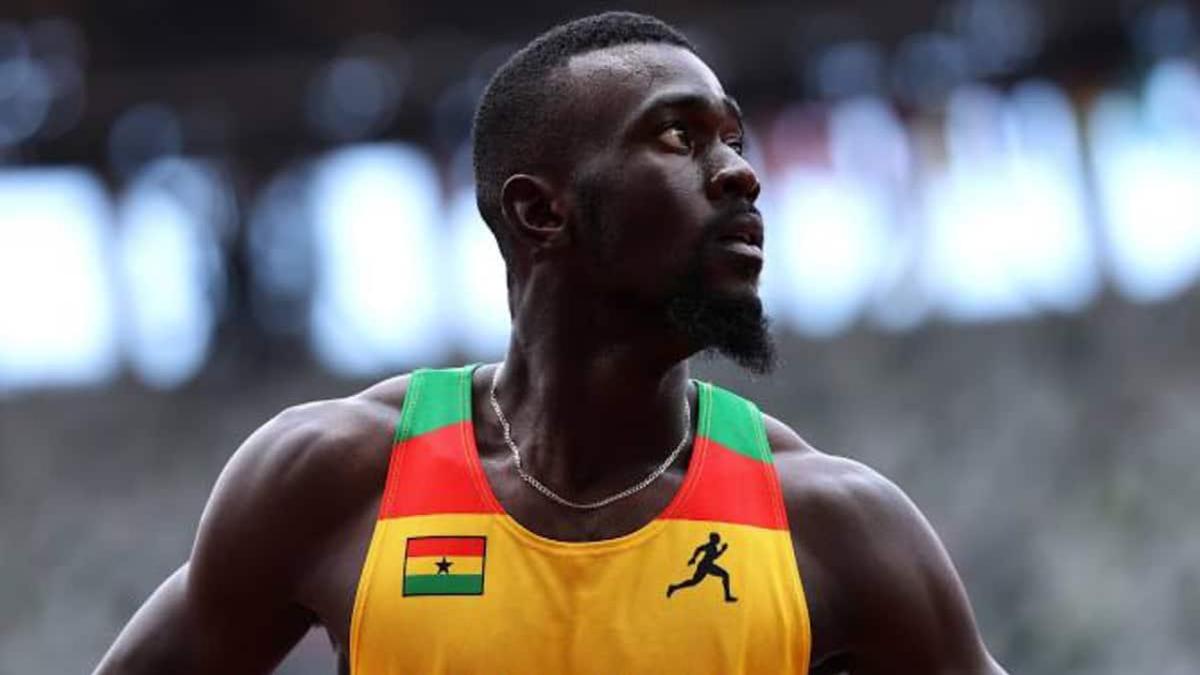 He is a Ghanaian sprinter
He specializes in the 100meters and 200 meters
He won a gold medal at the 2019 African Games
Joseph Amoah is a Ghanaian sprinter born on January 12 1997 in Greater Accra, Ghana and his current net worth is estimated to be between $3 million to $5 million which he has acquired successfully throughout his career.
Joseph's initial desire was to become a successful football player but he transitioned to college on discovering his talent. He has achieved much in his career and winning a gold medal at the 2019 African Games is a great honour to him and his entire country.
Just like other athletes, he specializes in the 100-meter and 200-meter relays. Anyone who hears this name would want to know more about our star and thus, let's look at his biography.
Joseph Amoah Biography
| | |
| --- | --- |
| Full name | Joseph Paul Amoah |
| Age | 26 years old |
| Height | 1.80m |
| Place of birth | Greater Accra, Ghana |
| Date of birth | January 12 1997 |
| Nationality | Ghanaian |
| Occupation | Athlete |
| Source of wealth | Athletic earnings |
| Marital status | Married |
 Career earnings
At 26 years, Joseph has made a whopping net worth of about $5 million from his athletic career thus far.
His career has been successful and since he is at his peak, he is likely to join the list of the wealthiest athletics in the world very soon. All the best to him.
Education
Amoah is a software engineer by profession. He studied at the Prempeh college which is a public boarding school for boys located in Kumasi in Ghana.
He then enrolled at the Kwame Nkrumah University of Science and Technology [KNUST] where the university coach convinced him to join the team with the help of his uncle.
He then transferred to Coppin State University in Baltimore, which competes in Division 1 of the National Collegiate Athletic Association [NCAA], the highest level of intercollegiate athletics in the United States.
Personal Life
Amoah was born in Greater Accra, Ghana on January 12 1997 to his parents Thomas Amoah and Alberta Antwi. At a tender age, Amoah was brought up by his uncle Dr Victor Antwi who sponsored him from middle school onwards.
His uncle valued education and he made sure that his niece received the best education to secure his future. Initially, his favourite sport was football but at college, he discovered his talent when running and this is when he gave it concentration.
His uncle saw his potential and asked him to join his university team which he did.
Career
As he grew up, the sprinter was so much into football and only realized his potential at running when he joined Prempeh College. At 19 years, he emerged as an Olympic hopeful for Ghana in the sprints after running 100 meters in 10.08 seconds at the 2016 Ghana's Fastest Human competition.
Amoah specialized in the 100 meters and the 200 meters. He competed at the 2019 World Athletics Championships in the 100 meters and 4x1oo meters relay.
The athlete won a gold medal in the 2019 Africa Games in the 4×100 meters relay and was also a 100 meters finalist finishing in fourth position.
Amoah has personal best times of 9.94 seconds and 20.08 seconds in the 100 meters and 200 meters respectively. He broke the Ghanian record that was previously held by three-time Olympian Emmanuel Tuffour In his best performance in the 200 meters.
Amoah became the first Ghanaian in any sport to qualify for the 2020 Summer Olympics held in Sydney after his performance in the previous year's Mid-Eastern Athletic Conference championships, running 200 meters in a personal best time.
That was the fastest performance for a couple of years in the history of Ghana and it qualified him for the 2019 World Athletics Championships.
Later in that year, he improved his personal best time in the 100 and 200 meters, breaking a record in the 200 meters that qualified him for the following year's Summer Olympics in the 100 meters relay.
Amoah has represented his country internationally at the 2021 World Relays in Poland, which served him as a qualifier for the years Olympic games and the next year's World championships for Ghana.
He earned a Bronze but the team was disqualified after Amoah was seen receiving the baton beyond the passing zone from a teammate, in a footage.
Joseph is the 4th Ghanaian to run under 10 seconds and this also made him the top in the world for the 100m.