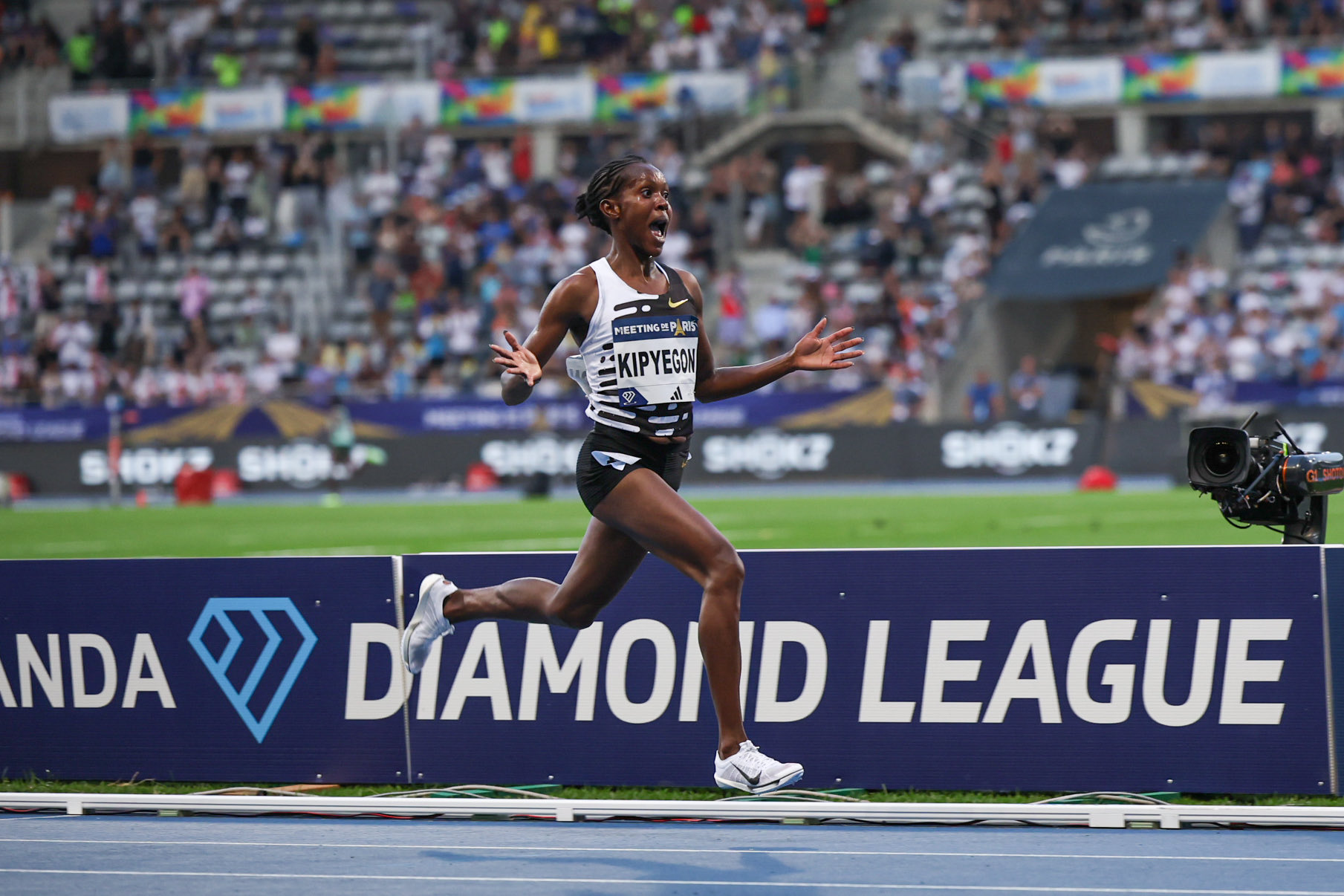 Kipyegon broke the 5,000m World record at the Paris Diamond League
She beat previous holder Gidey who finished second
It was her second record in a week after breaking the 1500m mark in Florence
Faith Kipyegon is enjoying the form of her life and on Friday night broke her second World Record in the space of a week as she obliterated the 5,000m World Record at the Paris Diamond League.
She clocked 14:05:20 to win the race in Paris, and also convincingly beat the holder of the previous mark, Ethiopia's Letesenbet Gidey.
Kipyegon shaved almost a second and a half off the previous mark of 14:06.62 set by the Ethiopian in 2020 in Spain. It wasn't a planned target, but once she found herself within the pace, and with strength still in her legs, the double world and Olympic champion couldn't resist the allure.
"No, I did not think about the WR, I do not know how I made it. I just focused on the green light and tried to stay relaxed and enjoy the race. I just did the race and wanted to see what happens, when I saw that it was a WR I was so surprised," an elated Kipyegon said after the race.
She added; "It was all about giving my best. I just wanted to improve on my PB, the WR was not my plan. I just ran after Gidey, she is an amazing lady. It is amazing. I do not know what will be next, I still have to discuss it with my coach and my management. I am very emotional right now and do not know what to say. If my body is healthy, anything is possible."
Having kicked in some good amount of energy in Florence last week, Kipyegon was just coming to Paris to earn some good endurance in the 5,000m which is not her traditional race.
After some conservative opening four laps, the race began to open up into a single file contest with Kipyegon and Gidey running behind the pace makers.
Chepkoech doing perfect pacing duties 
When the last pacemaker, steeplechase specialist Beatrice Chepkoech dropped off with five laps to go, the battle whittled down to Gidey and Kipyegon. With a lap and a half to go, Kipyegon who had all this time stuck to Gidey's shadow made her move, seemingly having the belief she could do it, despite expected fatigue from last Friday's race in Florence.
The 29-year old powered past Gidey and at the bell, the Ethiopian tried to make a move, but she couldn't match up to Kipyegon's speed, her 1500m clearly showing.
At the home straight, Kipyegon put on the afterburners, digging in to her last ounce of energy to win the race in World Record pace.
Meanwhile, African record holder Ferdinand Omanyala narrowly lost the 100m race to 200m World Champion Noah Lyles. The American clocked 9.97, just but edging out Omanyala who timed 9.98.
It was his second consecutive second place finish in the Diamond League, having come behind world champion Fred Kerley in Florence last weekend.
Wanyonyi powers into another 800m win 
Elsewhere in the men's 800m, former World U20 champion Emmanuel Wanyonyi earned his second Diamond League win of the season, winning in a new World Leading time of 1:43.27.
The 18-year old dipped at the line after a massive battle in the final 50m, just but edging out Arop who clocked 1:43:30. This was Wanyonyi's second win in the Diamond League, having also powered to victory in the Rabat meeting a fortnight ago.
The Algerian duo of Moula Slimane and Sedjati Djamel finished third and fourth while Kenya's Commonwealth Games champion Wycliffe Kinyamal finished sixth in a time of 1:43.56, his best time this season.
Meanwhile, World and Olympic champion Emmanuel Korir continued with his disappointing start to the season as he finished bottom of the pile in 1:47.71.