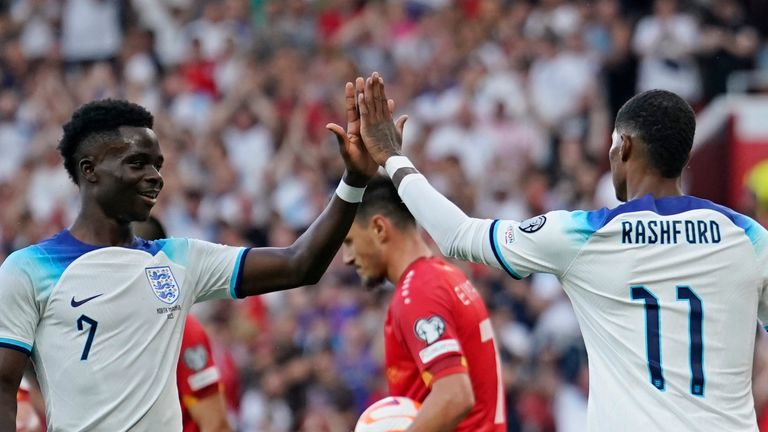 England played North Macedonia in a Euro 2024 qualifiers on Monday evening at Old Trafford
Bukayo Saka scored his first-ever career hat trick as England thrashed North Macedonia
Harry Kane was also on the score sheet netting two with Rashford also scoring
In Monday's memorable Euro 2024 qualifier, Bukayo Saka delivered an astonishing first career hat-trick as England dominated North Macedonia with a resounding 7-0 victory.
Under Gareth Southgate's leadership, England has virtually secured their spot in Germany, having achieved four wins in their four Group C matches during the qualification campaign.
Harry Kane played a pivotal role, netting two goals in the annihilation at Old Trafford, where Marcus Rashford and Kalvin Phillips also found the back of the net. However, it was the exceptional performance of the ever-improving talent, Saka, that stole the spotlight with his remarkable hat-trick.
Saka, just 21 years old, has been the subject of a catchy new chant about England's journey to Berlin, and he showcased why he is regarded as one of the world's most promising young players. After Kane opened the scoring, Saka hammered home a goal from a difficult angle, extending his scoring streak to six consecutive games.
Shortly after Rashford's goal at his home ground, Saka left the 70,708 spectators in awe by unleashing a sensational left-footed strike, courtesy of an impressive pass from Trent Alexander-Arnold.
Not long into the second half, Saka completed his first senior career hat trick with a composed finish. This was followed by substitute Phillips' tap-in and a successful penalty converted by Kane.
The victory against North Macedonia showcased England's dominant form in the Euro 2024 qualifiers and highlighted the exceptional abilities of young star Bukayo Saka. With his impressive performance, Saka solidified his reputation as one of the most promising talents in the world of football.
As England looks ahead to the remainder of the qualification campaign, their success thus far leaves them in an excellent position to secure their place in the highly anticipated tournament in Germany. With a talented squad and standout performers like Saka, England's prospects for Euro 2024 are undoubtedly exciting.