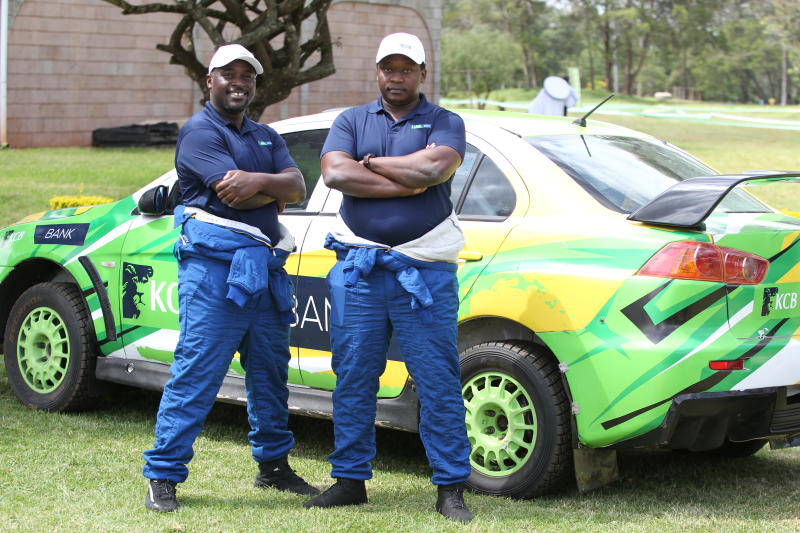 Kavisi is making a second consecutive appearance at the Safari
Last year he retired early
He is sponsored by KCB Bank
Kenyan rally driver Evans Kavisi says he is looking forward to better tidings this year at the WRC Safari Rally, hoping to do better than last time when he had to retire early.
Kavisi has heightened his preparation ahead of the World Rally Championship event set to commence from June 22nd to 25th 2023 in Naivasha.
Last year, Aswani and his navivagor Absalom Aswani were forced to retire due to engine problems at the power stage.
"We are confident that this year will be able to achieve more as compared to last year. We have been working on our car to make sure everything is okay and today's test is just a gauge of how prepared we are for the rally," Kavisi said.
On his part, Aswani, Kavisi's navigator, noted that they will be the team to watch in the coming competition.
"Last year we were in a better position before we developed mechanical problems which forced us out of the race. We are going all in this time, and I call upon everyone to come out and support the local drivers who will be part of this rally." A swani noted.
Evans Kavisi is one of the drivers sponsored by KCB Bank alongside Nikhil Sachania and Karan Patel.
Last year, Sachania who happens to be the only paraplegic driver in the competition finished fourthin the KNRC and 18th overall in the WRC racing.
Sh100mn for Rally sponsorship 
This year, KCB Bank has invested a tune of Sh100 million in the 2023 WRC making it the official sponsor of the rally. The 4-day event has attracted more than 40 entries from drivers worldwide.
The bank has also invested a further Sh50mn to support the sponsorship of the three local drivers, brand activations and customer engagements.
"We take great pride in being part of East Africa's motorsport story since 2003, when we first sponsored the Safari rally. This marks another chapter in our story and reiterates our commitment in supporting sports, as we celebrate the historic return of WRC Safari Rally to the Kenyan soil," said KCB's Group Chief Executive Officer, Paul Russo
"It is a great pleasure to see that our sponsorship over the years has resulted in the growth of motorsport in the region opening up the sport to many young talents," he added.
In 2019, KCB became the Official Financial Partner for the Safari Rally Kenya for the World Rally Championship (WRC) Rally, with a 3-year commitment of Sh 250 Million starting with a WRC Candidate event staged in June 2019.
KCB's commitment towards sustainability 
KCB also announced a commitment towards promoting sustainability and care for the environment during sporting activities.
"We are championing sustainability initiatives like tree growing, recycling, waste management in the run up, during and after the Safari Rally," said Russo adding that KCB has joined hands with other partners in an initiative to plant 400,000 trees in several counties in the course of this year. Last year through this partnership 700,000 trees were planted.