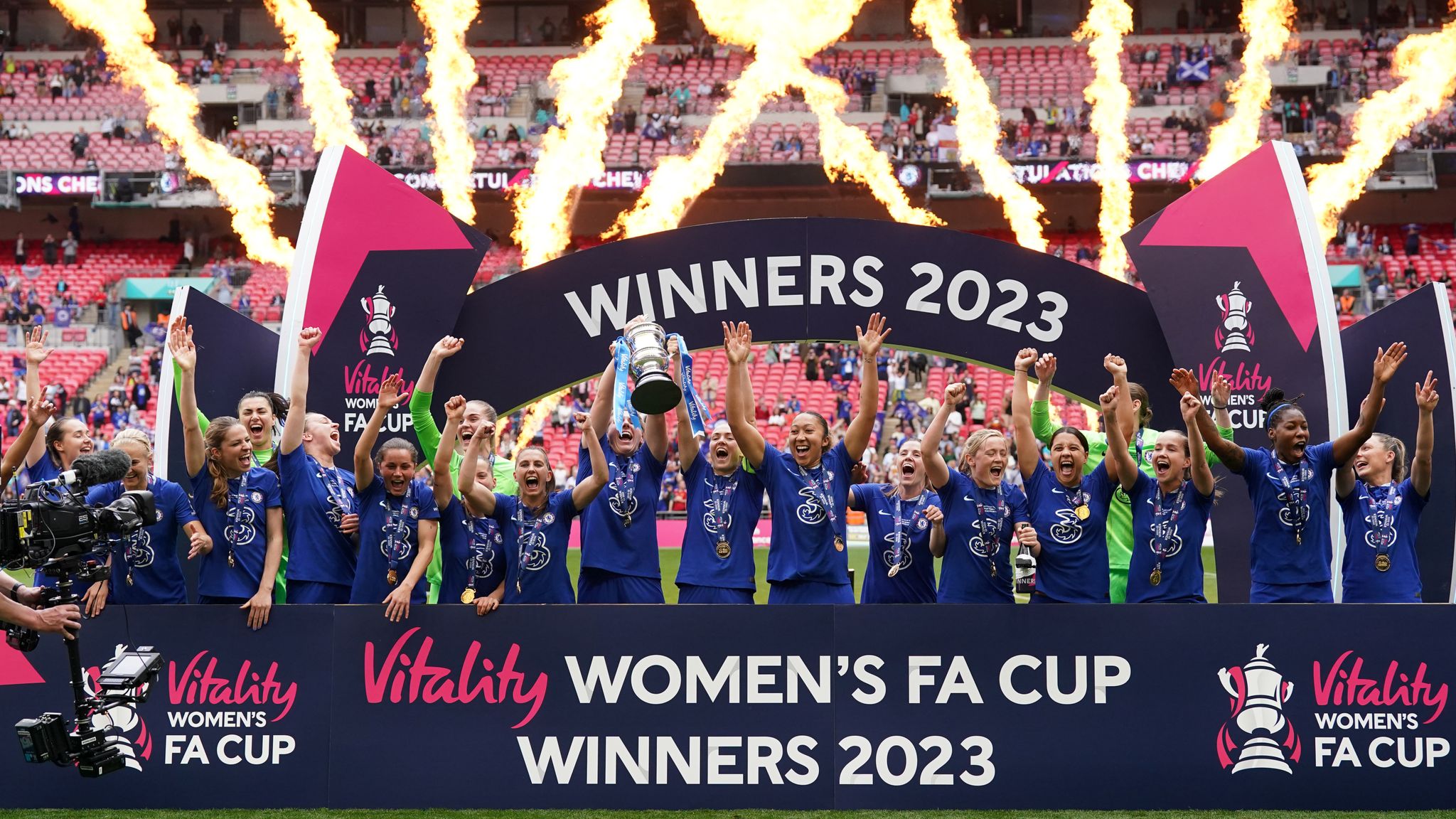 Chelsea women were crowned the winners of the 2022/23 FA Cup beating Manchester United in the finals
The match was a close one with a sole second-half goal winning it for Chelsea at Wembley 
We take a  look at the in-match changes that won the Blues the 2022/23 FA Cup
Chelsea midfielder Erin Cuthbert acknowledged that she was unable to showcase the "best part" of her game in the Women's FA Cup final against Manchester United. However, tactical adjustments and substitutions played a crucial role in turning the tide in their favour, leading to a hard-fought 1-0 victory.
During the first half, Manchester United outperformed Chelsea, creating several scoring opportunities that were squandered by players like Millie Turner, Leah Galton, and Alessia Russo, who missed a great chance towards the end of the game.
However, early in the second half, Chelsea manager Emma Hayes made changes to the team by introducing Pernille Harder and Sophie Ingle. The formation shifted from 4-2-3-1 to a more flexible 4-4-2, with Harder providing support to Sam Kerr and significantly impacting the game with her intelligent runs through the inside channels.
It was precisely this kind of movement that led to Kerr's winning goal and created other scoring chances for Chelsea. Cuthbert emphasized that Chelsea was accustomed to handling pressure in different matches and drew from their experience in European competitions. She acknowledged the unpredictability and momentum-shifting nature of football, highlighting the importance of seizing the crucial moment in the game. Once they scored the goal, Chelsea took control of the game and effectively managed the remaining time to secure the victory.
In summary, Cuthbert acknowledged the initial challenges faced by Chelsea in the FA Cup final but highlighted the team's ability to adapt tactically, seize the key moment, and ultimately dominate the match, effectively managing their advantage until the final whistle.
"During the second half, we made some tactical adjustments in the formation. [United] were exploiting our spaces a bit too much [in the first half]. Ella Toone was having the freedom of the pitch to get on the ball, so we had to be a bit more compact and narrower. It allowed us to get pressure and allowed me to be more aggressive, get closer [to the ball] and actually put in a tackle because the first half felt that was so far away, I couldn't do the best part of my game."
Reflecting on the instructions given to her when she arrived into the match with Harder, Ingle said it was a case of coming on and being 'calm'.
"[United] were definitely fresher [in the first half], we showed that in the way we were pressing because we were off it a little bit," the Wales international added.
"Pernille Harder was a great addition for us and has the legs to run in behind – I think that's what we were lacking in the first half. Sam would come deep and win a flick-on, but there was no one actually getting on the end of it."