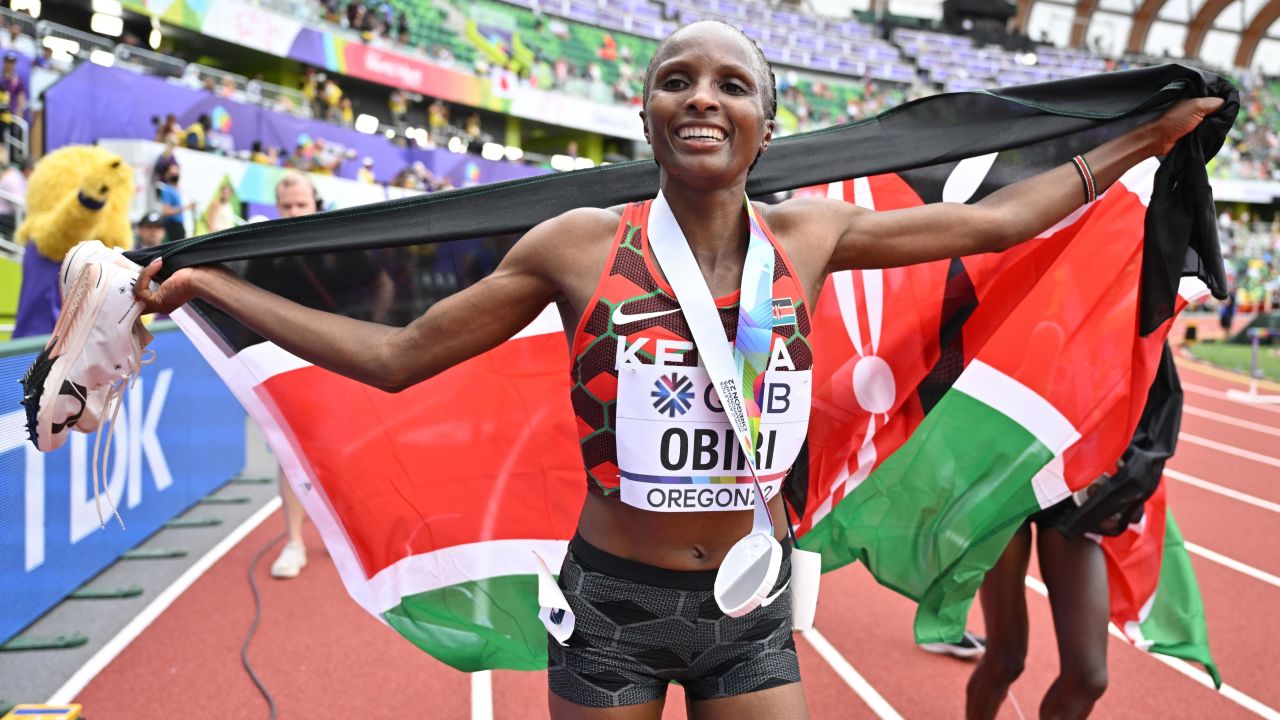 Hellen Obiri decided to immigrate to Colorado in 2022
She settled in the US without her husband and daughter
They joined her just weeks before the Boston Marathon
When Hellen Obiri decided to immigrate to Colorado, US, it was an easy decision, thankfully, it paid off by winning the 2023 Boston Marathon.
Obiri left her daughter Tania and husband Tom back in Kenya in 2022 to train with her American coach Dathan Ritzenhein who is a retired athlete.
She was readying for the 2022 New York Marathon where she disappointingly clinched sixth position. Although this disappointed her, it did not dampen her spirit.
Now a Boulder resident in Colorado City, having Tania and Tom with her gave her so much calmness and confidence at the Boston Marathon which she won.
She recalls the emotional toll she battled for being away from her family since September 2022.  The eight-hour time difference between Kenya and the US made it hard for her to keep in touch with Tania who is an early sleeper.
"It was a challenge because you don't have a family in the US. Sometimes the time difference (for) calling is not good. Maybe when you call the child is sleeping," she told BBC.
Obiri adds her breaking moments were each time that she spoke to her family back home and Tania asked her when she was returning.
Luckily, Tom and Tania had their visas approved and made it to the US before the Boston Marathon.
She attributes her victory in the marathon to her family's presence in the US and taking lessons from her loss in the New York Marathon in 2022.
"When you have your family around you that means you don't have stress. You don't need to think about anything else. You are thinking about your family and the race and when your family is there to watch you, they give you a lot of encouragement," Obiri noted.
Obiri made her marathon debut in New York in November after switching from 5000m where she won the Commonwealth games in 2017 and 2019, and Olympic silver medals in 2016 and 2020.
Now 33, her loss in New York made her understand the power of patience and why she needs a coach with her unlike in her past track events.
She explains that running a 42km race requires some mental calculation and being a fast runner, she now understands she can't run in front anymore.
Timing is everything and Boston Marathon proved her tactics right and it validated her dreams to win an Olympic gold medal.
With a win in each of her career competitions, she only needs an Olympic gold medal to complete her decorated athletics career.
Now living in the US, Obiri is optimistic that she will make it in Team Kenya marathon for the 2024 Paris. In the meantime, she is also hopeful that she will rewrite her history at the 2023 New York Marathon.
Much more, Obiri is at peace that Tania is happy at school and she has made friends already which was always a point of fear.
Tom, on the other hand, has enrolled for a course and is busy with his coursework.