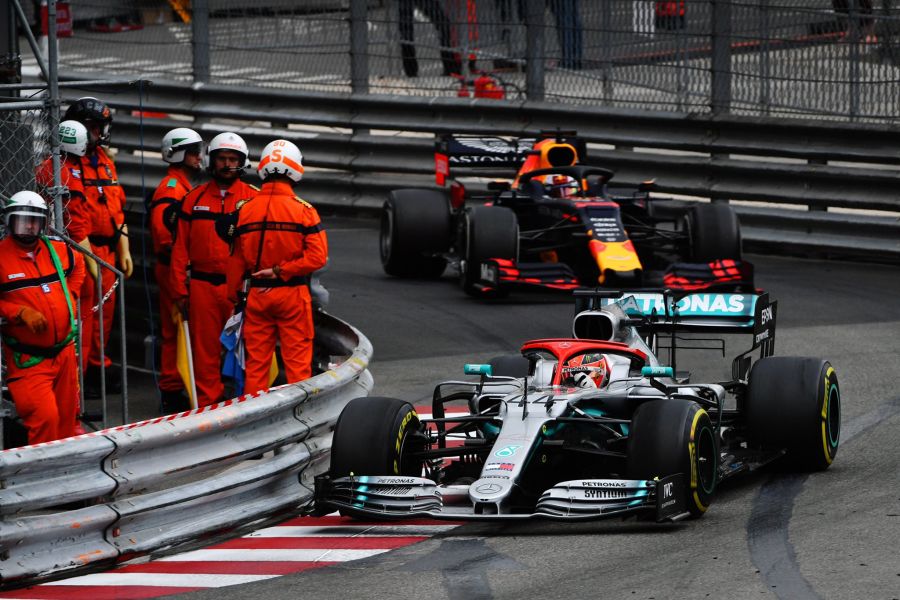 The Monaco Grand Prix is the pinnacle of driver skill testing and is associated with luxury and style.
This legendary race has been enthralling racing fans because of its distinctive difficult city circuit attributes.
We look into the best Monaco Grand Prix moments in history.
The Monaco Grand Prix is the pinnacle of driver skill testing and is associated with luxury and style.
This legendary race has been enthralling racing fans across the world for more than nine decades because of its distinctive combination of difficult city circuit attributes.
We look into the best Monaco Grand Prix moments in Formula 1 history.
2008: HAMILTON MAKES A BIG GAMBLE
On the narrow and harsh streets of the Principality, even little errors might have significant repercussions. When Lewis Hamilton slightly miscalculated his exit from Tabac and banged his right-rear wheel into the barrier, the tyre came off the rim and the 2008 Monaco Grand Prix was over after just six laps. The race was already wet, and the rain was getting heavier and more persistent.
Although Kimi Raikkonen of Ferrari, who Hamilton had passed on the opening lap, had moved up from third to second on the grid, Hamilton's chances of winning were now definitely over.
Rascasse and the Swimming Pool part were the only things separating Hamilton from the pit entrance. By the time he arrived, the probability jugglers at McLaren had already gambled on the track drying up and had informed the garage that he should be put on intermediate tyres and given enough fuel for a long second stint.
As expected, the rain stopped, and a dry line appeared.
Following Massa's pit stop on lap 33, Hamilton, who had started the race in fifth place, retook the lead. He continued to lead for another 21 laps before making his second stop, which came just as the circumstances were ideal for the switch to slick tires.
When the race was called at the two-hour cut-off mark, two circuits early, Hamilton had moved 3.064 seconds ahead.
2011: VETTEL MASTER DRIVE
2011's Monaco Grand Prix saw Sebastian Vettel display his prowess in Formula 1 with a faultless performance. The young German took the lead right away, asserting his dominance, and he never looked back. Vettel remained cool under intense pressure from Fernando Alonso, masterfully controlling his tires, and putting out a flawless effort.
With this triumph, Vettel earned his first victory in Monaco and cemented his position as a potential world champion.
1992: SENNA VS MANSELL
In the 1992 Monaco Grand Prix, Senna had an incredible performance, winning the race convincingly.
Mansell held a comfortable lead for most of the race. When Michele Alboreto crashed at Mirabeau on lap 60, his advantage had grown to 30 seconds.
The prospect of Senna winning now seemed remote. Up until lap 71, when a loose wheel nut forced Mansell to make a pit stop. Mansell appeared to still have enough in his pocket to maintain the advantage. However, the stop took a long time, and Senna sped away as he came out of the pit lane.
What transpired next was a sight to behold. Mansell set a number of fantastic lap times and followed the McLaren closely. Senna was having difficulties with his older tires.
Senna managed to push the McLaren to the finish line in the first place.
2019: HAMILTON FIGHTS OFF VERSTAPPEN
Lewis Hamilton was given the opportunity to win his third consecutive Cote d'Azur race in the 2019 Monaco Grand Prix, which was supposed to be a comfortable triumph. He started on pole and was in the lead after 11 laps when Charles Leclerc's Ferrari's right rear tire exploded, causing the race track to become littered with debris.
The top four drivers entered after the safety car had been deployed. However, for whatever reason, Hamilton's Mercedes crew decided to use medium tyres instead of hard ones.
Verstappen was determined to pass Hamilton from behind as quickly as possible because he knew he needed to establish a five-second lead in order to win the race owing to a penalty, and with Hamilton alone up front on tires that might not last to the finish. Verstappen was able to keep up with Hamilton despite his tyres steadily losing grip lap every lap through the more challenging sections of the track. However, Hamilton was essentially able to use all of his hybrid boost as well as the consistently powerful Mercedes engine down the straightaways. Hamilton reached the finish line to achieve a remarkable triumph of courage and perseverance.