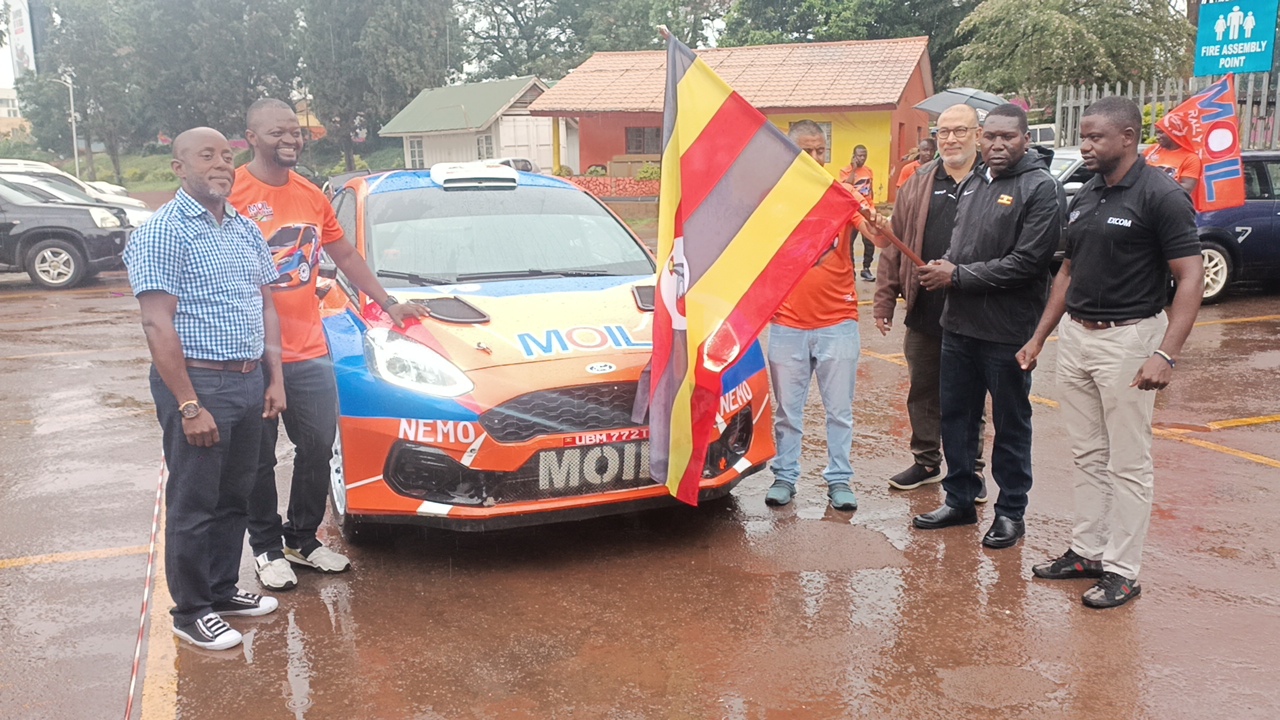 Uganda will have two representatives
The Rally is scheduled for March 17-19 in Voi
It is part of the Africa Rally Championship
The Ugandan duo of Jas Mangat and Yasin Nasser have been confirmed for this weekend's Equator Rally, which is a part of the Africa Rally Championship, to be staged in Voi, Taita Taveta County.
The Ugandan rally greats were flagged off from Kampala by the National Council of Sport and the Federation of Motorsport Clubs of Uganda (FMU) as they look to conquer the tough terrain in Kenya.
NCS Assistant Secretary – Technical, David Katende Ssemakula, acknowledged the crews' passion and input into the "man and machine" sport, and promised that the Government of Uganda will explore ways  and means of extending its support towards their course.
FMU president, Dipu Ruparelia, applauded his crews for their commitment towards the sport and promised them support in whatever way the Federation can. FMU has offered free International Competition Licenses to their crews plus 200 litres of fuel to each of the two teams.
Meanwhile, preparations  for the Voi event, which was in initial limbo are at an advanced stage. There was doubt whether the event would take place due to issues of funding, but that has now been sorted and it will go on as planned.
Rally used as recce for WRC Safari Rally 
The Rally is also used as a recce to prepare for the WRC Safari Rally scheduled for June.
A total of 20 cars are listed for the event which will revolve around the vast Taita Taveta County. Former Kenya National Rally champion Baldev Chager will be among the star attractions in a Subaru N12.
Aakif Virani will make a comeback behind the wheel of a  Skoda Fabia Rally2.
Coast drivers entered for the event are Izhar Mirza of Coast Pekee team and Kilifi based Piero Canobbio who has entered a Hyundai i20 Rally 2. Jasmeet Chana who finished second at last year's KNRC series will be back in Voi for the continental event.
Kenya's 2022 Motorsport Personality of the Year, and reigning Kenya National Rally Drivers champion Karan Patel will pilot a Ford Fiesta Rally 2.
Foreign crews  listed for the event are Yasser Nasser/Ali Kattumba (Ford Fiesta), Jas Mangat/Joseph Kamya (Mitsubishi Lancer EvoX) from Uganda and Gurjit Dhanji/Manmeet Birdi (Subaru) from Tanzania.
This will be the second round of the Africa Rally Championship
The Equator Rally will count towards the second round of the 2023  FIA Africa Rally Championship (ARC)
This follows Ivory Coast's Rallye Bandama which was won by home driver Gary Chaynes. Chaynes will be among the notable absentees in the Kenyan round of the continental series.
Stages for the event will be centered on the expansive Taita Sisal Estate in Mwatate with a two-day total transport distance of 421.08 km and a Competitive mileage of approximately 205.25kms.
The event will feature two legs with a total  of 10 Competitive Stages.
ARC EQUATOR RALLY ENTRY LIST:
Karan Patel/Tauseef Khan (Ford Fiesta),
Akhif Virani/Azar Bhakti (Skoda Fabia),
Baldev Chager/Gareth Dawe (Subaru Impreza N12)
Raaji Bharij/TBA (Ford Escort MK2)
Izhar Mirza/Kavit Dave (Mitsubishi Lancer EvoX)
Jasmeet Chana/Ravi Chana (Mitsubishi Evolution10),
Piero Cannobio/TBA (Hyundai 120)
Yassin Nasser/Joseph Kamya (Ford Fiesta)
Hamza Anwar/Adnan Din (Ford Fiesta)
McRea Kimathi/Shameer Yusuf (Ford Fiesta)
Nikhil Sachania/Deep Patel (Mitsubishi Lancer EvoX)
Nzoika Waita/Tuta Mionki (Mitsubishi Lancer EvoX)
Jeremaih Wahome/Victor Okundi (Ford Fiesta)
Rio Smith/Riyaz Ismail (Ford Fiesta),
Kush Patel/Mudasar Chaudry (Subaru Impreza)
Ian Duncan/Jaspal Matharu (TBA),
Gurjit Dhabi/Manmeet Birdi (Subaru)
Jas Mangat/Joseph Kamya (Mitsubishi Lancer EvoX)
Asad Anwar/TBA (TBA)
Anthony Nielsen/William Bass (Mitsubishi Lancer EvoX).