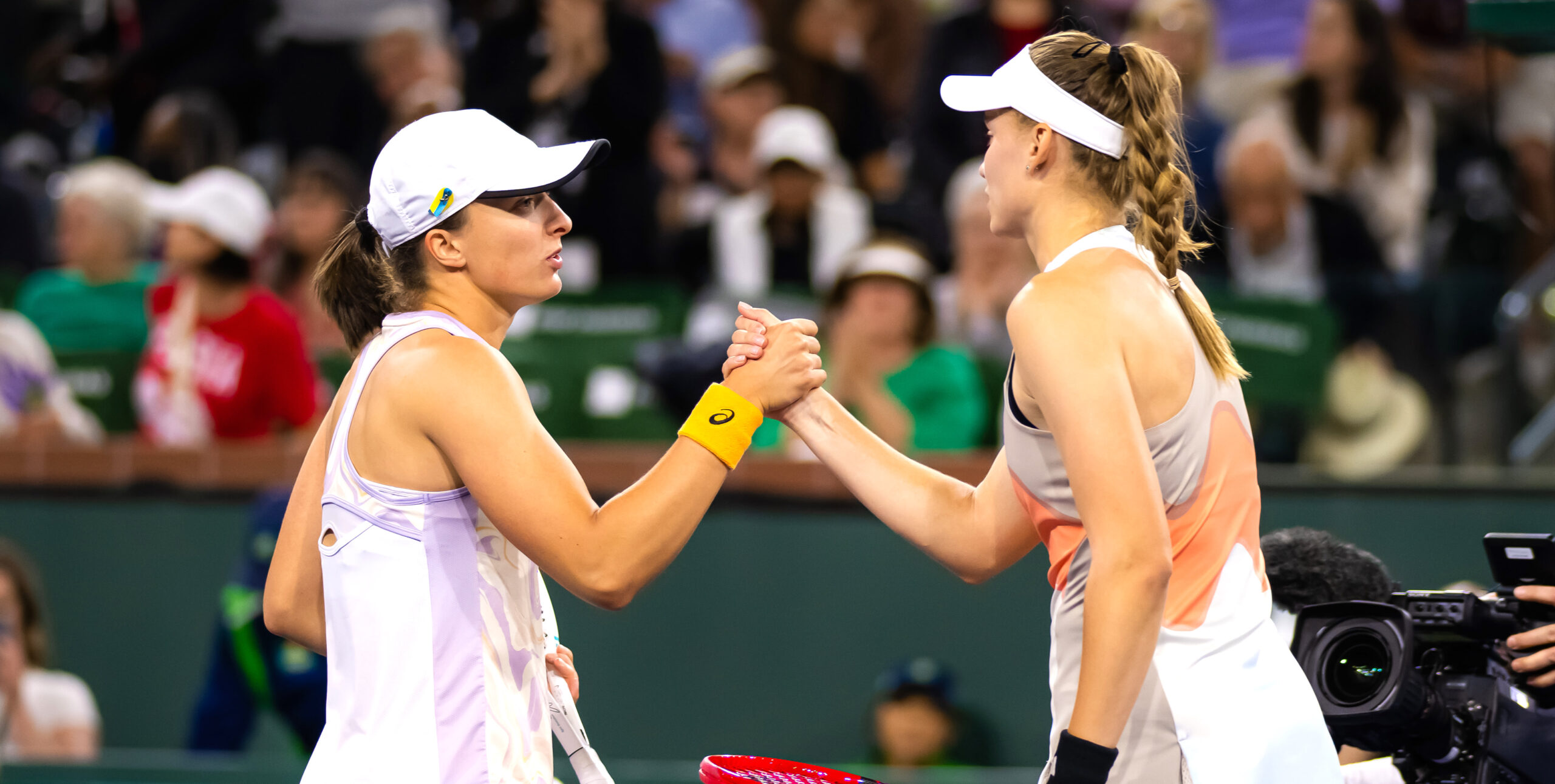 Elena Rybakina successfully made it to the Indian Wells final after thrashing Iga Swiatek
This match lasted for one-hour and 17 minutes and Rybakina beat Swiatek 6-2 6-2
Rybakina, a reigning Wimbledon champion
Elena Rybakina successfully made it to the Indian Wells final after defeating three-time Grand Slam champion Iga Swiatek.
Rybakina, a reigning Wimbledon champion put up a brave fight in the one-hour 17 minutes match to defeat Swiatek in two sets 6-2 6-2.
Swiatek lost to Rybakina for a second time this year. She first lost to her at the Australian Open in Melbourne.
She described this game as her best yet.
"Today in some moments I played at my highest level. There are moments you feel, 'OK, I can beat anyone if I always play like this'. It's the goal, but you never feel amazing and perfect every match. I think today it was really good from me," Tennis365 reports.
Rybakina took lead of the match with an early 2-0 lead and going on to win the opening set after Swiatek committed a double fault on set point.
In the opening game of the second set, Rybakina was put to the test, but she held under duress and went on to win the following four games to establish a 5-0 lead.
Before breaking to further close the deficit, the Pole saved a break point to hold and escape a bagel. Nevertheless, Rybakina broke again right away to put an end to the comeback and claim victory.
Rybakina will face off with Aryna Sabalenka and she is looking forward to this match. She lost to her in the Australian Open finals in Melbourne.
Sabalenka took control of the match to win 4-6 6-3 6-4 and become the first singles player to win a major while competing under a neutral flag.
Rybakina got off to a stronger start, defeating Sabalenka in the third game after she had led 4-0. She held her own comfortably until the eighth game when the Belarusian strung together a string of solid returns and received her reward.
When Rybakina served for the set, Sabalenka, who had previously won all 20 sets she had played this season, produced a terrible service game, double-faulting twice. Rybakina won the set 6-4 by holding to love and breaking Sabalenka's streak.
At the start of the second set, the Kazakh born in Russia pushed hard for a break, but Sabalenka resisted, saving two break points in the first game.
By outhitting Rybakina more than two to one in winners and breaking to take the lead 3-1, the Belarusian gradually shifted the match in her favour.
Speaking post-match when she received her trophy, she said that the victory was a result of team effort. She also said the victory came after many ups and downs in 2022.
"Thank you for an amazing atmosphere. And of course my team, the craziest team on tour I would say. We've been through a lot of downs last year, we worked so hard. You guys deserve this trophy, it's more about you than me. I hope next year I come back stronger and I'll show you even better tennis," Sky Sports reports.