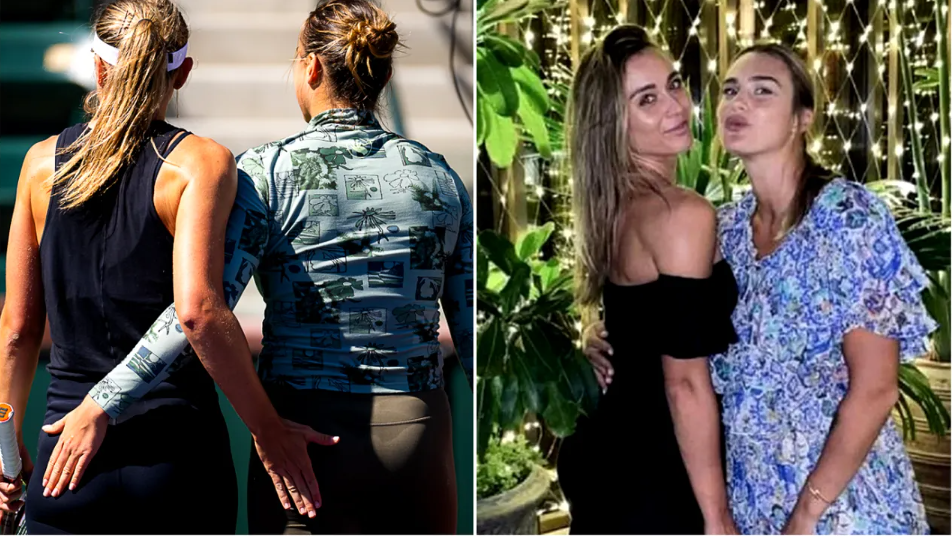 Aryna Sabalenka and Paula Badosa are best of friends
Their chemistry sparks questions whether they are dating
Their practice session was nearly steamy
The chemistry between tennis stars Aryna Sabalenka and Paula Badosa is so strong that many always wonder if they are dating.
Badosa and Sabalenka met once more at the Indian Wells Open (BNP Paribas) and their display of affection left many confused.
They hugged suggestively and as if this wasn't enough, they simultaneously patted each other's behind.
The tennis duo were at a practice session at Indian Wells. WTA resident photographer Jimmie48 captured each moment the duo shared during practice.
"When you had such a good practice, a normal handshake at the net won't do! @paulabadosa & @SabalenkaA in Indian Wells on Tuesday," Jimmie48 captioned Badosa and Sabalenka's hugging photo.
Sabalenka reacted to this photo saying that love was definitely in the air which prompted Jimmie8 to post another suggestive photo of them touching each other's behind.
He captioned it: "leaving it up to@paulabadosa @sabalenkaA to caption this one."
In response, Badosa said that "Ahahahahahahhahahahahhahaha this is true love." However, Sabalenka quickly interjected saying that each of them has a boyfriend.
Badosa has been dating actor and model Juan Betancourt of Cuban-born descent for two years, while Sabalenka has been dating Konstantin Koltsov, a former Belarus ice hockey player, since June 2021.
Badosa and Sabalenk have grown close on the WTA Tour. They have participated in a number of doubles events under the name Sabadosa.
But, due to the nature of the Tour, they don't usually compete in the same events, and even if they do, it doesn't guarantee they will have a merry-making time.
They both participated in the Dubai Tennis Championships last week, but Badosa was eliminated in the opening round and Sabalenka advanced to the quarterfinals.
While Sabalenka won the Australian Open Badosa was a no-show because she was not competing.
In the second round of the Indian Wells Open on Saturday, Sabalenka who is the current world No. 2 will play Evgeniya Rodina or Alize Cornet.
Badosa ranked 21st by the WTA seed Badosa will play either fellow Spanish Nuria Parrizas Diaz or Elisabetta Cocciaretto.
Sabalenka says she won the first Grand Slam of the year because of her focus.
Speaking in Dubai at the pre-tournament press conference, Sabalenka said that there is so much to gain by staying focused and the Melbourne win is a perfect example.
"I would like to just focus on myself because I think the only thing why I won Australian Open is because I was focusing on myself," Sabalenka said.
By default, there are more expectations of her since her Australian Open win. However, she is not letting the pressure of expectations get to her.
Her first Grand Slam victory changed her mindset to some extent but she is aware that the end result depends on how hard she works.
Despite her victory in January 2023, she took so many losses in 2022 and it helped her believe in herself. She put in the work and took the trophy.
Sabalenka put a lot of effort towards improving her serves in order to address a playing technique problem that made her service game unpredictable.