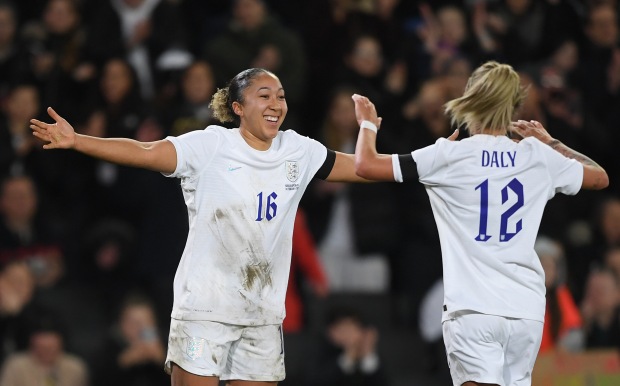 The England national women's team played the South Korean women's team at the Arnold Clark Cup
England women won the match 4-0 with a stunning display against the Asians
Chelsea forward Lauren James started the match and scored the last goal
After the Chelsea forward scored her maiden goal for her country on Thursday, Lucy Bronze referred to Lauren James as the England player "everyone has been waiting years for."
At the Arnold Clark Cup, James, the sister of Chelsea and England men's right-back Reece, scored the game's last goal in a 4-0 victory over South Korea.
The penalty Georgia Stanway converted for the game's first goal was won by the 21-year-old, who was earning her sixth senior cap.
James had to wait for opportunities at the club and international levels because of injury concerns she suffered both before and after leaving Manchester United.
She has nonetheless demonstrated why she is regarded as conceivably the most brilliant England player of her generation this season.
James has played in 10 Women's Super League games, scoring four goals and assisting one. With her thrilling playing style, she has won over admirers. She completes more dribbles (21) than any other player in the division.
After having an impact for England, Bronze, who was previously named The Best FIFA Women's Player, is eager to see what James has in store for the future.
Everyone is aware of LJ's talent, the right-back stated. She's definitely one of the greatest there is in terms of technical accuracy.
"It's fun for me to play with her, because I know she's always going to get the ball in the right place.
"It's crazy that she's so young because this is the player that everyone has been talking about for five years now.
"Everyone has been waiting for this superstar, and it's exciting to be here now at the start of her England career."
James added: "I'm lost for words really. I just like to stay humble, continue giving to the team and continue improving."
"She has been a talent for a long time," remarked Sarina Wiegman, the manager of England. She only had to be available and available for a while at Chelsea.
"She worked really hard at Chelsea. That's what you have seen this season, then she can take the next step to the national team.
"Now, when she starts playing at this level with Chelsea and in the Champions League and on this international level and gets those minutes, she can improve.
"I hope now she gets consistency, she stays fit and keeps enjoying herself."