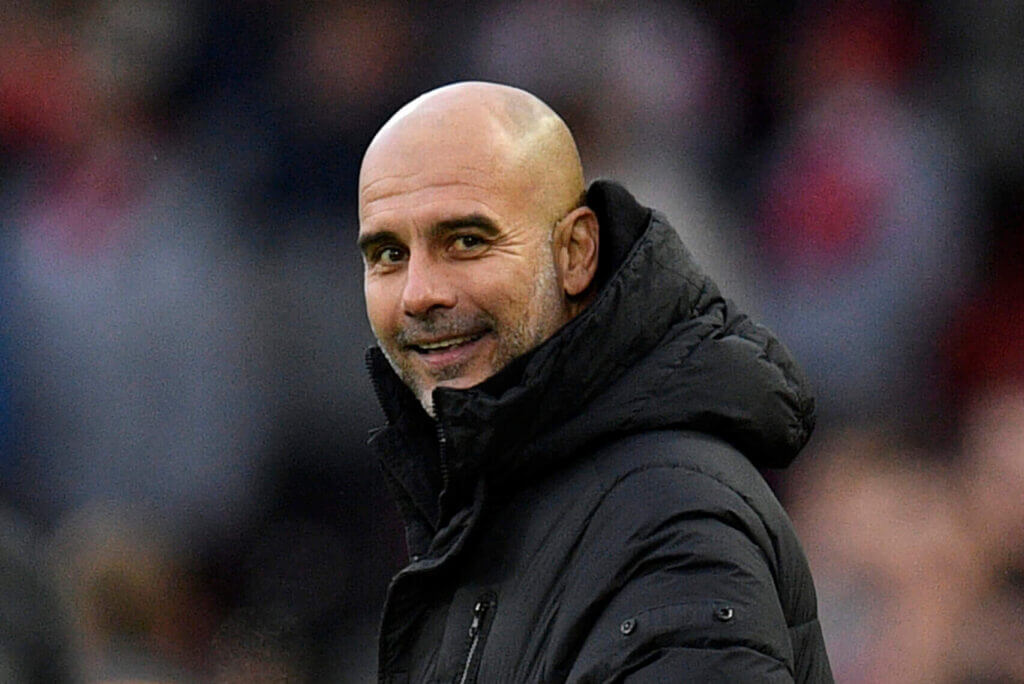 Manchester City manager Pep Guardiola is in his seventh season as a Premier League manager
Guardiola has now coached City for 250 matches in the Premier League culminating on Sunday
City played Astonvilla in their 250th PL match under Pep Guardiola, here are the numbers
Pep Guardiola managed his 250th match as a Premier League manager on Sunday leading Manchester City to a 3-1 win over Aston Villa at Etihad.
However, the build-up to Sunday's game at the Etihad Stadium was overshadowed by City being accused of more than 100 financial laws violations.
Guardiola's 250th Premier League game in charge was celebrated in style by City, who beat Villa 3-1. While City will defend themselves off the field, their players stood up to the plate.
Stats Perform has examined the statistics from Guardiola's time playing in England's top division.
The Numbers
1 – Pep has the highest win rate of any manager to have coached in 100 or more games in the Premier League with 73.6 per cent.
29 – The former Bayern Munich boss is the 29th manager to reach the 250-game milestone in the Premier League's history.
184 – After Manchester City's victory over Villa, Guardiola has won 184 of his games in the competition. This is a Premier League career total bettered by only five other managers (Jose Mourinho, Harry Redknapp, David Moyes, Arsene Wenger and Alex Ferguson). His tally of victories is the most of any manager across their first 250 games in the competition (Jurgen Klopp is second, with 160).
34 –Under Pep Guardiola, Manchester City have lost only 34 Premier League matches.
4 – Of those defeats, four have come against Klopp's Liverpool, but it is Tottenham who Guardiola has notoriously struggled against. He has lost six times to Spurs in the top flight, including five of their last seven such meetings.
115 – Renowned for their glorious attacking play, City have nevertheless built their success on a stingy defence under Guardiola, whose team have kept 115 clean sheets.
621 – Guardiola's City have netted 621 goals in the Premier League.
204 – In contrast, they have conceded only 204 times.
The Records
The biggest league victory for Guardiola as City manager occurred against Watford in September 2019. (8-0).
His team's 4-0 loss against Everton at Goodison Park in January 2017 was his team's worst defeat as City manager in the Premier League during his first season in charge.
In the 2017–18 campaign, City won the league for the first time under Guardiola and became the first side to ever reach 100 points in a season.
The 50 points they earned on the road during the 2017–18 season, together with their total of 16 away victories, set a Premier League record. Their 106 goals scored during that season also set a record.
Their side of 2017-18 won 32 games, another competition-high mark, and incredibly City matched that total in the following season.
City went on a run of 18 successive wins between 26 August and 27 December 2017. That tally has not been bettered, though it was matched by Liverpool in the 2019-20 season (as was the 32 wins in a season record).
In 2021, Guardiola's City netted 113 times, a Premier League record for goals in a calendar year.
City's streak of 14 victories to end a season (2018-19) is a record, as is their run of 12 consecutive away wins between December 2020 and May 2021.
The Players
With 85 goals in the Premier League for City over Guardiola's 250 games as manager, Raheem Sterling leads the team. With 82 points, Sergio Aguero is second.
Ederson (204 appearances, all of which were starts) and Kevin De Bruyne (203) are the outfield players with the most games played, respectively.
De Bruyne leads the team in assists, as was predicted (87). The Belgian tops the list for direct goal involvements with 53 goals (140).