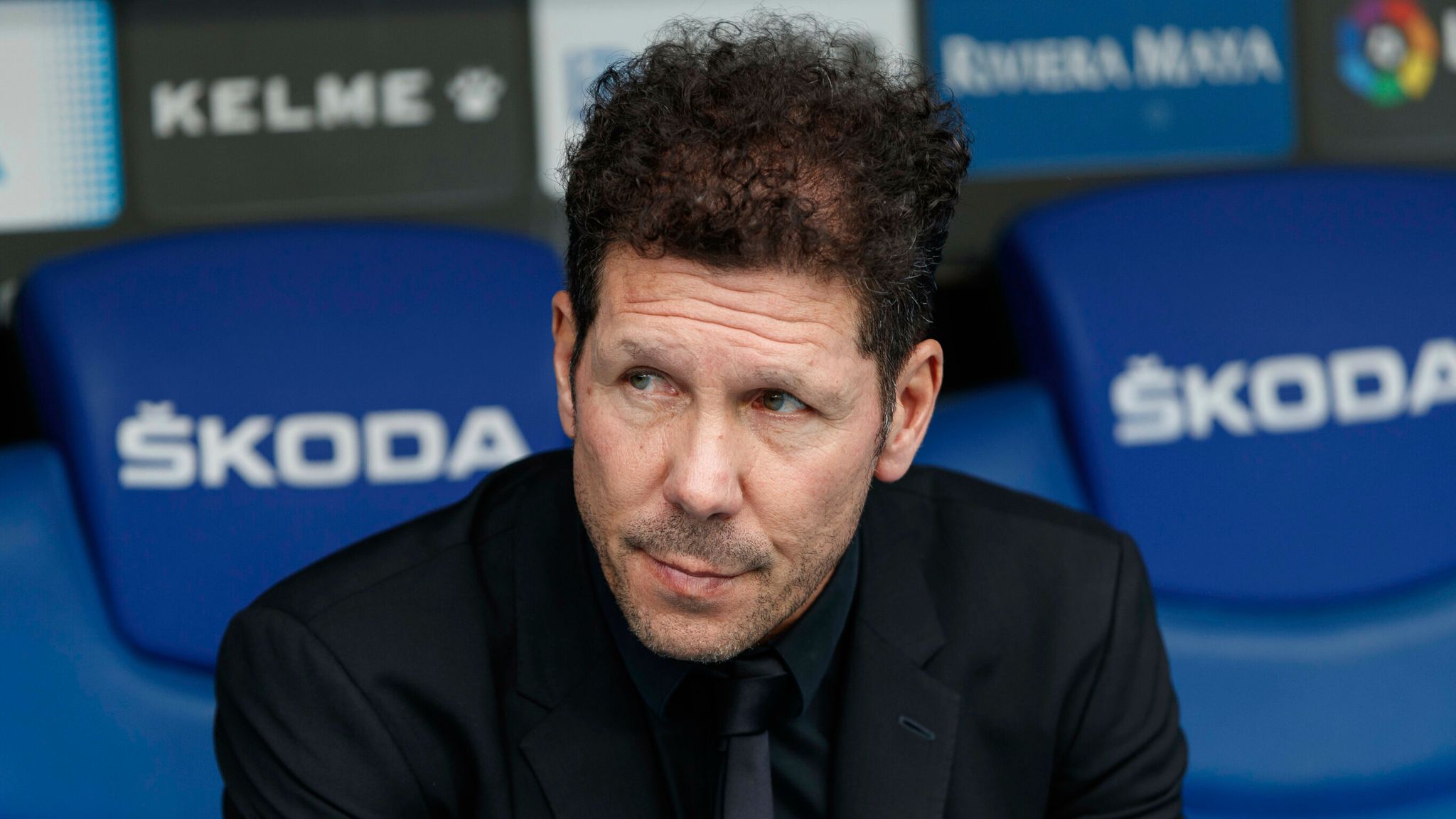 Real Madrid will host city rivals Atletico Madrid at the Santiago Bernabeu in La Liga on Saturday
Atletico will seek to revenge on the Copa Del Rey loss by defeating their fierce rivals
Atletico Madrid manager Diego Simeone will be coaching his 425th La Liga match as Atletico head coach
By making history in the Santiago Bernabeu rivalry on Saturday, Atletico Madrid head coach Diego Simeone hopes to bring Real Madrid back to reality in the Madrid derby.
The former Argentine midfielder will supervise his 425th La Liga match as Atleti's manager, more than any other coach has done for a single club in the Spanish top division.
Simeone will also surpass Luis Aragones' mark of 612 competitive games managed in the dugout for the capital side, including all competitions.
Los Blancos, who kept up their impressive form by defeating Liverpool 5-2 in the Champions League at Anfield on Tuesday, could make sure Simeone is not in the mood to rejoice.
Ahead of the much-awaited Madrid Derby, SportsLeo courtesy of stats performs and Opta data have a look at what you need to know.
Atletico Madrid facing it hard against Real
In their last 13, La Liga encounters with their local rivals, Atleti has only triumphed once, a 1-0 win in May 2016 thanks to Yannick Carrasco's penalty.
In six of the meetings, Los Blancos have prevailed, and in the other twelve, they have drawn as many times.
Simeone's team has lost three straight La Liga games without netting at their adversaries' stadium.
This season, Carlo Ancelotti's team has already defeated Atleti twice, most recently winning the Copa del Rey 3-1 in extra time last month.
Real Madrid on fine form
Real Madrid have the upper hand in the quarterfinals of the UEFA Champions League after an incredible first-match victory over Liverpool on Merseyside.
The champions came from being two goals down inside 15 minutes thanks to doubles from Vinicius Junior and Karim Benzema.
The La Liga and European champions, who also claimed this month's FIFA Club World Cup, have won five straight games while scoring 20 goals.
Second-placed Madrid is in fourth place, 10 points ahead of Atleti, who are in the first place, and eight points behind leaders Barca.
Atletico building their momentum
Since losing the Copa del Rey derby match, Simeone's team has improved, winning three times and drawing once with Getafe.
Atlético has not lost in six La Liga games, and all three of those victories were by 1-0 scores.
They now trail Real Sociedad in third place by two points thanks to their longest winning streak in the tournament this year.
Karim Benzema ready to fire
With his two goals against the Reds, Madrid skipper Karim Benzema has five goals in his last three games.
Despite being frustrated by injuries, the Ballon d'Or champion has 17 goals across all competitions this season.
Benzema has scored in three of his last four La Liga derbies against Atleti because he enjoys playing them. He will be attempting to score for the third game in a row against Simeone's team.